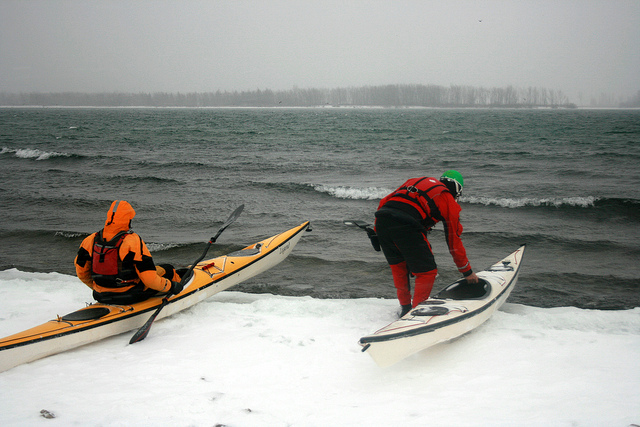 It is a lot harder to get motivated to go out paddling in cold conditions but I always find that once out there, I am thankful I went.
With the proper gear it's all very doable. The number one concern while paddling in cold weather is swimming.
Being submerged in cold water can quickly lead to hypothermia. Staying in your kayak is paramount and taking a few safety precautions to make sure you stay safe and dry is important.
10 Important Safety Rules
Whether you are out for a day of fishing, exercise or some recreational paddling, it is important not to go out alone in cold conditions and only to paddle as far as you can comfortably paddle back.
Getting exhausted, stuck too far away from shore or worse going overboard, creates a whole new level of safety concerns in cold water.
Being prepared will help you to feel comfortable and safe and able to enjoy your day out on the water.
Safety Rule #1
Bring a friend along for the trip. I often kayak alone but in the winter, it's nice to have someone with you for safety reasons.
You never think anything is going to happen but every winter I hear of a lone kayaker who's kayak tipped for one reason or another and they don't make it back.
Whether you are paddling on a lake, river or ocean, have a friend with you and keep an eye on each other.
Safety Rule #2
Layer, layer, layer. Layering your clothes properly will keep you warm and dry and able to continue paddling for as long as you want while still being comfortable.
Choose a base layer to start that will keep moisture away from your body.
Then you need an insulating layer. Fleece makes a great choice for keeping warm. Neoprene is good if you will be in the water but it's not always the most comfortable while you are actually paddling from inside your kayak.
Your third layer needs to be a waterproof jacket and pants. These will keep you dry and hopefully block the wind.
Click here for more information on how to dress for cold weather paddling.
Safety Rule #3
Keep your extremities warm. Your hands, feet and head should all be covered.
A fleece toque works nicely for your head or even a fleece balaclava can be perfect, some neoprene water boots are ideal for your feet and insulated waterproof gloves will be needed for your hands.
Safety Rule #5
Check the weather. The last think you want when out paddling in the cold is for the weather to turn wet and windy.
Choose a relatively calm day where the wind isn't too strong and hopefully there is no rain or snow.
Make sure your paddling conditions are safe and comfortable.
Safety Rule #6
Don't stray too far from shore. I have made this mistake twice in my life and I know I will not allow it to happen again.
There is nothing worse than enjoying yourself while out kayaking only to realize the time has flown by and you've covered a large distance and you now have to paddle back into the wind.
There is nothing worse than paddling so hard that your arms feel like they are on fire only to move a very small distance at a very slow speed.
The weather can change quickly and you need to be able to get back to shore safely.
Take note of how far you have traveled and use your common sense on how much energy you will have and need to get back at a reasonable time before it gets dark.
Safety Rule #7
Tell someone where you are going. Even if you are paddling with a friend, make sure someone else knows where you are going and what time you expect to be back.
This is just a proper kayak safety precaution in general and always a good rule to follow.
Make sure someone knows if you don't return in due time.
Safety Rule #8
Know how to re-enter your kayak from the water.
This of course is better practiced in the warmer months but imperative to know when paddling in the cold.
If your kayak should capsize and you go over you will want to get out of that freezing water as quickly as possible.
The longer you are in the water, the greater the chance of hypothermia.
Here is a great video that might be of some help.
Safety Rule #9
Always wear your PFD. I always find a PFD to be much more comfortable to wear in the winter anyways as it adds an extra layer for warmth.
Keep it on at all times. You never know when you will need it and it pays to be preventative and prepared.
Safety Rule #10
Have a warm pair of socks and shoes waiting for you in your car.
There is nothing better after a great day of kayaking in the winter, than peeling off your neoprene boots and getting your feet into a warm and dry environment.
Having extra warm layers waiting for you when you are done will feel great!!