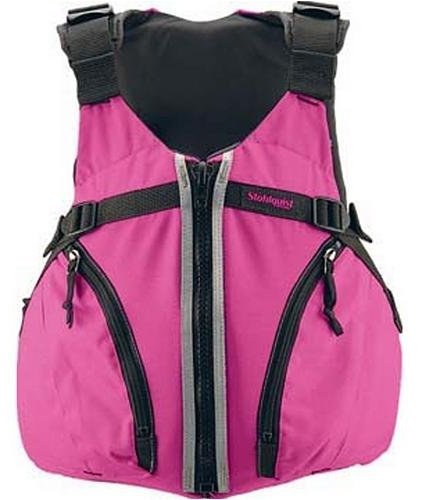 I got the Stohlquist Cruiser PFD a while back and wanted to really wear it in a few different water and weather conditions before giving my review. 
After multiple uses I feel very confident that the Cruiser is a well fitted and comfortable lifejacket that is well made to suit most women's bodies.
I initially chose the Stohlquist Cruiser for several reasons:
The biggest reason was that I wanted a PFD made for me and not a unisex model.
This particular lifejacket has mesh on the side panels as well as on the lower half back area which makes it ideal for hot weather
There are two big pockets on the front that can fit my camera and other things I want to keep close by.
It has extra wide armholes – there is nothing worse than a PFD that is tight around the arms and restricts movement.
It is made with hand-scupted PVC-free front foam with supportive inner cups – no PVC means better for the environment.
It has several great colours to choose from.
The Fit of the Stohlquist Cruiser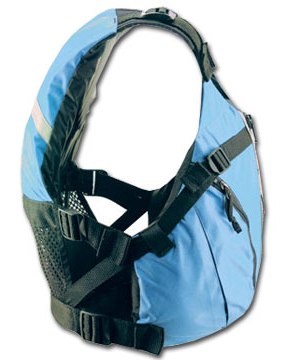 I was really impressed with the fit.  It is the first PFD I have worn that did not feel really bulky. 
It is easy to put on with the zippered front and it was very comfortable and easily adjustable. 
I found that it did conform to my body far better than any PFD I had every worn prior and it felt good when sitting in my kayak seat.
I did find that I had to pull the back down once while I was paddling as it had ridden up slightly but that also likely had to do with the back of my seat and my shifting around… so wasn't a big deal. 
Also the padded shoulders and waist belt were really comfortable.  The armholes were large enough that I didn't feel restricted at all and it did not rub or irritate my skin which was my main concern.
The mesh siding is fantastic.  I am notorious for complaining about being too hot in my PFD.  I hate the feeling of sweating in my lifejacket while out paddling in hot weather. 
It was a really nice change to actually be able to 'breathe' in my lifejacket with the mesh siding and back.
I got the Cruiser in two different colours, the pink and the blue although it is also available in other colours.  The colours are a nice shade and I think look good on the water. 
I have lent out my second one to a couple of different friends and they also found that the PFD was very comfortable.  Although my PFD is a small I found that it can be adjusted quite a bit at the shoulders, chest and waist to suit different body shapes. 
The Pockets
I was very pleased that the pockets were as big as they looked in the pictures.  I could easily fit my camera in one and my snacks in the other. 
You would also easily be able to fit your cell phone, keys, or other necessities if you needed to.  I have used these pockets each time I have gone out so I think they are very handy.
My Pictures:
Click the pictures to see larger view on Flickr.
Buoyancy 16 lbs. 12 oz.
500 denier Cordura shell
200 denier oxford liner
Front zipper entry with #5 YKK non-corroding slider
Hand sculpted front foam with supportive inner cups
Extra wide armholes and cool mesh side panels
Adjustable neoprene-padded shoulders
Cinch harness system
1.5" webbing waist belt with forward pulls
Zippered bellows pockets with drainage
High waistline cut
#10 YKK Vision front zip entry
4-way accessory lash tab
3M reflective trim front and back
PVC-free Gaia foam
US Coast Guard and Transport Canada approved
Although I have only used this PFD for kayaking, I would imagine that it would be fine for many different types of water activity. 

However if you are paddling it is best suited for ocean or lakes… not whitewater.
The Stohlquist Cruiser is Available at:
The best prices I have found are at: