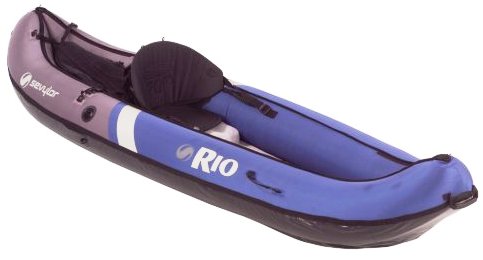 Best Uses: Rivers, lakes, fishing
Brand: Sevylor
Available At:
Number of Paddlers: 1
Stats: Length 9′ 10″, Width 3′ 1″, Weight 25 lbs, Load Capacity 350 lbs
Accessories Included: 1 flexible bucket seat, removable stern storage bag, nylon carrying bag, repair kit
Optional Accessories: 12-volt motor
Kayak Material: 18 gauge PVC
Pros: Works well with either canoe or kayak paddles, option of adding a small motor, convenient, very easy set up, comfortable, stable, rugged, light enough to easily carry, decent storage, paddle/oar holders
Cons: Tracking not so good, water tends to accumulate inside even with drain hole (if paddling through rapids)
More Detailed Info
The Sevylor Rio is a solo inflatable canoe that is best suited for recreational paddling and fishing. It has a great design which not only looks good but offers comfort as well as stability while paddling.
Most canoes are designed for two or more people and the Rio is one of the few solo models on the market. As such it is light weight and easy to carry. It is a very affordable option for anyone looking for a convenient and portable canoe that can go anywhere.
The Sevylor Rio works equally well paddled with a canoe paddle or with kayak paddles depending on your preference.
Grab Handles
This inflatable canoe has 4 grap handles. One at either end of the canoe as well as one on both sides of the canoe. The side grab handles make it very convenient to carry by yourself. Simply lift it over your head once it is inflated and carry to the water.
Comfort
Although I am not always a big fan of Sevylor, I did find the Rio to be extremely comfortable. There is an inflatable cushion under the seat and the seat itself offers great back support as well as a zippered pouch in the back that can easily hold snacks or little accessories. The seat also has two convenient water bottle holders.
I found there to be ample leg room and althought the pontoon sides are fairly wide I did not find that my hands or arms rubbed them when I paddled the canoe with kayak paddles.
Valves
Valves tend to differ on different inflatable kayaks. Typically the more expensive models will have far better valves. The Sevylor Rio is very affordable and a couple of the reasons it is able to charge such a little amount is because it is made overseas and some of the parts are cheaper. This is the case with the valves.
Although the valves do work well, I found them difficult to work with until you really know what you are doing. Therefore make sure to read the instructions first before inflating your canoe and expect the set-up time to take a little longer your first couple of times until you get the hang of how the valves work.
The Rio uses Double Lock™ / Mini Double Lock™ valves which locks in air two ways. Personally these are not my favorite valves to use. However if you use them correctly your canoe will be inflated very hard and no air will leak.
Cargo Space
Considering the Rio isn't very long, I found there to be a decent amount of cargo space. There is a little bit of room up front (after your legs) and there is also some room in the back.
The Rio comes with a removable stern mesh storage bag which attaches to the back of the canoe. You can store cargo underneath the bag as well as inside the bag.
There are also some D-rings and tie downs that make it easy to secure your gear.
Performance
Considering the Rio is not an expensive inflatable canoe I think the performance was quite good. I felt very comfortable out on the water whether I was in flat water or moving rapids.
Maneuverability
The Rio is very easy to maneuver. Its light weight and shorter length make it very responsive and would be easy for any person of any age or skill level to paddle.
Tracking
Even though there are directional skegs attached to the bottom of this canoe, the tracking is not the greatest in flat water. However if you use kayak paddles as I did with the Rio it moves along fairly well.
It will certainly not be the fastest canoe in the water but again I think for the price paid, it does okay. It maneuvers well however in smaller rapids.
Pictures and Video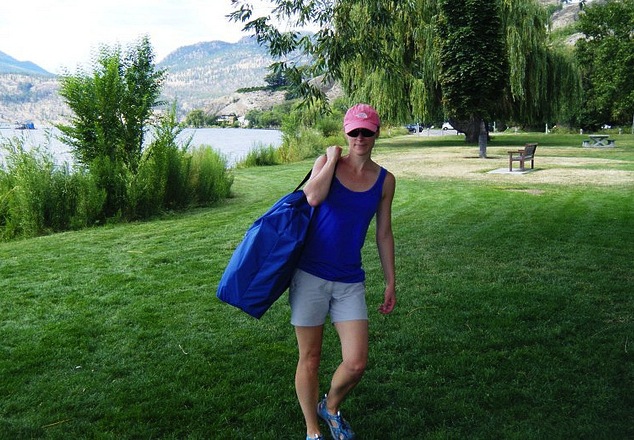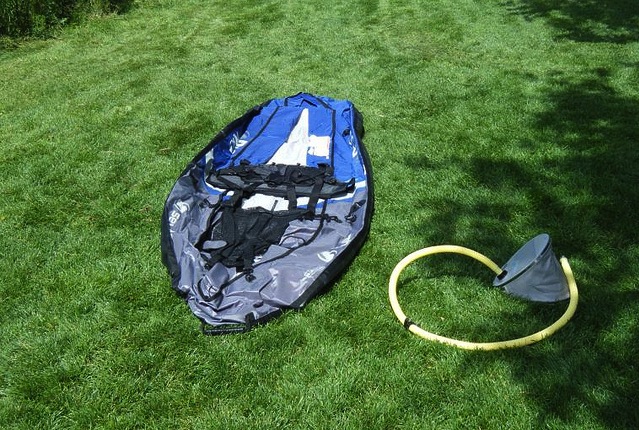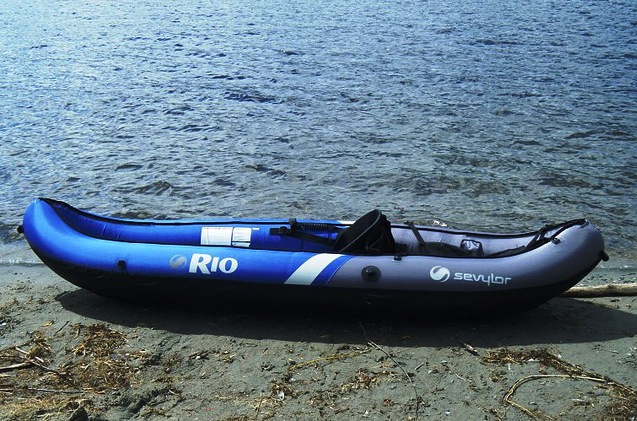 See more of our pictures of the Sevylor Rio on the IKWorld Flickr page.
Final Thoughts
I like the Sevylor Rio and enjoyed paddling it. I actually found it more comfortable and easier to paddle than its slightly larger two-person version, the Sevylor Colorado.
I think for the price of this inflatable canoe you can't go wrong. Just be sure to fully read the instructions before setting it up to avoid some frustrations. The Rio comes with a 1 year warranty.
Where To Buy
Amazon.com consistently has the best price on the Sevylor Rio.
Click Here For The Best Deal On The Sevylor Rio Inflatable Canoe At Amazon.com
Did You Know?
By clicking on the above seller links you can help keep InflatableKayakWorld.com growing. When you make a purchase after clicking on our links, the retailer will contribute a portion of the sale to help support this site. It won't cost you anything extra and it's a simple way to help us fund our kayak and gear reviews. Thanks!