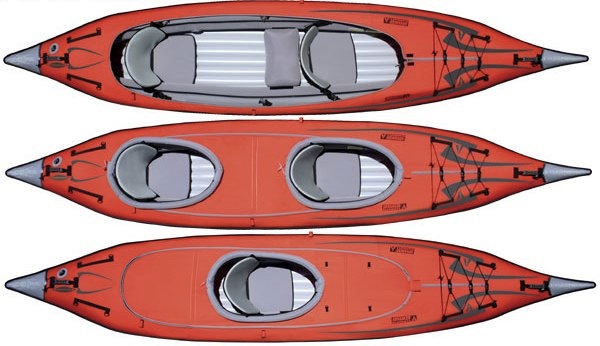 It seems that people either love inflatable kayaks or they hate them. I have been kayaking for many years, most often in a hard shell kayak. The last few years however have been almost exclusively in an inflatable kayak and I can honestly say that I love it.
When I speak to other kayaking friends… particularly those who have only ever paddled in a traditional hard-shell kayak… I am met with a fair amount of negativity towards the inflatable kayak.
I would love to say that those folks are simply ignorant to the wonderful conveniences and benefits of owning an inflatable kayak but the truth is there are pros and cons to both paddling in an inflatable as well as in a hard-shell kayak. Which one works best for you is a matter of personal choice but let's get the facts straight and go through the pros and cons of using an inflatable kayak.
Pro Inflatable Kayak
Easily stores in small spaces – Unlike hard-shell kayaks, an inflatable can be deflated and packed into its storage bag and stored in a closet. For any of us who live in a condo or a small space we can easily store our kayak away with absolutely no problems.
Very easy to transport – I have spent many years roping down a hard-shell kayak onto the roof of the car. I never enjoyed doing it and was always looking for help. With an inflatable I can put it in the trunk of my car or possibly even carry it in a backpack if it is light enough (as some are). I can also take an inflatable kayak on an airplane and enjoy using it while on vacation. That is an awesome convenience and thrill if you love to explore foreign waterways. Many people also love to take their inflatable kayak in their RV for this same reason.
Extremely rugged construction – Against popular belief there are many inflatable kayak manufacturers today that make high quality, rugged kayaks that can take a real beating and last a very long time. They are no longer the pool toys of yesterday, they are real boats that can withstand a lot of abuse… including dog paws.
Inexpensive – On average an inflatable kayak will cost less than a hard-shell kayak. Especially for those only wanting a kayak for recreational use the cost of an inflatable can be ideal.
Good Performance – Performance can vary depending on the quality of inflatable kayak you have purchased. However most will give a decent performance, track well and some are even able to reach some high speeds. The performance of these boats are improving every year and some can give a hard-shell a run for its money.
Lightweight – The great thing about an inflatable kayak is that it typically doesn't way a lot but can hold a fair amount of weight. A solo inflatable kayak can usually be easily carried by one person and is much easier to get to the water than a hard-shell
They are a lot of fun! – There are inflatable kayaks for all types of water and above all else they offer a lot of fun. No matter what your age, an inflatable kayak can be paddled by everyone. They are stable and safe as well as great for families, dogs and fishing. Everyone I know who has tried an inflatable kayak has greatly enjoyed the experience.
Against Inflatable Kayaks
Speed – The first complaint most people come up with is the fact that inflatable kayaks can rarely reach the speed of a really good hard-shell kayak. That may be true but sometimes it is not always important to be the fastest boat in the water and I know for myself I have been in a lot of hard-shell kayaks that weren't going to get me anywhere too fast.
Possibility of Popping – Though there is the possibility of "popping" your inflatable kayak if you hit a very sharp object, it is unlikely. In any event if it should occur all inflatable boats come with a repair kit so you can easily patch it up and continue on. Overall the maintenance to an inflatable as compared to a hard-shell is very little.
Width – One valid complaint about inflatable kayaks is they tend to be wider then a regular kayak. The width will allow for more stability but will also take away from the speed. I personally don't mind as I have no desire to be dunked under water but I know some avid kayakers love their long sleek paddling machines.
As you can see overall there are more positives than negatives. I think if more people would give the inflatable kayak a chance they may learn to love it as well and cherish it for its many wonderful conveniences.
What is your opinion on the inflatable kayak?… love it or hate it?
Trying to figure out which kayak is right for you? Check out our comprehensive inflatable kayak reviews.