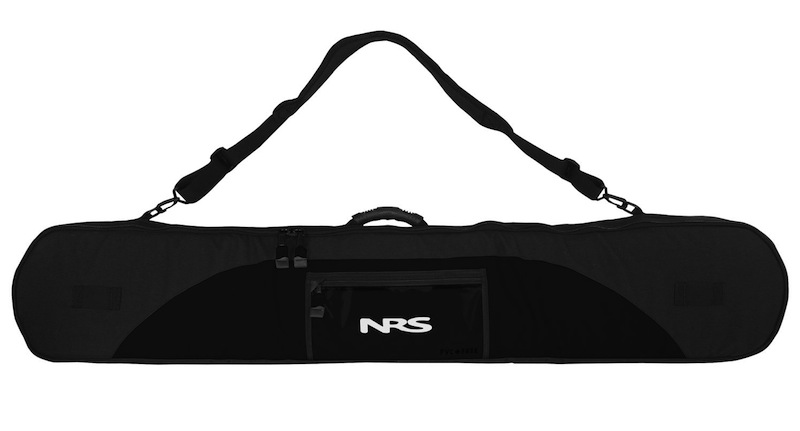 * Updated May 2016
I have been using this kayak paddle bag for over 6 years now.
I had the older version (same bag, different color) for several years then updated to the latest all black model last year.
I now own the two bags and use them both. My older NRS kayak paddle bag is in almost as good of condition as my new one.
This bag is rugged and strong and after being taken out hundreds of times, it simply does not seem to wear out.
I bought the new version only because I wanted to update my pictures for this review and I figured I could always use another one as my kayak paddle collection grows.
Why Use A Paddle Bag?
You may wonder why you need to bother with a kayak paddle bag at all.
In truth if you own a cheap paddle, you may not be overly concerned about the wear and tear on the blade.
However a paddle bag has a few excellent uses.
1. For one even if your paddles aren't worth much, a bag makes them easy to load in and out of a vehicle and keeps them stored neatly away when not in use.
This bag becomes especially handy when you own more than one paddle. In fact it can hold up to three, making it perfect for couples and families to use as well.
It will keep your paddles safely stored away and in one place and makes transporting them to the water effortless.
2. If you have decided to buy or have already invested in a really good carbon paddle, chances are you are going to want to protect it.
Without a bag, the paddle can get easily banged up during transportation and sometimes even from storage.
This bag has soft protective pockets that protect the blade from getting scratched or worse.
3. If you travel with your kayak paddle then a bag is a must.
The NRS kayak paddle bag will protect your paddle and make sure it arrives safely to your destination of choice.
Important Features
There are a few other kayak paddle bags out there to choose from and some of them have a lower price tag.
However I find that this NRS bag is extremely functional, well made and ultimately a good buy.  Considering how long it is going to last, you will definitely get your money's worth out of it.
There are several important features that make it stand out.
Padded and fleece-lined inside – The inside is padded and soft fleece lined for total protection.
With your paddles safely tucked into the fleece inside pockets, you can be sure they will be safe while traveling.
The blades will fit nicely in the fleece pockets and the shaft can be securely clipped so that it does not move around.
Roomy – This bag is designed for two-piece touring paddles and you can fit up to three safely inside without damaging any of them.
I have loaded this bag right up but I normally keep only two stored inside.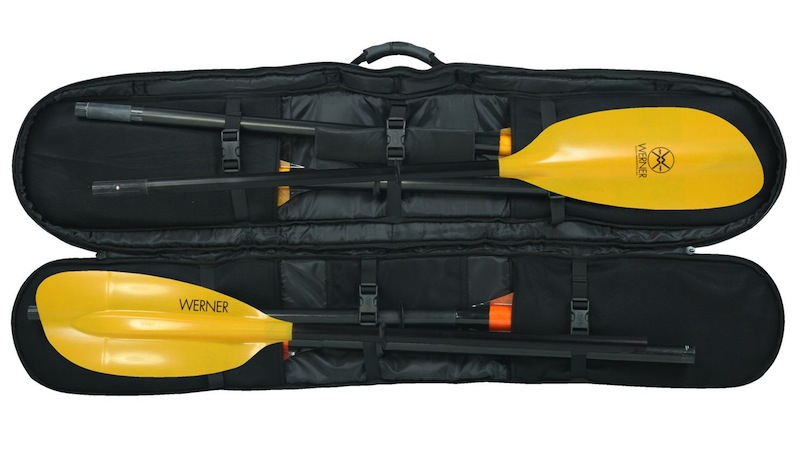 Quality – I think the quality is really worth mentioning because my bag has been used a LOT and my older one still looks nearly brand new.
It doesn't seem to wear or tear and I can say probably the worst that has happened to it was a grass stain, which I eventually cleaned off.
Everything from the heavy duty Cordura outer shell that resists snags, rips and slices to the heavy duty zipper to the well put together fleece inner lining make this bag awesome for carrying and protecting your kayak paddles.
Inner pocket – There is one mesh inner zippered pocket that will store small essentials like a wallet or keys.
Outer pocket – There is also one clear zippered outer pocket that will hold such things as keys, paddle wax, plane tickets, etc.
This pocket is 17"L x 8.5" wide.
Carry handle – The center carry handle is padded, strong and durable.
Shoulder sling – The shoulder sling makes carrying this bag a breeze.
If you are transporting more than one paddle, you will appreciate how easy it is to sling this bag over your shoulder and transport them all at once.
Bag Size
The dimensions of this bag are 51" long and 10.5" wide.
It can fit up to three 240cm long 2-piece touring kayak paddles safely.
I find the size of this bag easy to transport in the trunk of my car or in the back of a truck and it is also an ideal size for airplane travel.
My paddles are 230cm long and they fit really nicely inside.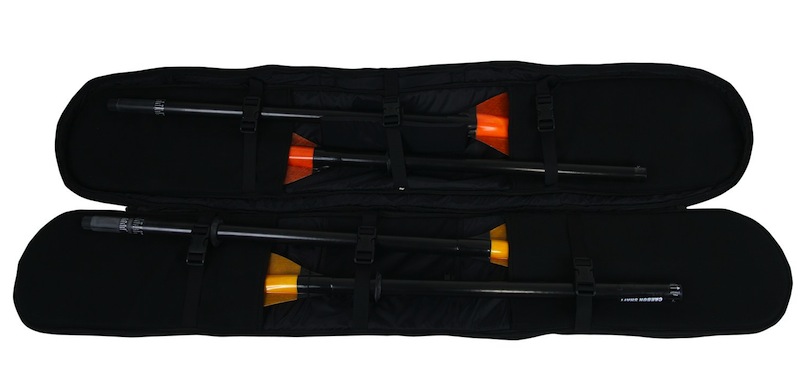 Final Thoughts
There is not much to complain about with this bag. It works exactly as it should.
It will protect your paddles from getting scratched up and banged around and make transporting them anywhere you want to go very easy.
I think with a little care this bag will last an extremely long time.
Best of all I love that it costs under a hundred dollars and from what I can tell gets mostly five star reviews from everyone who has tried it.
I would recommend it for anyone who loves to kayak.
Where To Buy The NRS Kayak Paddle Bag
This bag is available at a few different online retailers. Click the links below to find the best price.
Click here for the NRS 2-piece kayak paddle bag from the official NRS.com website.
Click here for the NRS 2-piece kayak paddle bag from Amazon.com.
Click here for the NRS 2-piece kayak paddle bag from Outdoorplay.com. – Use coupon code AV15 for 15% off at checkout plus free shipping and NO sales tax.
Did You Know?
By clicking on the above seller links you can help keep InflatableKayakWorld.com growing. When you make a purchase after clicking on our links, the retailer will contribute a portion of the sale to help support this site. It won't cost you anything extra and it's a simple way to help us fund our kayak and gear reviews. Thanks!