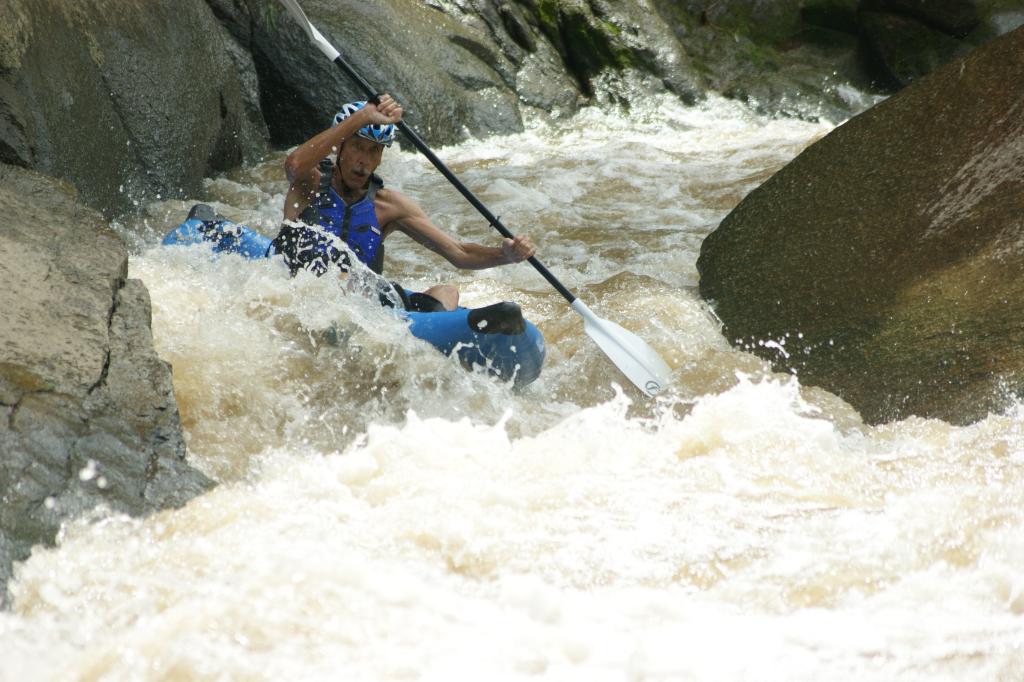 Best Uses: Whitewater up to class IV rapids
Brand: NRS
Number Of Paddlers 1
Stats:
Length: 9'10"
Width: 37.5"
Weight: 26 lbs.
Load Capacity: 200+ lbs.
Tube Diameter: 10.5"
Number Of Thwarts: 1
Bow Kick: 18"
Stern Kick: 18 "
Number of Air Chambers: 4
Valve Type: Leafield – C7
Self Bailing: Yes
Number of D-Rings: 2
Number of Handles: 2
Warranty: 3-year warranty
Kayak Material: 1000 Denier PVC Drop-Stitch material
Pros: Very easy to maneuver, firm floor, stable, super compact and portable, comfortable, strong and durable, easy to get in and out, light weight, great price
Cons: Could use a couple more D-rings, would be nice if thigh straps were included instead of being an optional purchase, thwart seat doesn't offer much back support (however you could add a more supportive seat if needed)
Available At:
More Detailed Info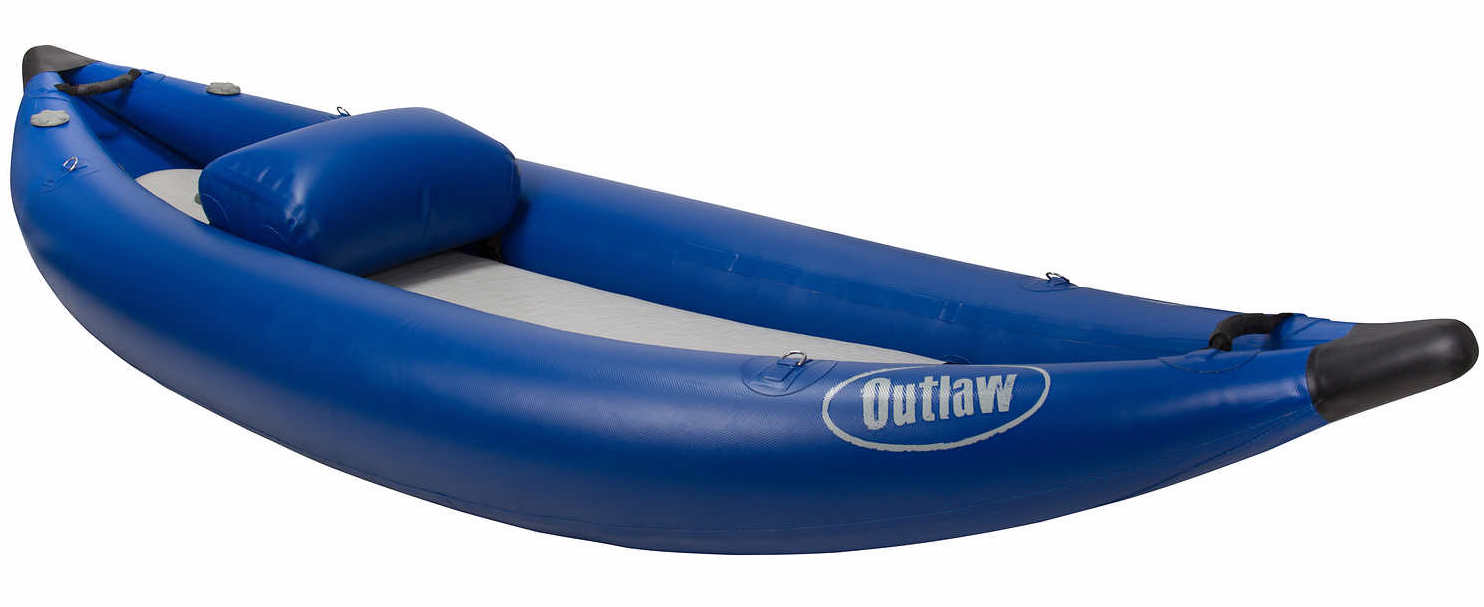 The NRS Outlaw replaced the popular NRS Bandit that was discontinued in 2012.
It is a very stable and portable whitewater inflatable kayak that is ideal for paddlers of all skill levels and those who want to keep the price point down but still get a quality product.
However just because this kayak doesn't break the bank doesn't mean it's a basic boat.
It has several features and upgrades from the Bandit that really make it a great performer.
They are similar in size and shape but have a few of major differences.
1. Material: The Bandit material was made with 840-denier nylon coated with urethane that although was quite strong, was also quite expensive to produce.
The Outlaw is made with PVC, which is very durable and more economic.
2. Width: The old Bandit was 34" wide, the Outlaw is 37.5". The extra width is good in that it greatly helps with stability, which makes it more user friendly for a wide variety of people. However it also can decrease hull speed, which is something to be aware of.
However there have been no complaints from what we've seen on speed or performance in general. Most people seem to love the stability it offers and find it handles really well.
3. Floor Design: The Outlaw has a separate super rigid 4" thick drop stitch floor.
This floor is thinner than the I-beam floor the Bandit had. The thinner floor means you will sit slightly lower inside the kayak improving your center of gravity, which is great.
The floor can inflate up to 8 – 10 PSI which makes it rock hard. It is also flatter than the Bandit floor was and is perfect for punching through waves.
The floor is easily removable for cleaning and drying.
4. Weight: The solo Bandit was particularly lightweight at only 21 lb. The Outlaw weighs 26 lbs. Still easy enough to carry and solid in the water.
Tips
Below are a few tips for the NRS Outlaw that we've come across that are worth noting.
NRS recommends adding thigh straps and a foot brace if you'd like more control and to improve your ability. With these two added features it is easily class IV worthy.
Thigh straps can be secured through the drain holes. Or if you prefer you can add extra D-rings yourself. They don't cost much and it's very simple to do.
Make sure floor is inflated right up to 8-10 PSI to minimize water pooling above the floor. This is especially important if you weigh around or over 180 lbs.
This kayak is easy for kids to paddle as well if they have the proper paddle. It's light and easy to turn.
Performance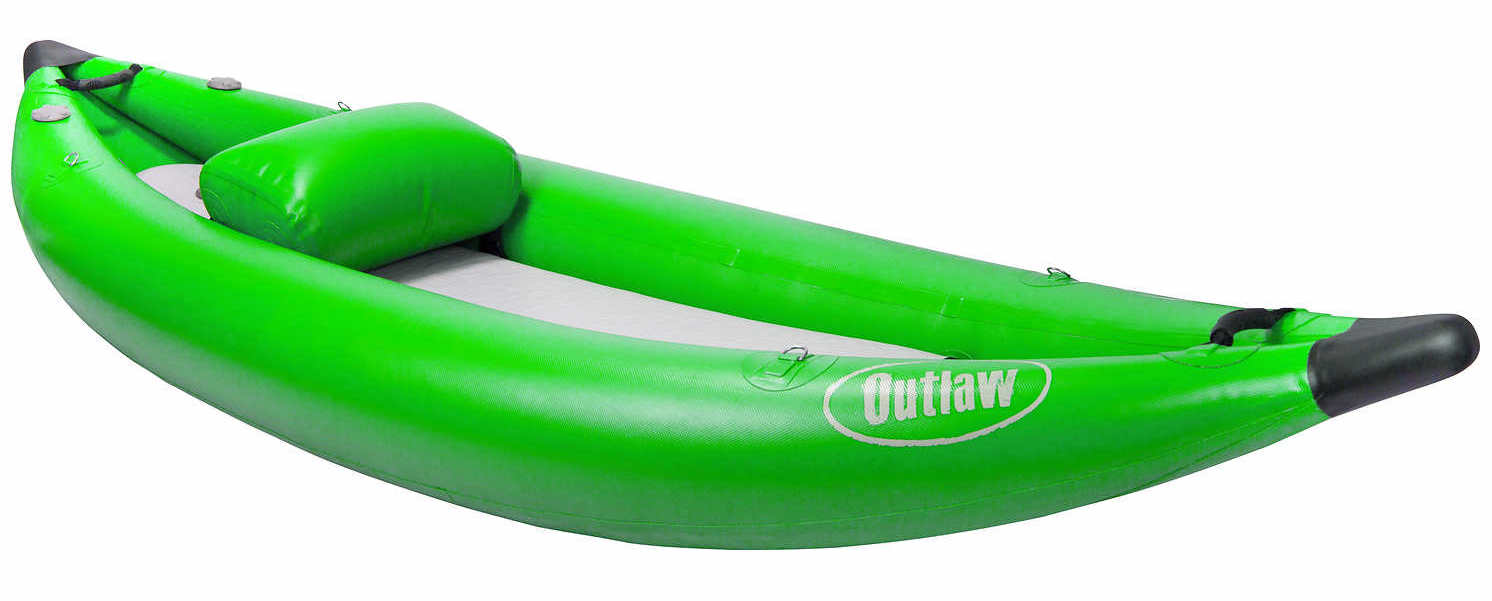 The Outlaw has 18" of rocker, which really helps going over and through waves.
The width makes it very stable and most people who have tried it say they are impressed with the stability and it's ability to get through some pretty harsh conditions.
The rigid floor really helps with punching through waves as well as flotation.  It has also been noted that the flat floor is great when going over rocks in shallow waters.
The bottom line with this kayak is that it is truly a lot of fun to paddle.
Other Important Stuff
Seat
The inflatable thwart seat is functional and secures to the drain holes in the floor. You can adjust it and place it where needed.
Some people have mentioned that it doesn't offer any back support and this is true.
In my experience whitewater inflatable kayaks rarely provide much in the way of back support but the seats are functional and great for easy maneuvering.
If more back support is needed you can definitely upgrade to a different seat.
Handles
The Outlaw has strong handles at the bow and stern. Pretty typical of what you'll find on most inflatable kayaks.
Valves
This kayak as really good quality Leafield C7 valves. They're strong and work great. Leakage through these valves is very unlikely.
D-rings
There are two D-rings that are perfect for securing gear. I would love to see a couple more D-rings on this kayak but it's not essential.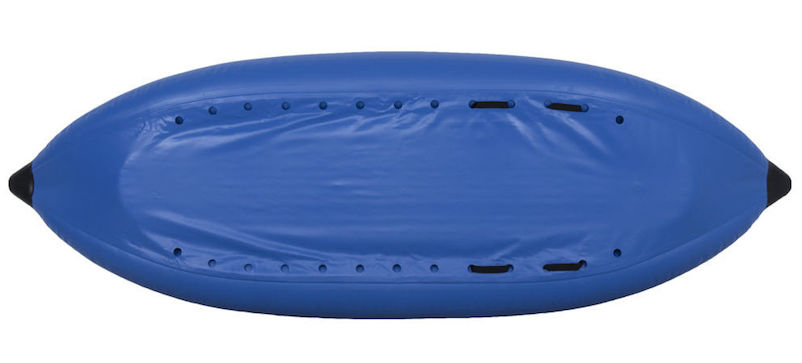 Video From NRS
Final Thoughts
The NRS Outlaw has been well thought out. NRS has managed to keep the price down while offering everything you need to be able to take on the rapids while making sure you feel comfortable and secure.
Although this kayak is stable and secure it also has huge performance potential.
Basically if you've got the skills, the Outlaw will keep up with your abilities. It is versatile enough for a wide variety of people.
It comes with a 3-year warranty and has a color choice of blue or an orange/red. There is also a tandem version available for only $100 more.
Where To Buy
Click Here For The Best Deal On The NRS Outlaw At Outdoorplay.com.
Click Here For The Best Deal On The NRS Outlaw At NRS.com.
Did You Know?
By clicking on the above seller link you can help keep InflatableKayakWorld.com growing. When you make a purchase after clicking on our links, the retailer will contribute a portion of the sale to help support this site. It won't cost you anything extra and it's a simple way to help us fund our gear reviews. Thanks!