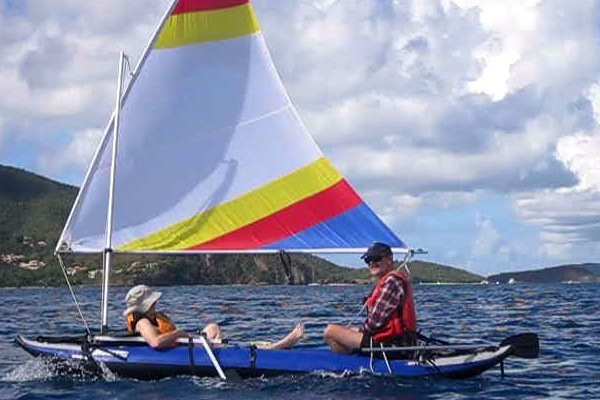 Adding a sail to your kayak can create a whole new and very pleasurable experience. There are lots of advantages to using a kayak sail and very few negatives.
There used to be very few models to chose from that worked for inflatable kayaks and in my opinion they either weren't all that great or were very expensive. However there are several more on the market now and far more variance in quality, performance and price.
The kayak sails come in a variety of shapes and sizes.  There are definitely enough choices to suit everyone's needs.
Advantages
Some fairly common advantages for most kayak sails are:
You can give your arms a rest. You can paddle further in one direction and then let the wind carry you back to where you started.
They can be great for fishing as you will have unrestricted movement.
Using a kayak sail can be an excellent way to learn how to sail before you move on to a larger type of sail boat.
Most of them break down quite small so they can be easily sowed away in the bow or stern and when not in use stored in a closet.
Setup is very easy – depending on the sail it can take anywhere from 1 minute to 10 minutes
They are portable so you can bring them anywhere.
Many are very maneuverable so you can adjust them depending on your needs.
Certain models will provide shade as well as protection from the rain.
Most of all, they are super fun as you can glide through the water in the wind with little to no effort… and taking on waves is a blast.
Disadvantages
There are only a couple of disadvantages that I can think of.
1. They can sometimes obstruct your view. Some of the smaller sails that sit at the front of your kayak will limit your view a little bit. However many of them have a viewing window so you can still see through.
2. The larger and more high performance sails are not cheap, they can sometimes cost as much as your kayak. For these high-end sails, I think you have to really be into it in order to pay the cost.
For the rest of us who may be a little bit more recreational in our sailing adventures, there are several cheaper options that are still excellent quality and work quite well.
Sails That Work with Inflatable Kayaks
Below is a list of the sails that work great with inflatable kayaks.
Sail Boats To Go Kayak Sails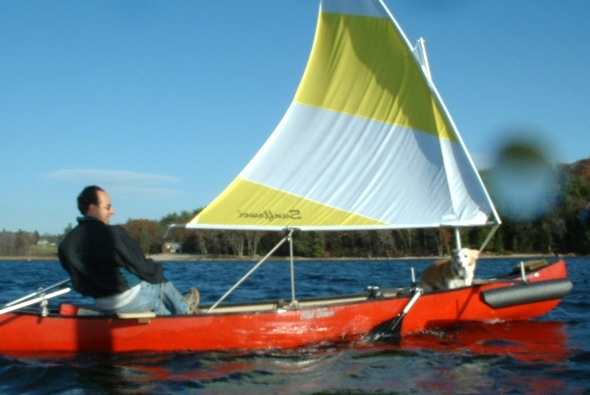 These guys are great and have a number of different options. They have many examples of sails that work great with inflatable kayaks.
Their most popular sail rig that works with just about any kayak (inflatable or not) is the Any Kayak upwind Sail Rig with Stabilizer.
It attaches with straps and makes your kayak into a complete sail boat. The length is adjustable from 5 – 7 feet long. It is priced around $799.
Click Here To See The SailBoatsToGo Sail Options.
Sea Eagle Kayak Sails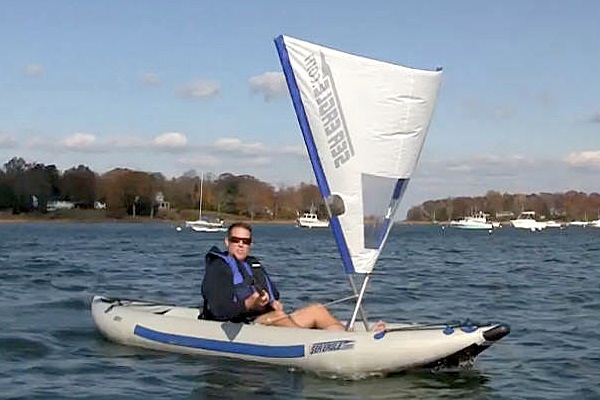 Sea Eagle is a manufacturer of inflatable kayaks and boats so their sails are specific for inflatables. They have three options to choose from:
1. The Sail Rig for the Explorer Kayaks – this is a high performance sail that is designed to compliment their Explorer kayaks (the 380X and the 420X).
It is priced around $799 (or you can often get a used one on their site for a little less). The package comes with everything you need to start sailing including the sail, mast, leeboards, brackets, and rudder.
2. The Sail Rig for the PaddleSki – This is an efficient high performance sail specifically designed for their PaddleSki kayak. It is also priced at $799 and comes with everything you need to get out sailing.
3. The QuickSail Universal Kayak Sail – This one is my favorite. It offers much more than many of the cheaper models but is not as advanced as the more expensive sails mentioned above.
It is really a great product, and this would be my personal choice for a kayak sail as someone who would be using it only occasionally. It is 14 Sq. ft., has a strong aluminum frame, is self-standing and only weighs 3 lbs. With this product you are able to sail up to 7 knots and you can use your paddle as a rudder.
The QuickSail will work with just about any kayak out there. It is priced at $179.
Click Here To Learn More About the Sea Eagle Kayak Sails From the Official Website.
Advanced Elements RapidUp Kayak Sail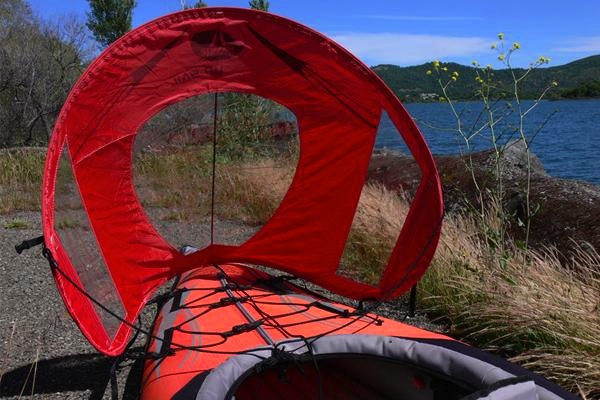 Advanced Elements makes a product called The RapidUp Kayak Sail for their inflatable kayaks. The nice thing about this one is that it is so compact and small.
The design is different than a normal sail, it has more of a round shape that conforms to your kayak deck.
This one does block your view a bit but there is a fairly large window in front as well as two side windows that also help. It folds into a disk shape and can be easily stored in your kayak.
The design of this one makses it fun and convenient to use but it is really best suited for low winds.
The price for the RapidUp Sail is quite good and the product is fairly durable.  It is not quite as versatile as a taller sail but it is certainly easy to use.
This sail comes with a storage bag, 2 quick connect stabilization lanyards, 1 quick connect dousing lanyard and 1 carabiner base clip. It will work with most inflatable kayaks and is priced at around $100.
Click Here For The Best Prices For the Advanced Elements RapidUp Kayak Sail on Amazon.com.
WindPaddle Kayak Sails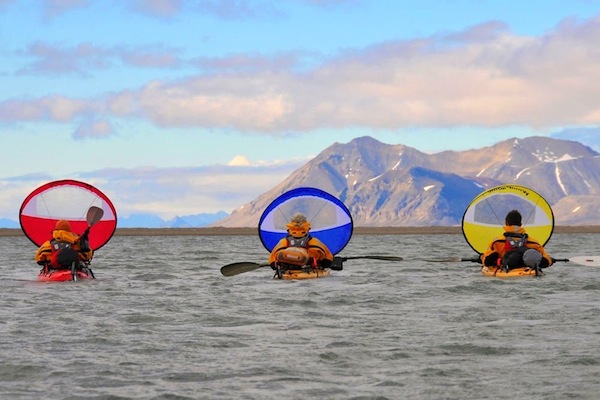 WindPaddle makes a variety of sails and most of them can be used on inflatable kayaks as long as you have some D-rings to attach them to or some bungee cords. If you do not have any bungee cords or unused D-rings you can always buy some extras and glue them on yourself.  In fact you could easily add some bungee cords as well while you are at it.
WindPaddle's sails range in price from around $115 up to $220. The majority of their sails are round and sit at the front end of your kayak and they come in different sizes.  They are all good quality and quite popular.
They also have a unique option called the Bimini that sits behind you and offers some shade and protection from the elements. This one does not restrict your paddling movement so is particularly good for fishing.
Click Here For The Best Prices and WindPaddle Sail Options on Amazon.com.
Bic Kayak Sail Kit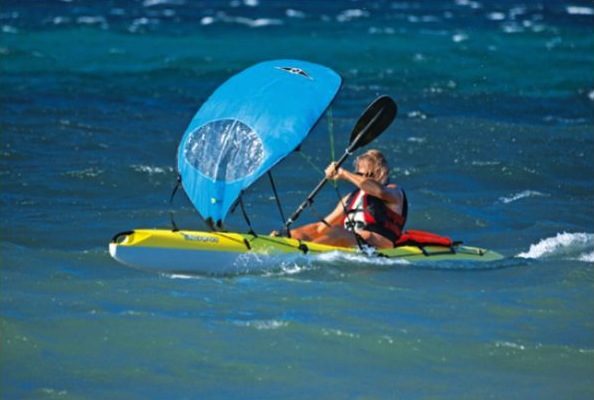 The Bic Kayak Sail Kit is a great option if you really want to keep the cost low. It is priced on Amazon for under $80 and all things considered is not a bad product.
The quality is not as good as a more expensive model but it is simple, super easy to setup and easy to control.
The company states that with this sail you will be able to reach anywhere from 3 – 18 knots. I actually think they are stretching there a little and I wouldn't expect to reach the high end of those speeds.
The kit includes a ripstop nylon sail, fiberglass battens, control lines and handles as well as a carry case.
Click Here For the Lowest Price For the Big Kayak Sail Kit on Amazon.com.
To Sum It Up…
There are other sails out there that are specifically geared for hard shell kayaks. Some of them might work for inflatable kayaks depending on how they attach to the kayak.
If D-rings are all you need, those can easily be added if you don't have any. Other types of sails with different attachments can possibly work as well with a little creative maneuvering.
However the products listed above are all ideal for different types of inflatable boats including kayaks and canoes and are suited for a variety of different needs.