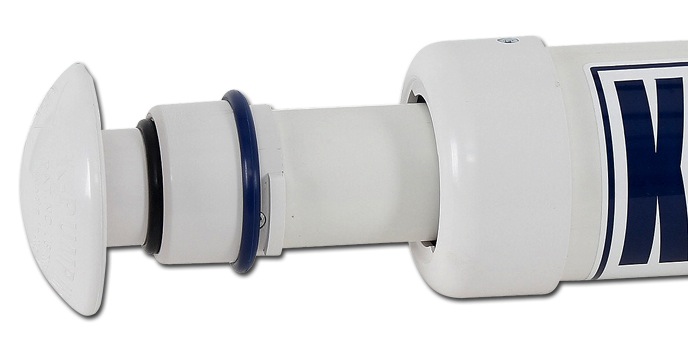 I recently purchased a K-Pump to use on my inflatable kayaks and inflatable stand up paddle boards.
I bought the K20 model while traveling because it is so small and compact. It easily fit into my suitcase when I flew home.
Although at home I am very happy using my electric pump and foot pump with my kayaks, I have to say that I was totally impressed with the K-Pump. It is really a cool high-quality product.
K-Pump Features
What makes this pump unique is that it has two stages:
The first stage is a high volume/low-pressure mode that gets the initial air into your inflatable kayak or inflatable SUP quickly. You use this mode until your boat reaches around 6 PSI.
Then you switch to the second stage. This is the high-pressure stage that allows you to top off your kakak or SUP easily to get it inflated to where it is supposed to be in order to perform as it should.
You may have noticed that with other manual pumps such as the regular hand or foot pumps, they get very difficult to keep pumping after awhile and if you do keep going it can be easy to break the pump.
The K-Pump lets you pump in high-pressure mode really easily. It's an awesome way to top off the air pressure in your kayak and as far as I am concerned the only way to get your inflatable SUP as rock solid as it is supposed to be.
When an inflatable kayak and an inflatable stand up paddle board is inflated to the proper PSI, they perform far better.
Compact and Easy To Use
The K20 model that I purchased is very compact. It is 21 inches long and 3 inches wide. Also it only weighs 2 pounds.
The fact that it is so compact makes it the ideal pump not only for traveling but also to bring along with you in your kayak on paddling trips. It can be stored inside your kayak and will take up very little room.
There are longer models available if you prefer. I got the K20 specifically with traveling in mind so I wanted the smaller version.
The two stages on the pump are extremely easy to use. Just push the end of the K-Pump into the kayak or SUP valve and start pumping.
After you finish with the first stage and your kayak has taken shape you then twist the top into high-pressure mode and keep pumping until you reach your maximum PSI.
Besides a good electric pump, this is the easiest high-pressure pump I have ever used.
The Kwik Check Gauge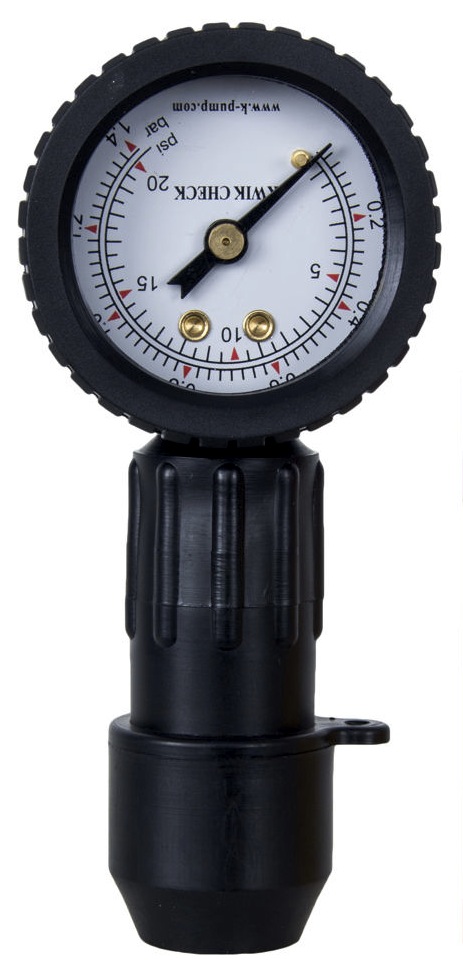 The gauge does not come standard with the pump, which is too bad as it really is a necessity.
You purchase the Kwik Check gauge separately and I would recommend that you definitely use it.
The high-pressure mode is so simple to use that you can easily go over your maximum PSI. Consequently it is important to check the air pressure with the gauge now and then.
By pressing the gauge down on the kayak valve once in awhile to see where you are at, you can be sure not to over-inflate your kayak or SUP.
The gauge works really well and is able to read from 1 – 20 PSI. It is made with an adjustable valve-stem depressor, which basically means that it can work on many different types of valves including Halkey-Roberts, Leafield, Innova or Summit valves.
Other Important Info
This pump comes with a durable blue bag that has a little black sling on it so you can carry it on your shoulder.
It also comes with a good 2-year warranty.
The Negative
The only negative about the K20 model is that you have to lean over while pumping because it is so compact.
For some people this could cause some backaches. I solved the problem by sitting on a little footstool while pumping up my kayak and board.
However if you do not plan to take the pump traveling with you then you might want to consider the longer models the K200 or the K400.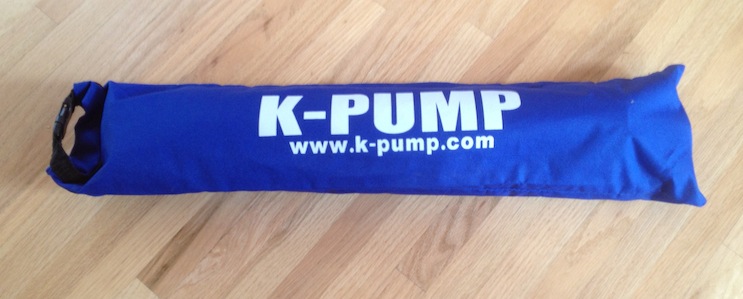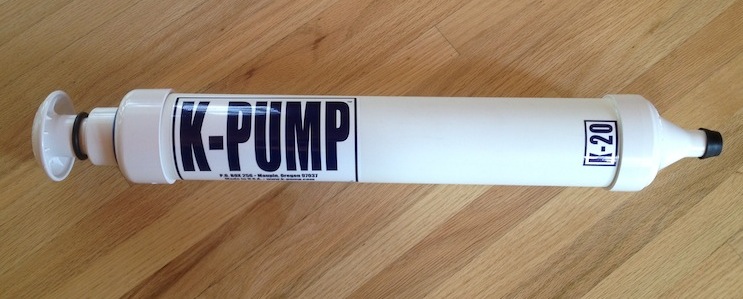 Expected Price and Where to Buy
The K-Pumps range in price depending on which model you choose. They usually start around $72 and go up from there.
Click on the links below to find the current price at each online store..
Bottom Line
The bottom line is that I am thoroughly impressed with this pump and can't recommend it enough.
I wish it cost a little less but the quality, effectiveness and ease of use makes it totally worth it.