Best Uses: Lakes, ocean bays, calm rivers (up to class II)
Brand: Innova
Number of Paddlers: 1
Stats: Length 10' 6", Width 33", Weight 22 lbs., Load Capacity 265 lbs.
Accessories Included: Removable tracking fin, seat and back rest, footrest, bungee tie downs (front and back), bow and stern grab handles, repair kit
Optional Accessories: Spray skirt
Pros: Environmentally friendly – no PVC!, decked inflatable kayak – looks fantastic, very comfortable, large cockpit – good for any sized paddler, inflates in only 5 minutes, dries quickly, extremely light weight, compact, urethane-coated decks with zippered access for gear storage and cleaning ease, gear bungees on bow and stern, aluminum arches fore and aft of the cockpit opening contribute to stiffness and better performance.
Cons: Does not come with a carry bag (Innova is in the process of creating a PVC-free backpack/drybag that will be available at the end of July), not super fast but speed is comparable to a rigid kayak of the same size
Available At:
More In-Depth Info
The Innova Swing is still fairly new on the market and has become a hot item very quickly and for good reason.
It has a totally unique design that you do not normally see in an inflatable kayak.
Although there are a few other closed-deck models around, the Swing shines in that it uses a 'tubeless' system which allows it to be very light weight.
I was pretty psyched to try the Swing because I loved the look of it, the idea behind it and most of all the great price tag.
It is truly a very cool, compact and fun kayak that is best suited for flat water paddling such as lakes, ocean bays or calm rivers.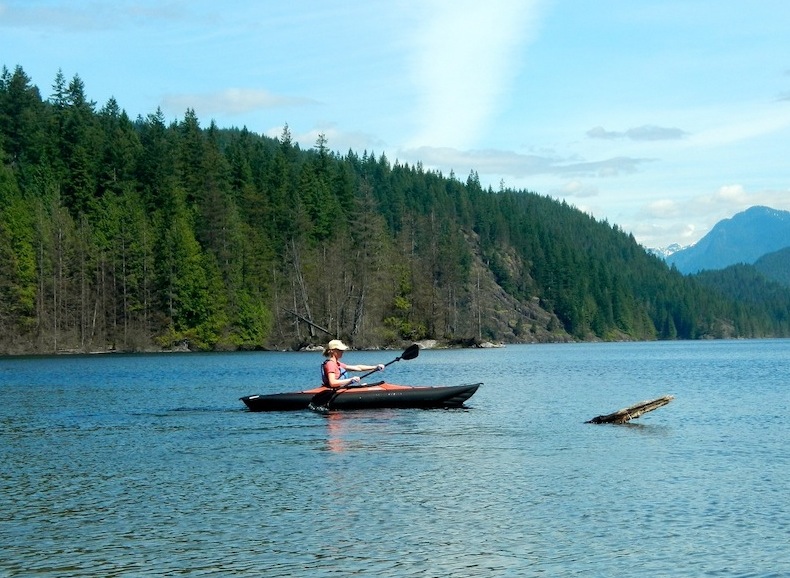 Set-Up
I would suggest with the initial set-up to take-care to follow the instructions. It is surprisingly easy, but different than what you might be used to with other inflatable kayaks.
There are 3 main air chambers which is great for safety… if there is ever a leak in one air chamber you still have two others to safely get you back to shore.
However I do not foresee any issues in this area as the material is strong and resilient.
The fore and aft braces are something I have not seen before and they work very well.  They essentially clip into the front and back of the cockpit and keep the deck and center quite rigid.  This will help with any possible flex as well as performance.
The tracking fin needs to be inserted before the kayak is inflated. The seat needs to be attached, the footrest should be tied down and the fore and aft braces put in place. Then you can start pumping.
All in all it takes me about 5 minutes to fully put together and inflate the Swing. Very simple, very easy… just follow the order in the directions.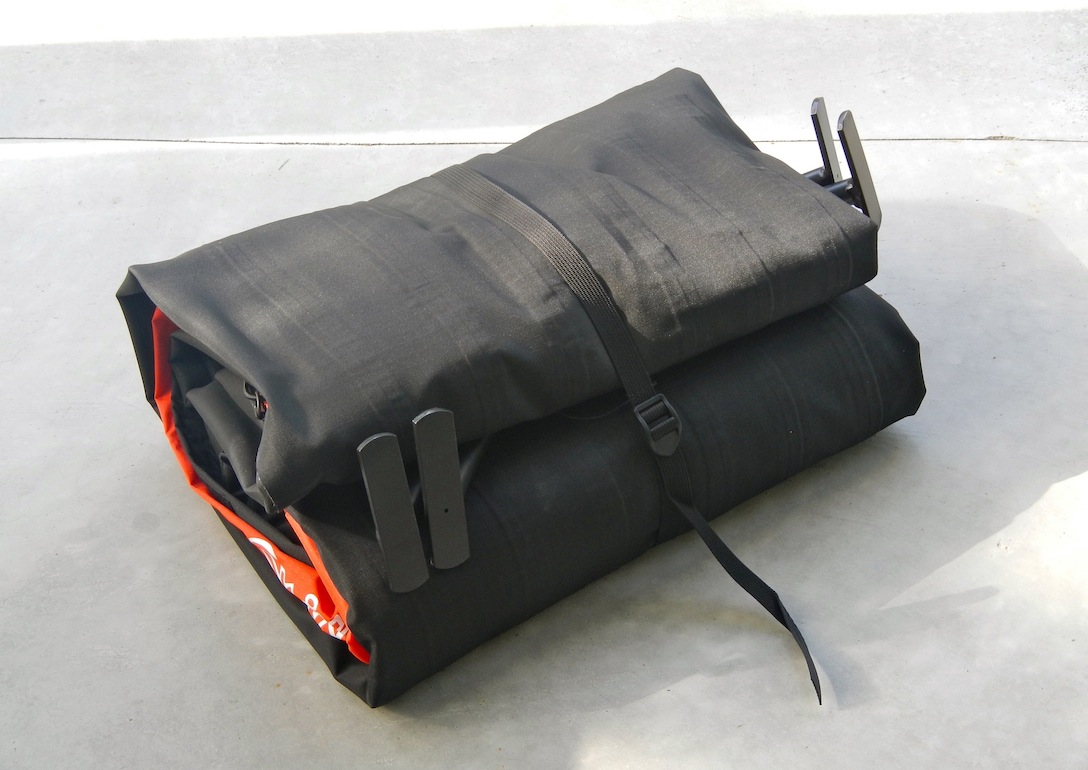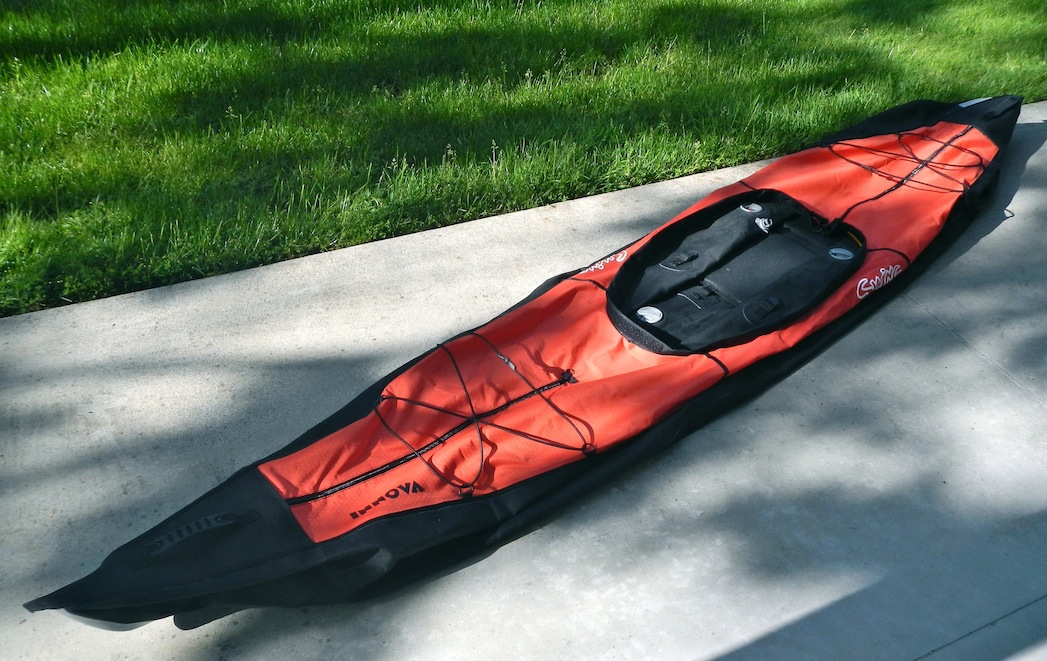 My Experience With the Swing
I had been wanting to test out the new Swing for quite some time and was really excited to finally get my hands on it.
Unfortunately the timing of receiving the Swing coincided with a long distance move I was doing so it got put on the back-burner for a bit.
When I was finally able to get it out I was impressed with… a) the very cool looking design, b) with the ease of set-up for a closed-deck inflatable kayak (they are usually far more complicated), and c) how fun it was to paddle.
There are a lot of positives to the Swing and it is definitely worth checking out.
Quality of Construction
The construction is truly unique from most other inflatable kayaks on the market.
These kayaks are created in a Czech factory that uses a vulcanization process for the kayak seams.  The results of the vulcanization are seams that are bonded together exceptionally strong and a very durable inner lining.
After the whole vulcanization process is done, the main valves are installed and each chamber of the kayak is pressure checked.  The kayak is inflated to 1.5 times the working pressure and after holding for 4 hours the pressure is rechecked.
Any pressure loss beyond 10% rejects the boat.  Boats that pass the pressure check are then completed by hand-gluing the bows and stem shapes and fitting on decks and accessories.
Leaking seams are one of the main complaints with inflatable kayaks that are not constructed well.  This unique vulcanization process means that you are getting a super strong and very durable product that will last for years and years to come.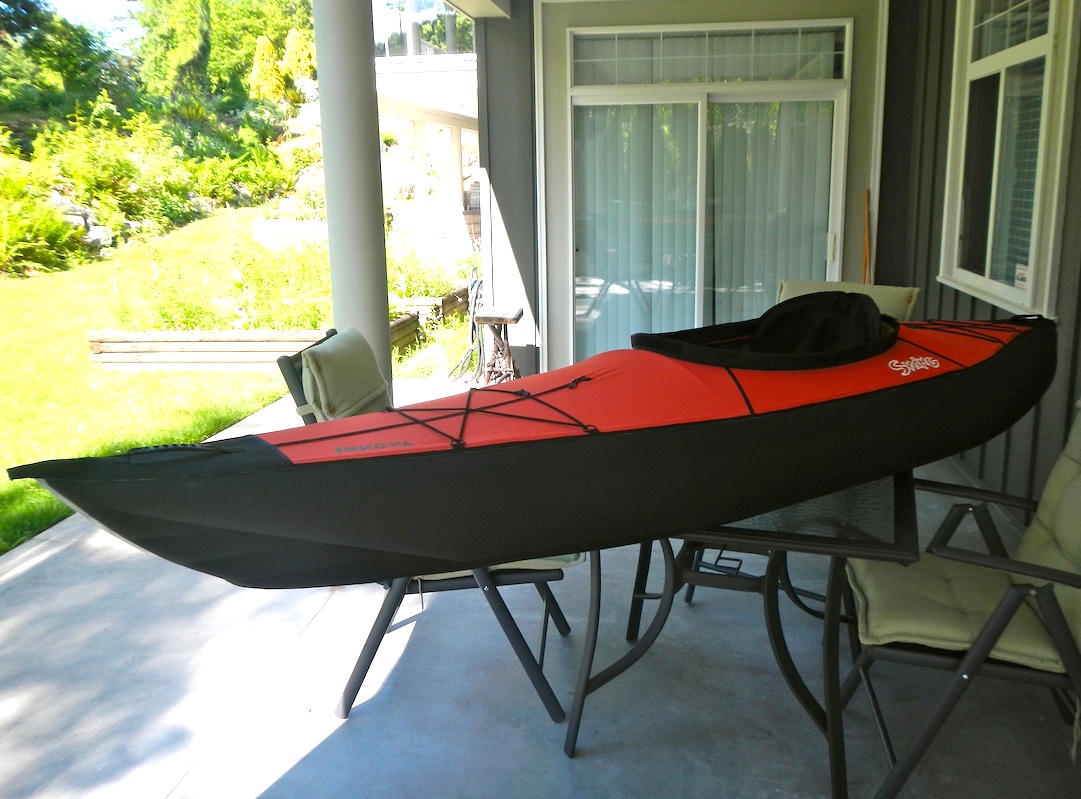 Great Deck!
I have to say the deck is awesome. The bow and stern zippers make it super easy to store and access your gear as well as clean any water out after use. It is a really nice design feature.
The deck makes it feel more like a traditional rigid kayak and it provides fairly good protection from the elements.
The cockpit opening is quite large so easy for a person of any size to get in and out and be comfortable.
There is an optional spray skirt that can be purchased if desired. The spray skirt attaches with velcro and offers additional protection from the elements and rough water.
The bow and stern bungee cords are a nice feature for securing gear that you want easy access to such as a jacket or water bottle.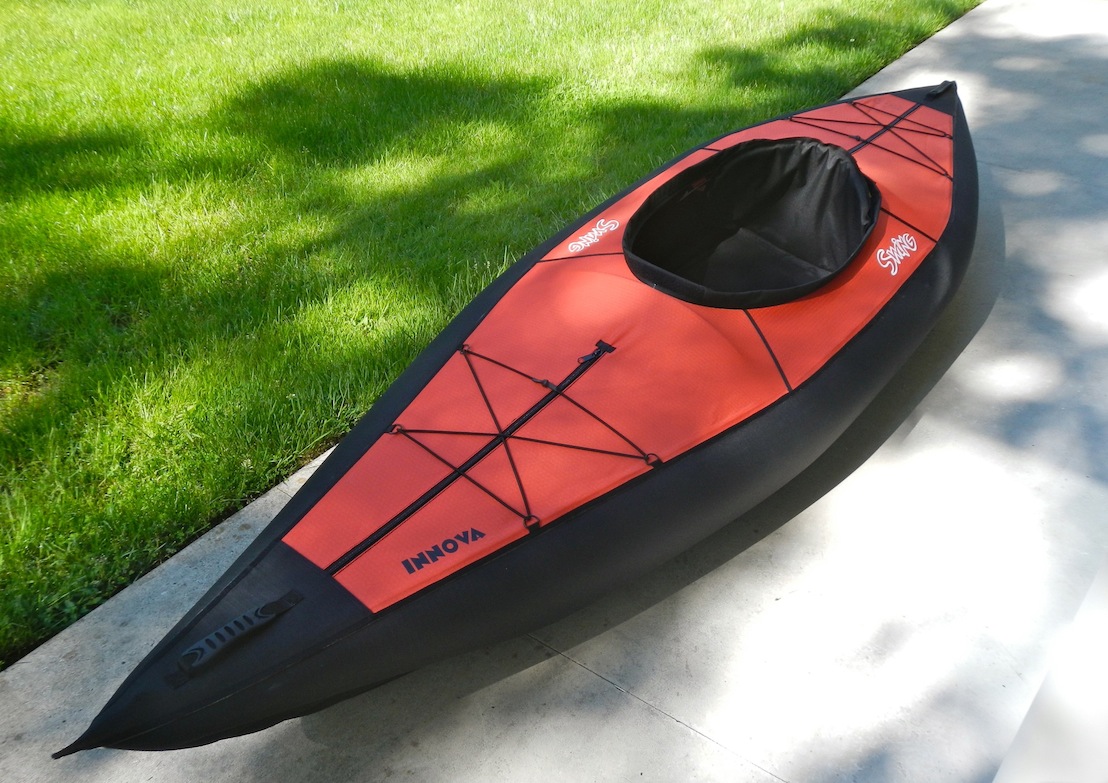 Light and Compact
Closed-deck inflatable kayaks are known to be heavy. It is usually their biggest downfall. With the Swing, Innova was able to use a unique design that kept it very compact and light weight.
At only 22 pounds it can easily be carried by one person and brought anywhere you want to go including on an airplane, a larger boat or in the trunk of your vehicle.
When deflated it rolls up into a super compact package. There is a clip-on strap to keep it securely rolled up.
Performance
The performance is good. This is not the fastest moving kayak in the water but for the length, width and weight it paddles fairly well. It turns easily and is very simple to maneuver.
It takes very little strength to get this kayak going and move it every which way.
The tracking fin helps with going straight but you will still notice a slight yaw movement (side to side). The tracking and speed will be far better with the longer tandem version of the Swing.
I would have loved to see a more rigid floor which I think would have helped with the performance.  However all said and done, it paddles well and I think most recreational paddlers will be quite happy with it.
Tracking Fin
The tracking fin is a decent size and is very necessary when paddling in open water. You can remove it when paddling in rivers.
The fin attaches a little differently than what I am used to with other inflatable kayaks. It slides into slits in the base material.  I found it very easy to put on as well as take off and it is extremely secure when attached.
Make sure you attach the fin before you inflate the kayak otherwise you will not be able to get it on! Check out the instructions.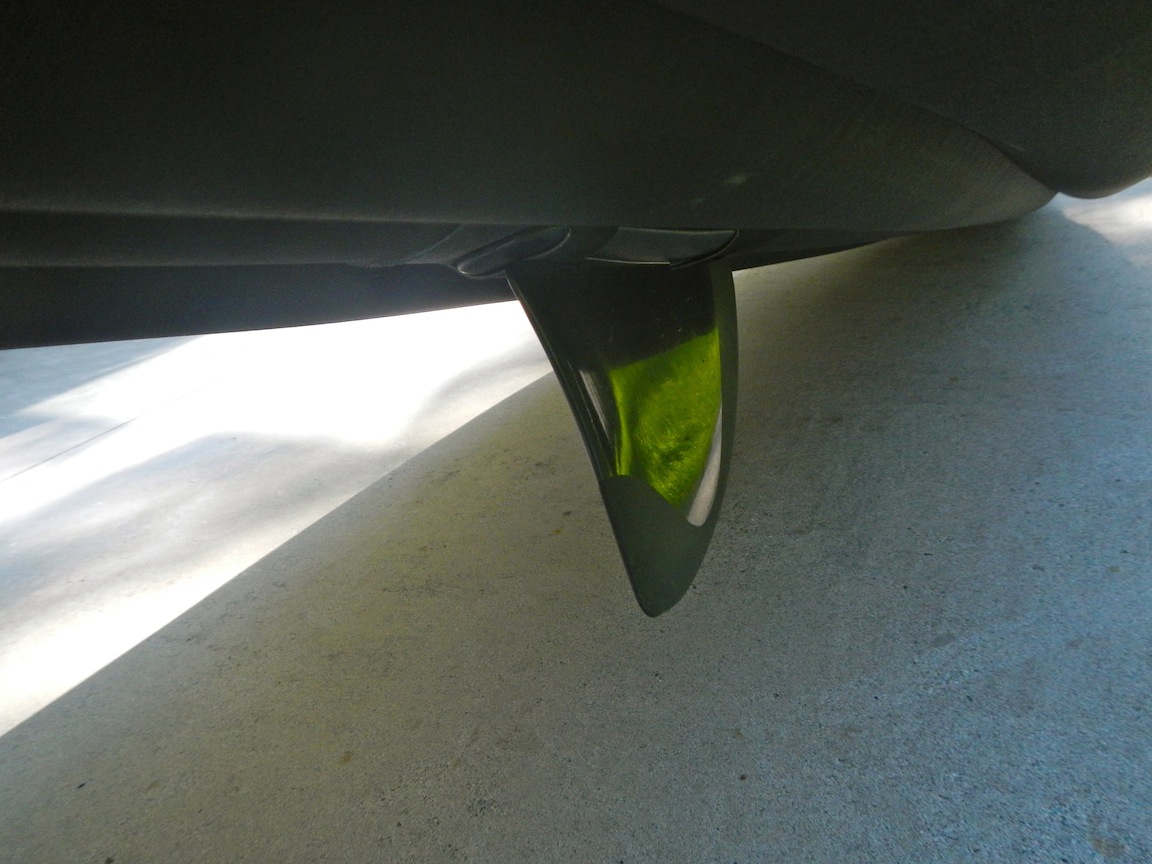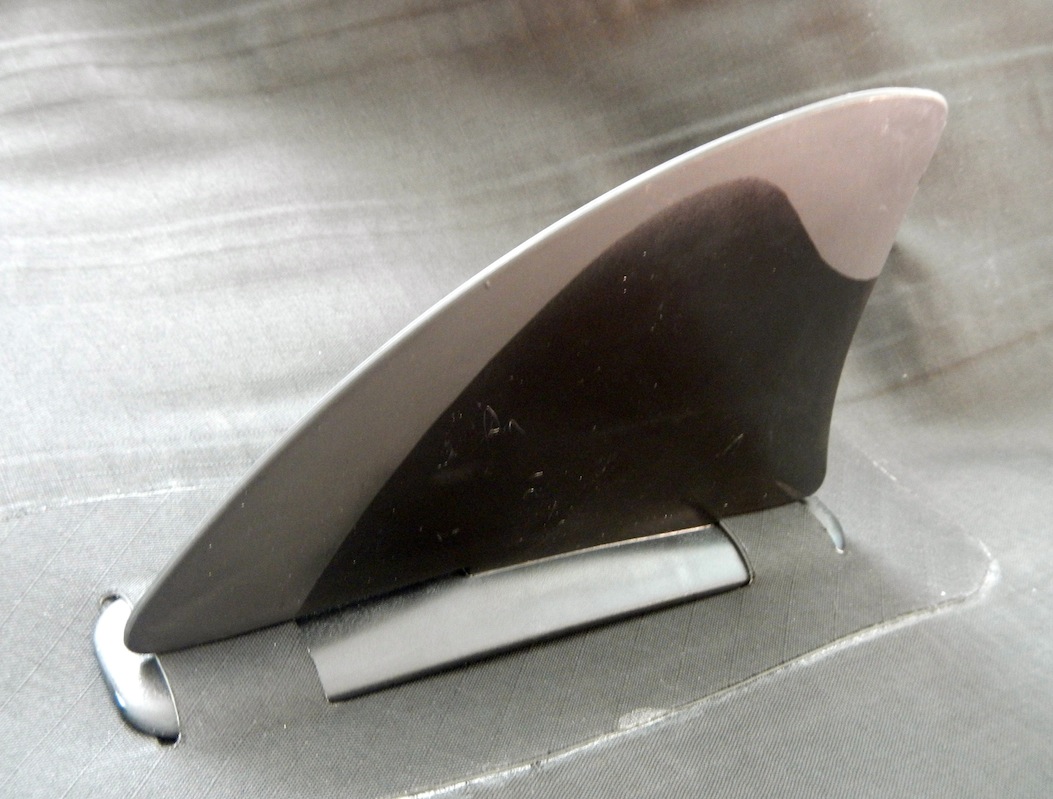 Carry Bag
The Swing does not come with its own carry bag as many other inflatable kayaks do. There is however a clip-on strap that keeps it snugly rolled up and helps when carrying it.
Innova is trying to move completely towards PVC-free products which is fantastic and far better for the environment.
They are in the process of developing a PVC-free backpack/drybag for the Swing I and the Swing II that will have an external paddle loop so you can carry the whole kit with you.  The bag will be available as an accessory at the end of July.
Speed
I would not classify the Swing as a super speedy kayak however it is comparable to a rigid kayak of the same size.
As a comparison Innova paddled the Swing flat out against a rigid kayak of the same length and the top speed was identical.
Once you get moving it glides nicely through the water and I found it took very little effort to paddle along.
My Video
My Pictures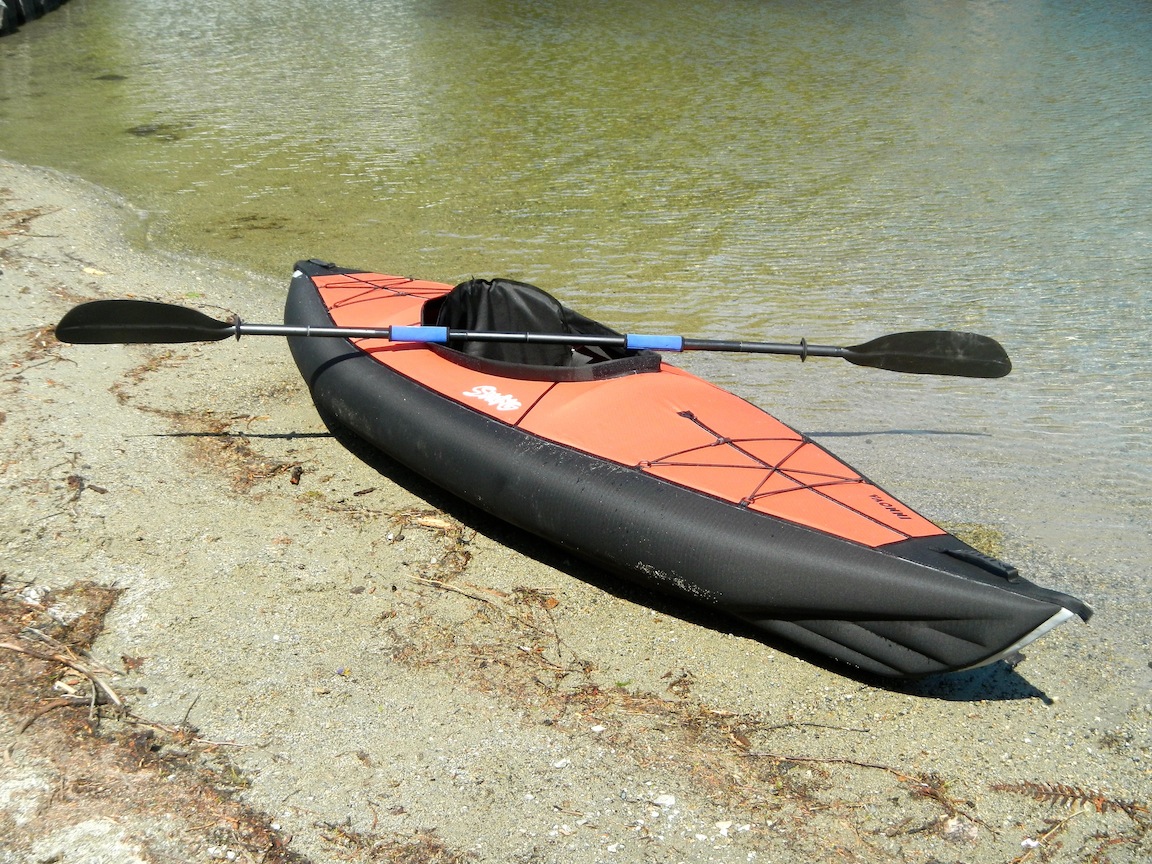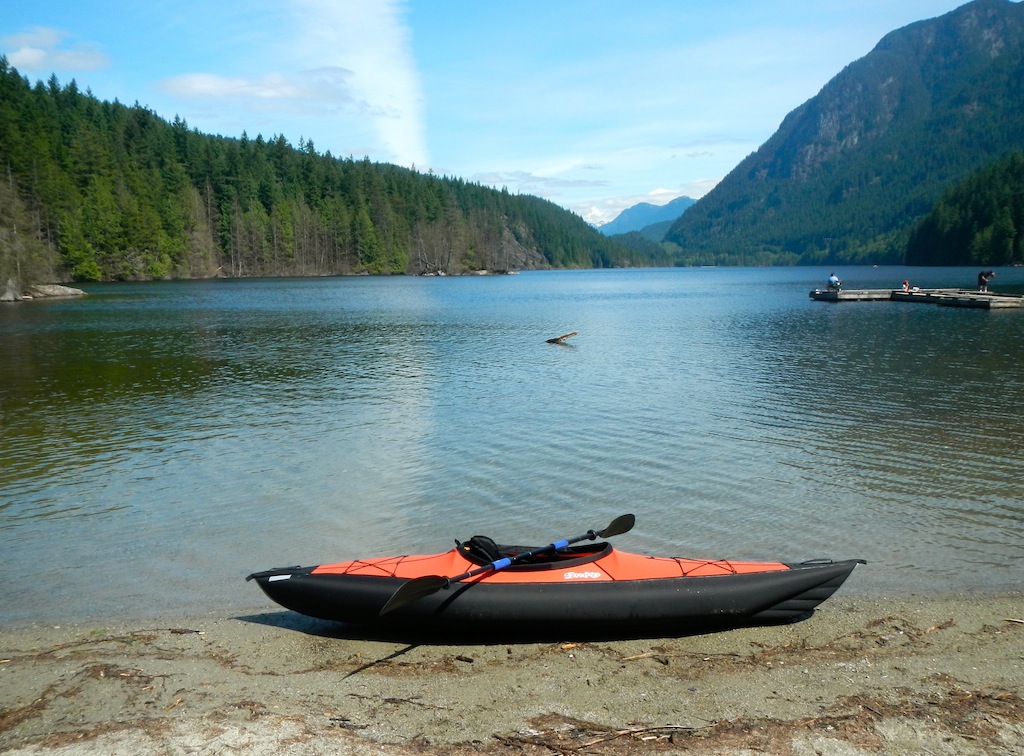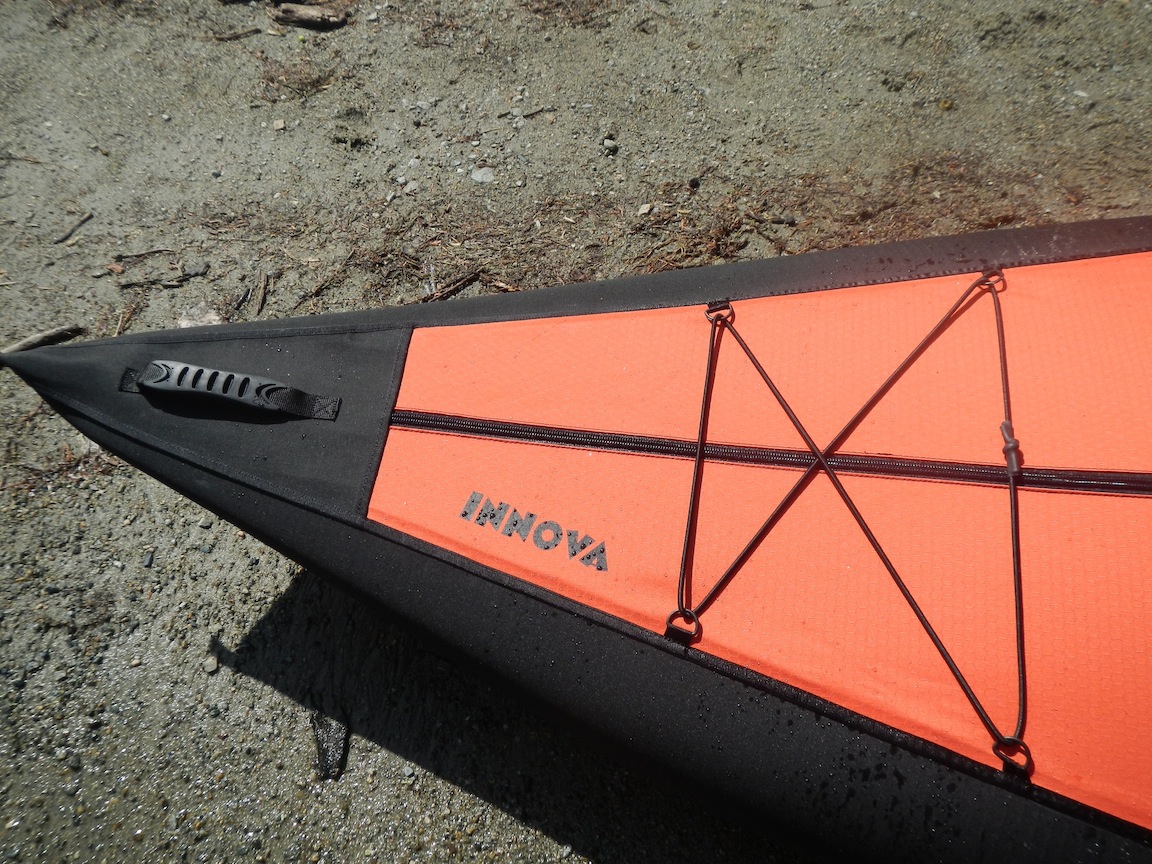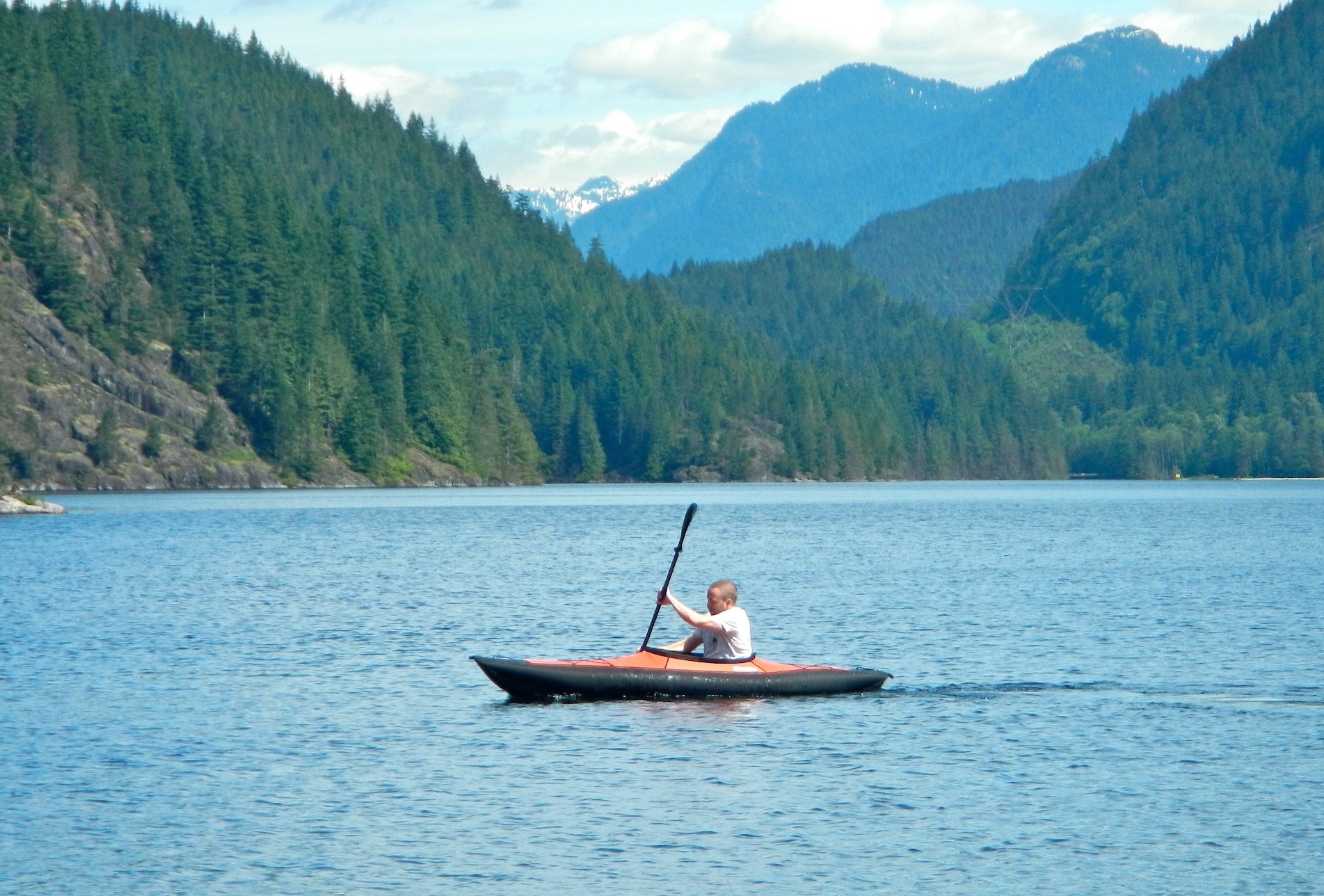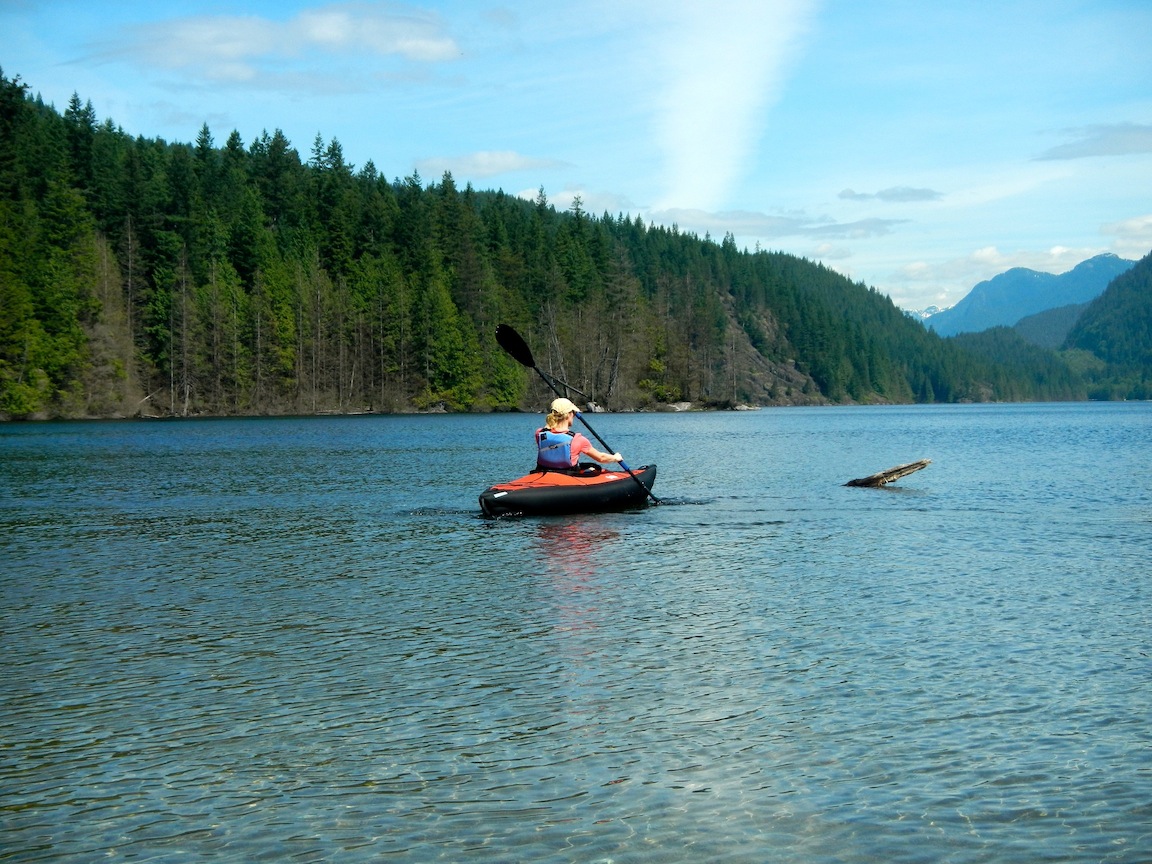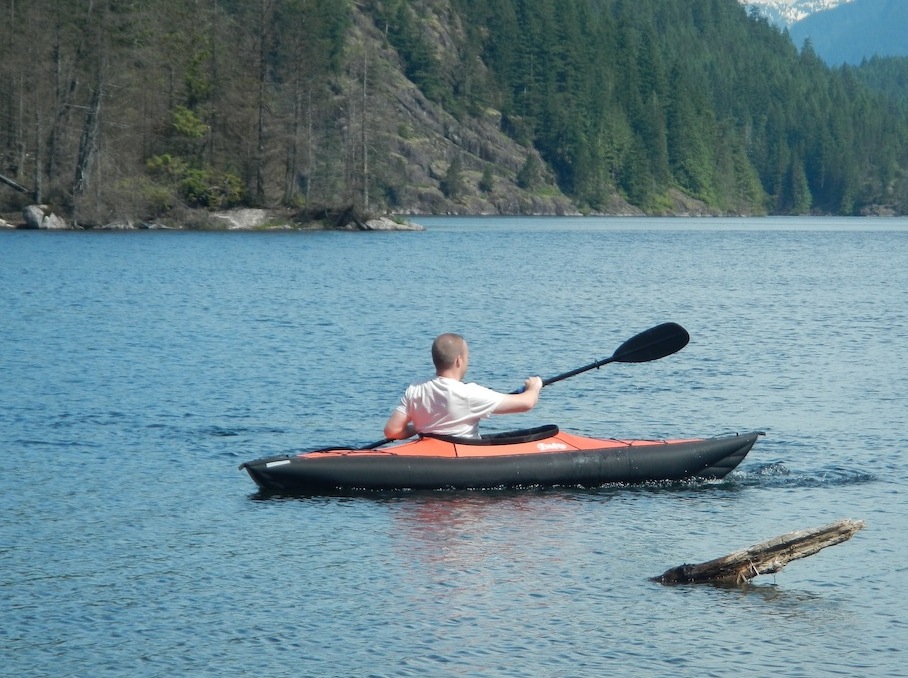 Final Thoughts
Overall I am impressed with the Swing. The design of course is fantastic, it is a very attractive looking model and easy to set up. The performance is decent and I think it is ideal for flat water paddling.
It is unfortunate that it does not come with a carry bag. However the strap works quite well and you could always get a large duffel to put it in if you felt it was needed. Innova may add a bag down the road.
The performance is decent… not the best of the best but great for what it is.
The price is affordable and will appeal to many. Innova has done a great job with this one and I have no doubt it will continue to be extremely popular as people look for more unique and attractive inflatable kayak options.
Bottom line is that it is comfortable, easy, compact, stylish and fun. With the low price tag I would not hesitate to buy this kayak.
Where To Buy
The Innova Swing inflatable kayak is offered at several online retailers.  Click the links below to find the best deal.
Did You Know?
By clicking on the above seller links you can help keep InflatableKayakWorld.com growing. When you make a purchase after clicking on our links, the retailer will contribute a portion of the sale to help support this site. It won't cost you anything extra and it's a simple way to help us fund our kayak and gear reviews. Thanks!