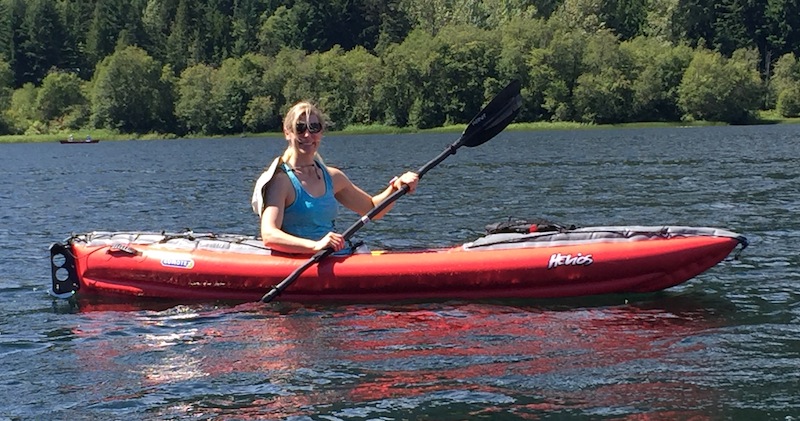 Best Uses: Sea kayaking, flat water, traveling, camping
Brand: Innova
Number of Paddlers: 1
Stats: Length 10' 2", Width 28", Weight 29 lbs, Load Capacity 220 lbs
Included Features: Drybag/backpack, deck netting and gear bungees, adjustable footrest, carry handles, optional foot-controlled rudder
Kayak Material: Low stretch polyester and heavy duty rubber coated 1,200 denier Nitrylon exterior, Lite-pack interior to reduce weight and packed size.
Pros: Lightweight, easy to lift, comfortable, lots of storage space, very easy to turn and maneuver, good tracking (extra good with optional rudder), compact, easy entry and exit, dries quickly
Cons: Although very comfortable you have to sit on the floor of the kayak and you will definitely get a wet bum. There is an inflatable backrest that offers decent support but adding a seat will help with keeping dry, takes a little longer to inflate because decking is inflatable as well
Available At:
InnovaKayaks.com – Innova Helios I
More In-Depth Info

The Innova Helios I has a long reputation for being an excellent inflatable kayak. It is ideal for flat water paddling such as lakes, slow rivers (only up to class I) as well as for sea kayaking.
What I like most about the Helios is:
the quality is excellent
it is extremely easy for one person to carry and handle
it packs away into a large backpack and can be taken anywhere
it has a surprisingly large amount of storage space within the kayak as well as bungee cords on the deck for extra gear.  The netting on the front deck is particularly nice as it is easily accessible for your water bottle and a small drybag.
Simple Yet Effective
The best thing about this inflatable kayak however is its simplicity. It's an interesting design where even the decking is inflatable.   That means that everything deflates and creates a small package when rolled up and stored away.
There is nothing to fiddle with or attach on the Helios except for the footrest and the fin.
I actually found that it took me longer to inflate this kayak than my  Sea Eagle Razorlite, which is what I paddle most often.  However it is a simple setup process that anyone can do.
I wouldn't say the Helios is super fast but it still moves nicely and is super responsive.  It takes little effort to get moving and turns really easily.
The fin helps with tracking but if you want perfect tracking go for the optional foot rudder.
Optional Rudder for Sea Kayaking
There is an optional rudder that can be purchased with this model that really helps for ocean paddling. It is highly recommended for the tandem version of the Helios but the solo model does not necessarily need it as the tracking is decent and it is so easy to turn already.
However if you plan to do a lot of sea kayaking you may want to consider purchasing the rudder as it will help with maneuvering through ocean swells.
Note: The rudder is really designed to fit the tandem Helios and therefore if you decide to purchase it for the solo Helios you will need to specifically request longer rudder cords that can fit over the hull of the Helios I.
I have the rudder for my solo Helios.  I have it attached to help with the tracking but I don't bother with the foot pedals as I don't find them necessary for this model.  With the tandem Helios they would be very useful however.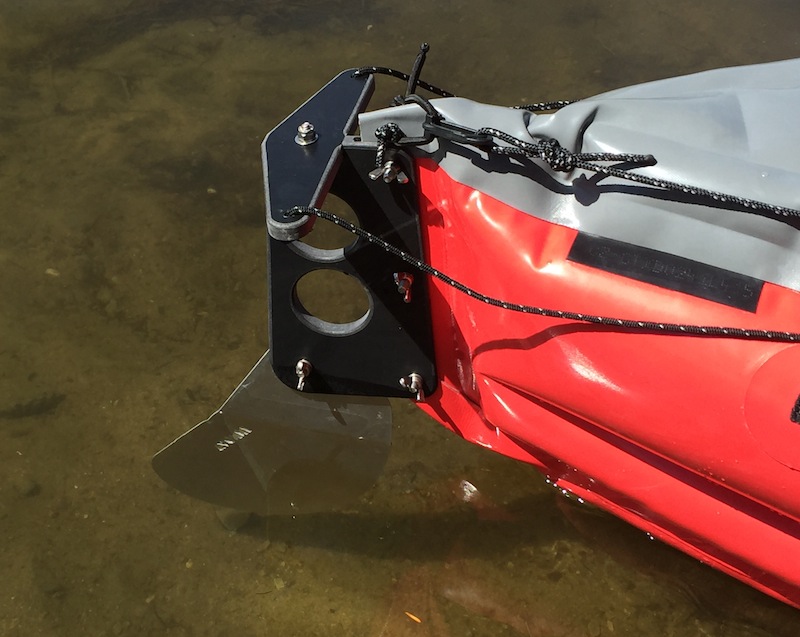 Seating
There is no real seat in this inflatable kayak.  There is however an inflatable backrest that is fairly comfortable.
No seat means you sit on the floor of the kayak, which although comfortable pretty much guarantees you will end up with a wet bum.
A lot of people have been happy to paddle the Helios with just the backrest and don't find the lack of real seating an issue at all.  I personally decided to add my own seat.
I have a high back seat that I use in my Razorlite kayak and it happens to fit snugly in the Helios.
With this seat I stay dry (or at least dyer – some water splashing off your paddles is inevitable) and I also have a little better back support.
You could add any seat you wanted.  There isn't any D-rings to secure the seat but I found that it fit so snugly that it doesn't move around anyway and you can rest it right up against the backrest.
I do attach my seat clips to the back decking just in case I tip so I don't possibly lose it.  Another option is just to add a couple folded up towels to sit on or some type of seat cushion.
You might find you have no need to add a seat yourself however and without one it is a more portable package for traveling.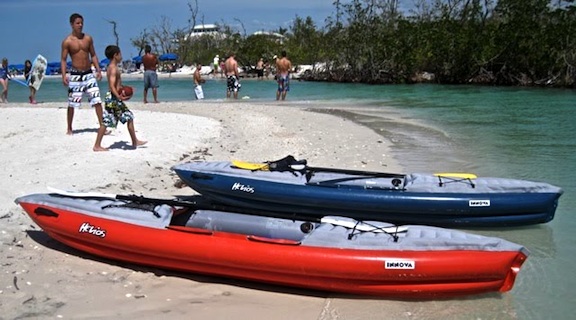 Material
One of the unique things about the Innova Helios is that it is made from Nitrylon material which is far more environmentally friendly than PVC – which is what most inflatable kayaks are made with.
Innova is one of the very few inflatable kayak manufacturers using Nitrylon material. Besides being environmentally friendly, it also dries super quick and is very easy to keep clean.
There used to be two material options for this kayak but Innova now has only the Helios I EX which has full rubber coated Nitrylon fabric construction throughout.
With this type of material you do not have to worry about scotchguarding as it is already protected.  That being said I still apply my 303 Protectant spray for added protection from UV rays about once a year.
More Pictures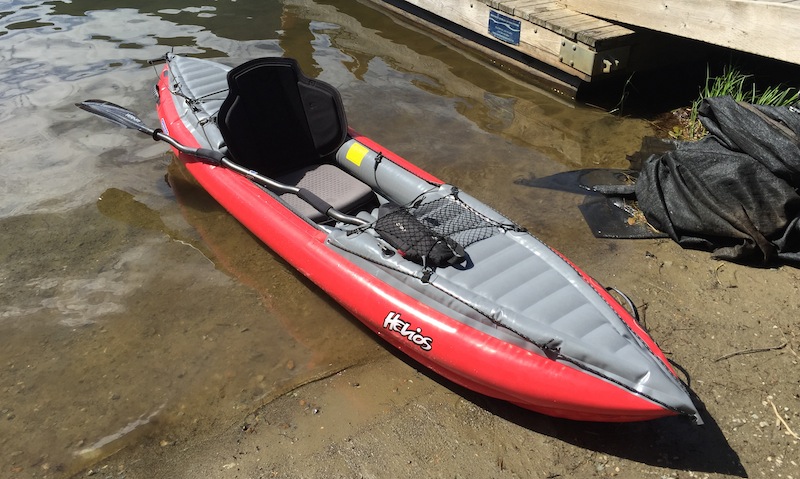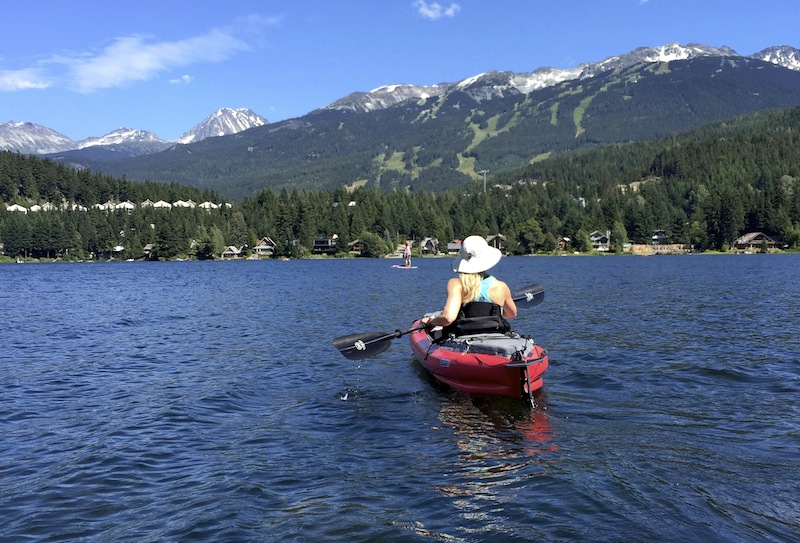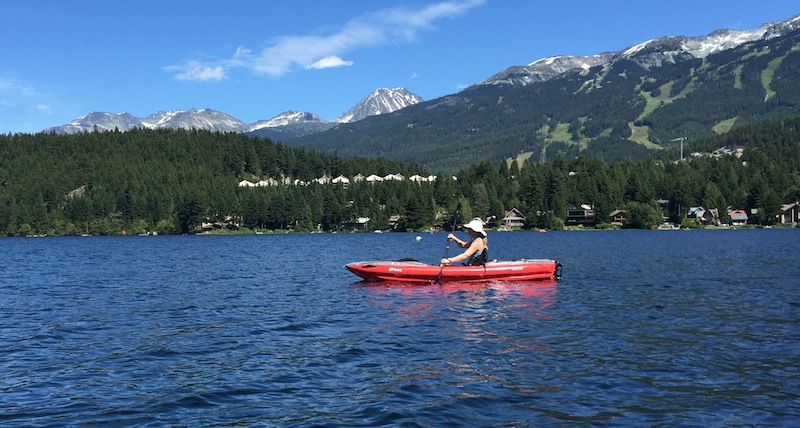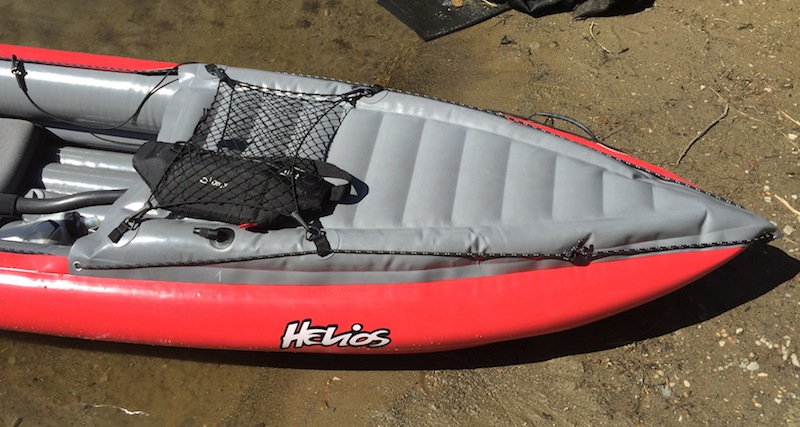 Final Thoughts
The Innova Helios has been very popular in Europe and on the West Coast for years.  It is easy to paddle, highly portable and fairly versatile.
It has more of a closed in deck which offers some good protection from the elements and also provides protected storage space up front.
It is very lightweight and by far one of the more convenient models to take traveling.  It's a solid kayak, well made and comfortable to paddle.
Keep in mind that the load capacity is only 220 lbs. so it may not be the best choice for a larger person. There is also a two person model that can hold much more weight – please see our Innova Helios II Review for more info.
Where To Buy
Click on the links below to see the current prices and best deal at each retailer.
InnovaKayaks.com – Innova Helios I Inflatable Kayak
Did You Know?
By clicking on the above seller links you can help keep InflatableKayakWorld.com growing. When you make a purchase after clicking on our links, the retailer will contribute a portion of the sale to help support this site. It won't cost you anything extra and it's a simple way to help us fund our kayak and gear reviews. Thanks!