Best Uses: Sea kayaking, flat water, traveling, camping
Brand: Innova
Number of Paddlers: 1
Stats: Length 10' 2", Width 28", Weight 24 lbs, Load Capacity 220 lbs
Accessories Included: 70 litre Drybag backpack (fits everything including kayak, pfd, 4-piece paddle, spare paddle, bailer, throwbag and footpump!), thin nylon bag that fits over kayak
Kayak Material: Low stretch polyester and heavy duty rubber coated 1,200 denier Nitrylon exterior, Lite-pack interior to reduce weight and packed size.
Pros: Stable, light weight, easy to lift, comfortable, lots of storage space, great maneuverability, good tracking, compact, easy entry and exit, inflates very quickly
Cons: Although very comfortable, you have to sit on the floor of the kayak with a backrest to lean against and you will definitely get a wet bum. The backrest offers good support but some have suggested adding a cushion to keep your bum off the wetness of the floor.
Available At:
More In-Depth Info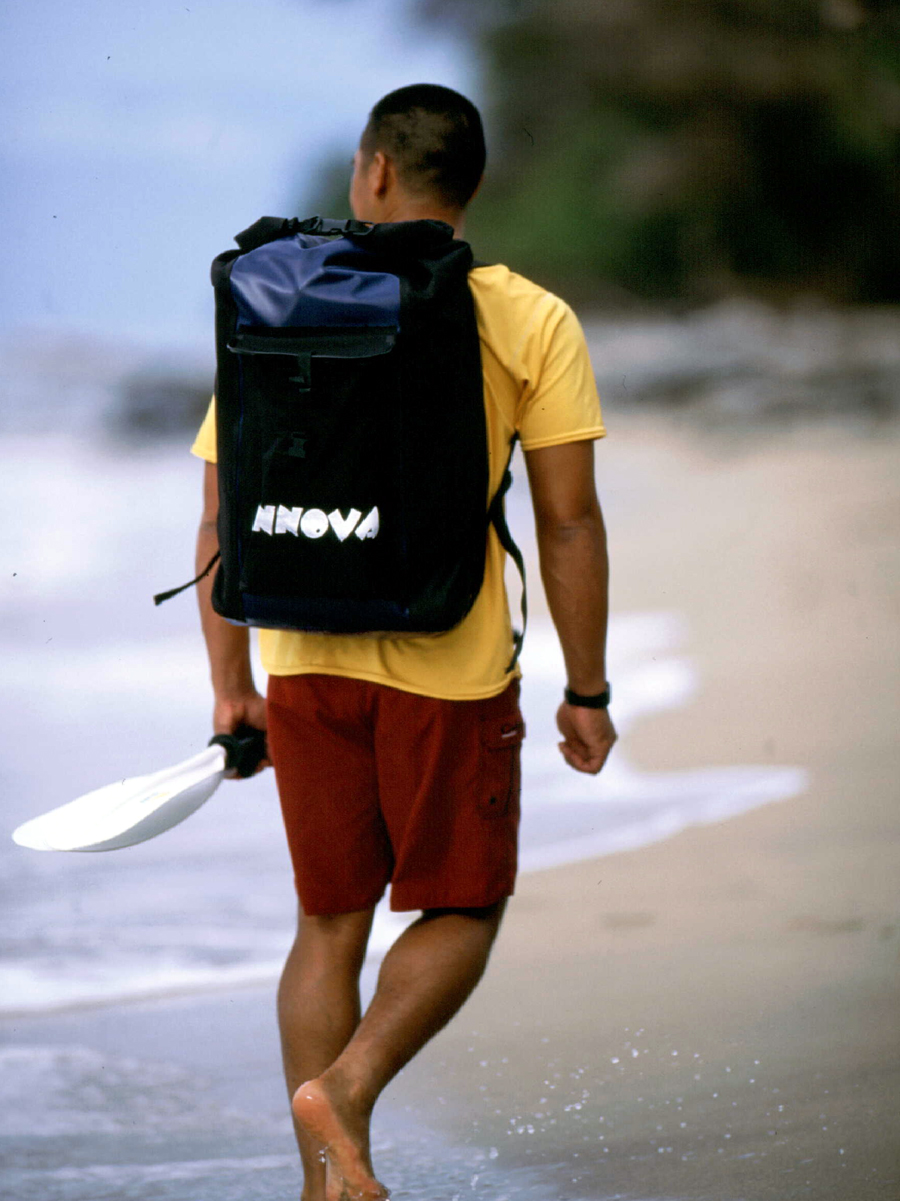 If I wanted an inflatable kayak mostly for traveling and solo use, this would be one of the top options. It is incredibly light at only 24 pounds and you would not believe how small it packs up.
The Innova Helios I has a long reputation for being an excellent inflatable kayak. It is ideal for flat water paddling such as lakes, slow rivers (only up to class I) as well as for sea kayaking.
What I like most about the Helios is:
the quality is excellent
it is extremely easy for one person to carry and handle
it packs away into the backpack that comes with it and can be taken anywhere
it has a surprisingly large amount of storage space within the kayak as well as bungee cords for extra gear on top of the kayak.
Simple Yet Effective
The best thing about this inflatable kayak however is its simplicity. It inflates very quickly and there is nothing to mess around with or attach except for the footrests (I love that it comes with footrests!).
I wouldn't say the Helios is super fast but it can pick up decent speed, especially once you get into your rhythm. The tracking is really quite good considering this is not a very big kayak.
Optional Rudder for Sea Kayaking
There is an optional rudder that can be purchased with this model that really helps for ocean paddling. It is highly recommended for the tandem version of the Helios but the solo model does not necessarily need it as the tracking is already quite good.
However if you plan to do a lot of sea kayaking you may want to consider purchasing the rudder as it will help with maneuvering through ocean swells.
Note: The rudder is really designed to fit the tandem Helios and therefore if you decide to purchase it for the solo Helios you will need to specifically request longer rudder cords that can fit over the hull of the Helios I.
Seating
The seats in this inflatable kayak are simply inflatable flaps that attach to the back cover and fold against the floor. From looking at the pictures you may not think the seating looks very comfortable however just about all the reviews on back support have been excellent.
The one issue worth pointing out is the fact that you sit on the floor of this kayak and you will inevitably get a wet bum. This doesn't personally bother me much as I tend to somehow always get water in my kayaks while paddling anyway. I inevitably always finish off with a wet seat.
However if you do find that this is an issue for you, you can rectify this by adding any type of rubber or inflatable seat cushion which will keep your bottom off the floor and probably much dryer.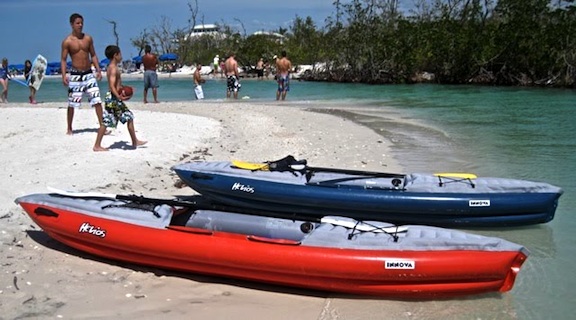 Material Options
One of the very cool and unique things about the Innova Helios is that it is made from Nitrylon material which is completely PVC-free and therefore quite environmentally friendly.
Innova is one of the only inflatable kayak manufacturers using Nitrylon material right now. Besides being environmentally friendly, it also dries super quick and is very easy to keep clean.
Innova is offering two different options for material.
One option uses a Lite-pack Nitrylon material on the inside of the kayak as well as on the decks that makes it about 10% lighter and far more comfortable on the skin. This is my personal preference as I like the lighter weight however the Lite-pack material is more susceptible to damage from the sun as well as from saltwater. Therefore if you purchase the Lite-pack version it is recommended that you use some scotchguard over the grey inner material in order to help protect it, preserve its strength and help it to last longer.
The other option is the Helios I EX which has fully rubber coated Nitrylon fabric construction throughout so you do not have to worry about scotchguarding it as it is already completely protected. This version costs roughly $100 extra and weighs an extra 5 lbs.
Final Thoughts
The Innova Helios has been very popular in Europe and on the West Coast for years as it is affordable, stable and very versatile. It has more of a closed in deck which offers some good protection from the elements.
It is very lightweight and by far one of the more convenient models to take traveling. I would highly recommend this model for any person looking for a convenient and portable solo inflatable kayak.
It is very solid and the quality is excellent. It continues to be one of my favorite solo inflatable kayaks to this day.
Keep in mind that the load capacity is only 220 lbs. so it may not be the best choice for a larger person. There is also a two person model that can hold much more weight – please see our Innova Helios II Review.
Where To Buy
Click on the links below to see the current prices and best deal at each retailer.