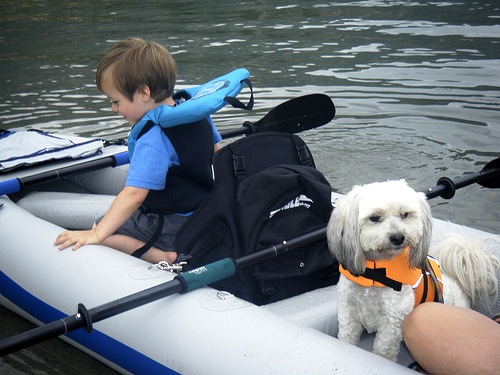 Those who are new to kayaking or who want to introduce a friend or family member to the paddling world are in luck because inflatable kayaks are known to be excellent for beginners.
Besides being easy and comfortable to paddle, there is one very important reason that they are great for beginners… they are incredibly stable.
One of the worst things a beginner paddler can do is start out in a long, sleek and very unstable kayak model.
The skinny hard-shell kayaks that you often see more experienced kayakers using are excellent performers but they are also extremely unstable.
An old boyfriend of mine from many years ago who had never kayaked before decided that for his first time out he would rent the fastest, sleekest kayak available. He would not listen to reason or let me talk him out of it. Being an athlete, he figured he could handle it.
So we headed out on the ocean in a beautiful and protected cove. Within ten minutes I realized he was in trouble, as he could not control the kayak in the waves. He ended up overturned in the cold water and had to be rescued by a passing motorboat.
Luckily he was okay although his ego was a little bruised. I have to admit at the time I laughed about it for weeks. It was all really quite ridiculous.
For those of you who don't want to end up in the water your first time out, then stability will be your main concern.
Inflatable kayaks tend to be fairly wide. Their pontoon-like sides offer excellent stability. In fact they are nearly impossible to tip. I can say in all honesty I have never once felt threatened of ending up in the water while paddling my inflatable kayak.
For this reason many kayak rental and adventure companies will use inflatables kayaks and boats in their fleet.  They are also popular for families, fishing,  dogs, and loaded down expeditions.
As for which inflatable kayak models are the best for beginners you really can't go wrong and it will depend on your needs. I would say the middle-range to higher end models are much nicer to paddle as they tend to track better and paddle smoother.
However depending on your needs a cheaper model might work just fine. I started out with the Sea Eagle 380X as it was super stable, comfortable, versatile and seemed to provide a lot for my money – i.e. good quality, good warranty, includes paddles, pump, etc.
It turned out to be an excellent choice and although these days I tend to take out my FastTrack far more often, I still use it for friends who don't have much experience. It never lets me down.
Check out our review categories to find the model that suits your needs best.