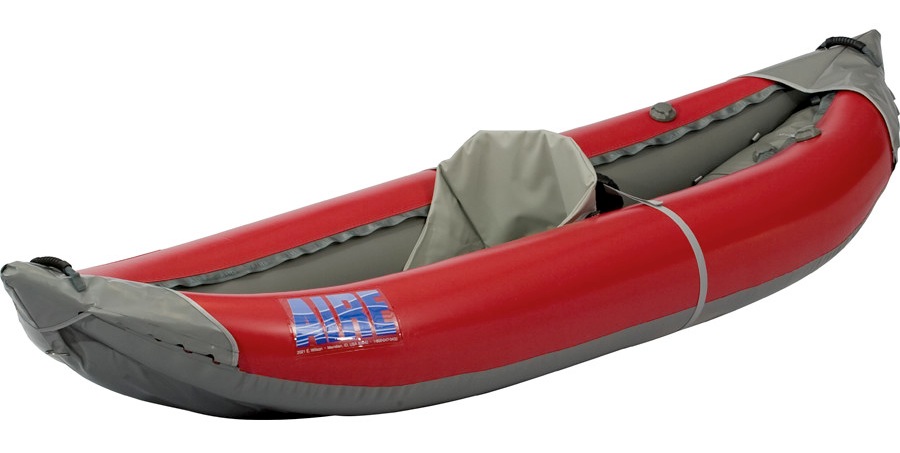 Best Uses: Whitewater, day trips, lightweight overnighters, all-day river adventures
Brand: Aire
Number of Paddlers: 1
Stats: Length 9' 11", Width 40", Weight 36 lbs, Load Capacity 400 lbs
Accessories Included: Carrying bag, inflatable seat, repair kit, owners manual
Kayak Material: 1100 denier PVC, urethane Aire cells
Pros: Extremely stable, rugged, easy to lift, comfortable, great maneuverability, compact, easy entry and exit, 10 year warranty
Cons: Built more for stability as opposed to playing
Available At:
More Detailed Info
The Aire Outfitter I is a fantastic whitewater inflatable kayak for the beginner to novice kayaker although it has not gained the popularity that other Aire kayaks have.
It was designed for a low center of gravity and offers excellent stability and control for new kayakers on their first whitewater trip.
In fact this kayak is often used by commercial outfitters (hence the name) who want a super stable inflatable kayak for their customers.
The Aire Outfitter I inflates very easily and set up time is minimal.
You can expect to get wet, even in minor waves, but there are 'bail holes' around the edges of the bras so that any water that gets in will quickly run out.
Great For Newbies
If you are fairly new to whitewater kayaking and want an inflatable kayak that can go with you anywhere as well as give you ultimate stability in the rapids, the Outfitter will be perfect for your needs.
With its ten year warranty it will last a very long time and possibly even be great for resale should you ever want to move on to a more advanced whitewater inflatable kayak.
The Outfitter also comes in a tandem version, the Aire Outfitter II, if you want the option of kayaking with a partner or the ability to bring along more gear.
Final Thoughts
If you have had a lot of experience with whitewater kayaking then you should take a look at the Aire Lynx. If you are a beginner to a novice whitewater kayaker, the Aire Outfitter I inflatable kayak will be perfect.
The Outfitter was designed for ultimate stability. When using this inflatable kayak you do not have to worry about ending up in the water and spending time swimming. The quality is phenomenal and the warranty is outstanding.
Where To Buy
Click the links below to find the best price for the Aire Outfitter kayak.
Did You Know?
By clicking on the above seller links you can help keep InflatableKayakWorld.com growing. When you make a purchase after clicking on our links, the retailer will contribute a portion of the sale to help support this site. It won't cost you anything extra and it's a simple way to help us fund our kayak and gear reviews. Thanks!