Best Uses: Lakes, ocean bays, mild whitewater (up to class II)
Brand: Sea Eagle
Number of Paddlers: 1 or 2
Stats: Length 12' 6", Width 36", Weight 31 lbs., Load Capacity 635 lbs
Accessories Included:Large removable skeg, 2 high capacity self-bailing drain valves, front & rear spray skirts, 6 D-rings, bow and stern grab lines, nylon carry bag, repair kit, choice of seats, 2 paddles, air foot pump
Kayak Material: 1000 Denier Reinforced with wide overlap seams (hull material is completely resistant to sun and saltwater)
Pros: Faster than the other Sea Eagle inflatable kayaks, can hold a lot of weight, enough room to fit two people comfortably or to be paddled solo, lightweight, 2 closeable self-bailing valves, versatile, decent amount of storage space (below spray skirts as well as rope lacing for storage above), very rigid drop stitch floor, really good tracking (as long as you use tracking fin), glides through water, quick set-up time
Cons: Need to use the skeg for the good tracking
Available At:
More In-Depth Info
The Sea Eagle 385 FastTrack is Sea Eagle's new faster and sleeker inflatable kayak.
I was really happy to see that Sea Eagle had come out with a kayak that could offer a little more speed. I have always felt that speed was one thing that their inflatables have lacked up to this point.
With two people you can get their Explorer kayaks clipping along at a decent rate but if you are used to paddling a hard-shell kayak and gliding through the water you will definitely notice a little bit of yaw (side to side motion) from the other Sea Eagle kayaks.
The size of the Sea Eagle FastTrack is very comparable to the Sea Eagle 380X. It is identical in length, about an inch smaller in width, and can hold a similar amount of cargo. The big plus however is that it weighs seven pounds less which makes it much easier for transporting and carrying to the water and of course it is faster.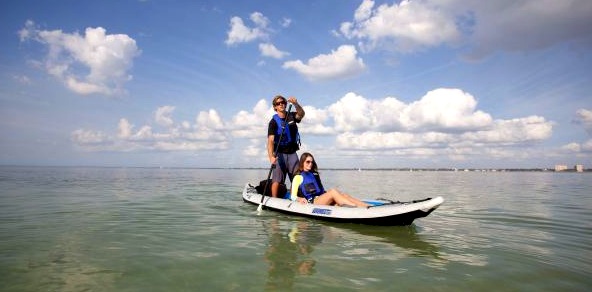 Why is the FastTrack Faster?
You can tell by looking at the pictures that the FastTrack is shaped a little differently than the Explorer kayaks. This new shape allows it to not only glide through the water with little yaw movement but also to move quite fast. Sea Eagle states that the FastTrack is able to pick up better speeds for three reasons:
There is a drop stitch outside keel at the bow which provides buoyancy and helps to stop the natural yaw of an inflatable kayak.
There is a removable rear skeg that helps to keep the kayak heading straight.
It comes with a separate very rigid drop stitch floor which increases the overall rigidity of the kayak and creates side chines under the pontoons which enhances the overall paddling performance. In fact the floor is so rigid that this kayak could even be paddled as a stand-up paddle board.
Click here to see pictures of the new FastTrack model on the Sea Eagle Website
.
My Experiences With The FastTrack
I already own the Sea Eagle 380X and have been very happy with it. However it seemed to me that the FastTrack had most of the positives of the 380X with the added bonuses of being lighter and faster.
That was really appealing and I decided that it would fit my lifestyle perfectly. I now own the FastTrack as well and below you will find my observations.
Smaller Pontoons
The FastTrack has the same interior width as the 380X but the pontoons are about an inch slimmer. This small difference makes for a much sleeker looking model. I noticed two things with the smaller pontoons:
My paddles rarely rubbed against the sides while paddling (as they sometimes do with my other kayak).
It felt like I was sitting up higher in the kayak
Both of these things were really positive and made for good center of gravitiy as well as a really enjoyable experience.
Very Rigid Floor
The inflatable floor in the FastTrack has a seperate air chamber for inflating and can be inflated to a very high air pressure which makes it super solid.
The floor is actually so rigid that you can stand up in the kayak with no problems and paddle as a stand-up paddle board if you wish… very cool. Both my mom and I have tried standing up in it and were pleasantly surprised by how stable it was.
Tip: The rigid floor greatly helps with the performance of this kayak. When you are inflating the floor make sure to get it as solid as you can as this will help with the strength of the skeg for the best tracking.
I did find that after a few hours of paddling my bum got sore from the extra hard floor (I used to always have that problem when kayaking in hard-shell kayaks). I guess my bottom got spoiled from the more "cushiony" floor in the 380x. Not a big deal though as I can easily solve this by adding an extra cushion to my seat for my longer trips (or even just a towel works).
Tracking Fin/Skeg
In whitewater you would not use the skeg but when kayaking in open water such as in lakes or the ocean the FastTrack needs to have the skeg attached in order to get the good tracking.
With the skeg attached this inflatable kayak tracks really well and glides beautifully through the water. This kayak is truly best suited for flat water kayaking.
One thing to remember with the skeg… When you deflate your kayak take the skeg off… do not leave it attached as this can cause it to get knocked loose or bent.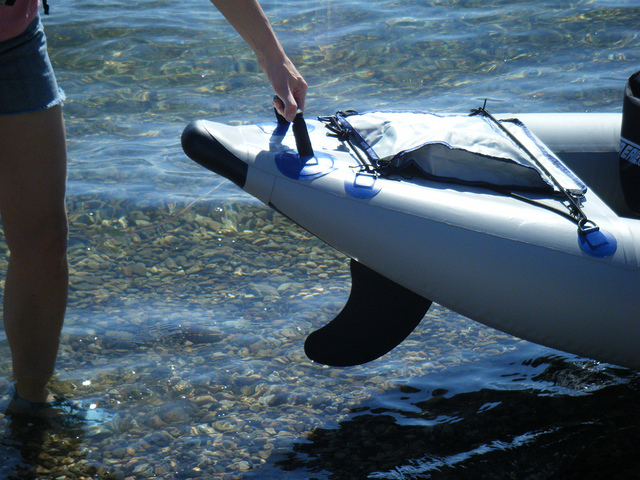 Performance… Wow!
I am hugely impressed with the performance of the 385 FastTrack. The more inflatable kayaks I paddle and review, the more I am impressed with the FastTrack.
For an inflatable kayak it can definitely get some good speed. I find that I can paddle farther with less effort which is exactly what you want. The FastTrack is also excellent at tackling heavy winds.
Package Options
There are several package options to choose from with the FastTrack.
Solo Package

– Costs a little less, has all the same dimensions as the tandem version but only comes with one seat and one paddle.
Tandem Package

– With the tandem 385 FT you are able to adjust the seats to paddle solo if you desire but comes with two seats and two paddles. The tandem model has two choices… the deluxe package or the pro package (which is what I have). The difference is that the pro package comes with high-back seats and better paddles as well as two stern bags and a waterproof bag.
Fishing Package

– For those who love to fish there is now a fishing package with an elevated swivel chair that is ideal for anglers.
Pro Carbon Package

– This package comes with the high back seats as well as two high-end carbon-fiber paddles.
QuikSail Package

– Comes with a 14 sq. foot self standing sail that allows you to turn your kayak into a sailing vessel in less than one minute.
Green Machine Package

– Awesome environmentally friendly package that allows you to paddle your kayak, sail it or power it with a solar panel electric motor.
Video
Below is my video of the Sea Eagle 385 FastTrack. In this video I am shown paddling the FastTrack solo but of course it can be paddled tandem as well.
My Pictures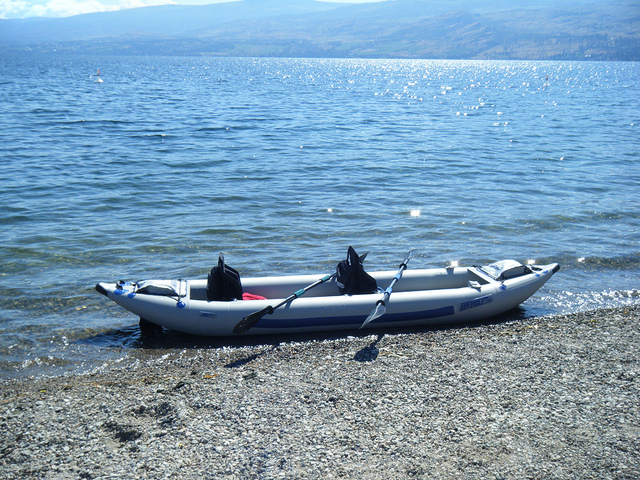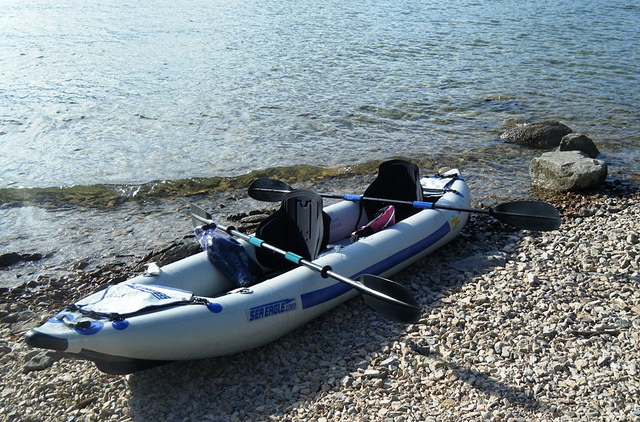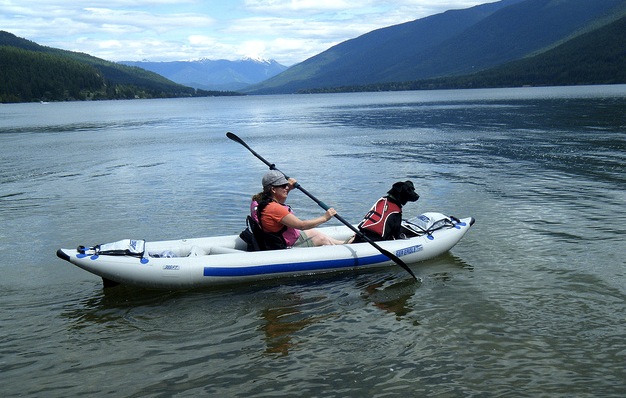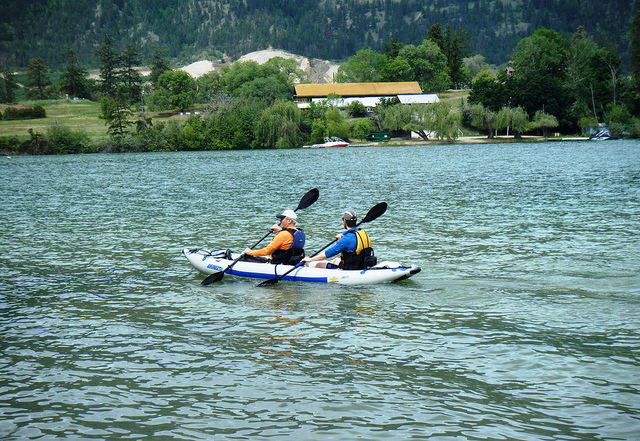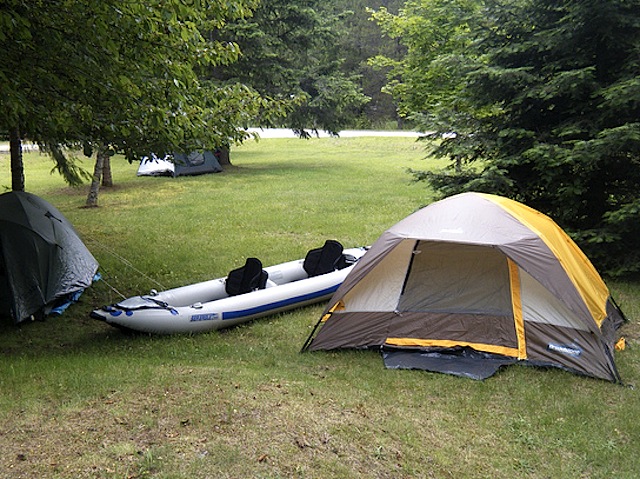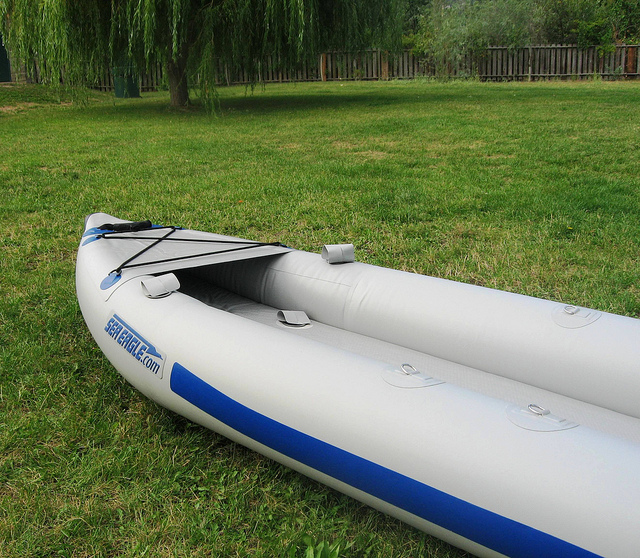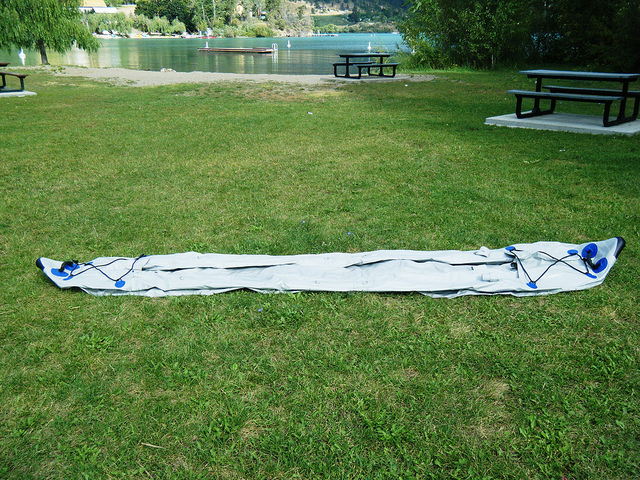 See more of my FastTrack pictures on the IK World Flickr Page.
Final Thoughts
Price wise the FastTrack costs about $100 more than the 380X which really isn't too bad all things considered. As mentioned before it is best suited for flat water but can handle up to class II rapids (there are two closeable self-bailing drain valves).
The size is very convenient and is ideal for tandem paddling as well as solo paddling (seats can be moved), for dogs or for traveling. You get a lot for your money with this inflatable kayak and I can really understand why it has become popular so fast.
After all is said and done I will likely still use my 380X for rivers as it is more suitable for the rapids but I will definitely use the 385 FastTrack for all open water such as lakes and ocean bays. The speed and tracking far outshines that of the 380X.
The FastTrack now also comes in a longer version which is ideal for families or for those paddling with a lot of gear. Please see the 465 FastTrack Review for more information.
Where To Buy
The Sea Eagle kayaks are one of the few that you are able to purchase directly from the manufacturer. This is beneficial for three reasons:
Their prices tend to be excellent and they often have great sales.
You can benefit from their 3-year warranty on all of their products.
You can take advantage of their 180-day risk free trial, which means that if you are not satisfied with your purchase you can return it for a full refund within 180 day period (as long as the kayak is in good condition).
Click Here For The Best Deal On The 385 FastTrack Inflatable Kayak From The Official Sea Eagle Website.