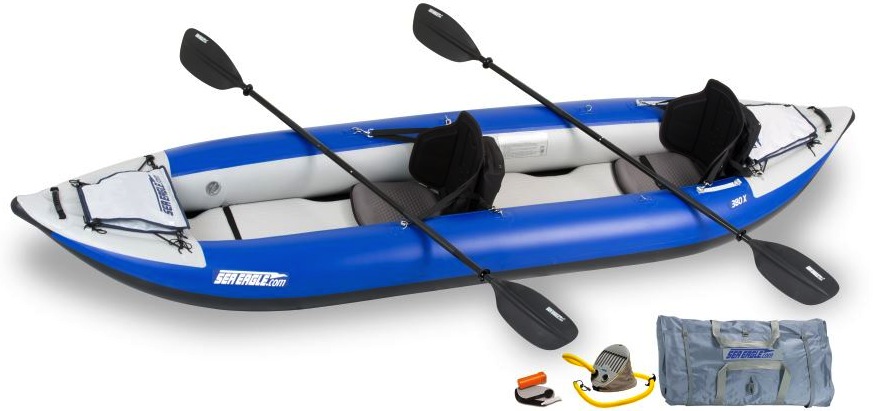 Best Uses: Whitewater – up to class IV, Lakes, Ocean, Day or Overnight Paddling Trips, Camping
Brand: Sea Eagle
Available At:
Click here for the best deal on the Sea Eagle 380X inflatable kayak at SeaEagle.com.
Number of Paddlers: 2 adults & possibly 1 – 2 small children
Stats:
Length: Exterior 12' 3", Interior 11' 7"
Width: Exterior 40″, Interior 15″
Weight: 37.5 lbs
Load Capacity: 750 lbs.
Accessories Included: Large slide-on skeg, 2 removable seats, Separate high pressure drop stitch floor (very rigid), 2 double-ended paddles, 2 velcro paddle holders, Inflation pump, Convenient carry bag, Repair kit, Full instructions (printed and on DVD)
Optional Accessories: High back seats, Longer fiberglass paddles, Bow and stern storage bags, QuickSail
Special Features: NMMA Certified, 16 High capacity self-bailing drain valves, front & rear spray skirts with carry handles and bungee cords for tying down gear, 6 D-rings to secure seat for one or two people, 3 easy to use one-way valves on main chambers
Kayak Material: 1000 Denier Reinforced, electronic welded seams
Pros: Stable, rugged, easy to lift – great new lightweight design, very comfortable, great maneuverability, compact, easy entry and exit, great for families and dogs as well as overnight trips, excellent for camping trips, versatile as it can paddle well in many different types of water
Cons: Not real speedy, needs the skeg for better tracking
More Detailed Info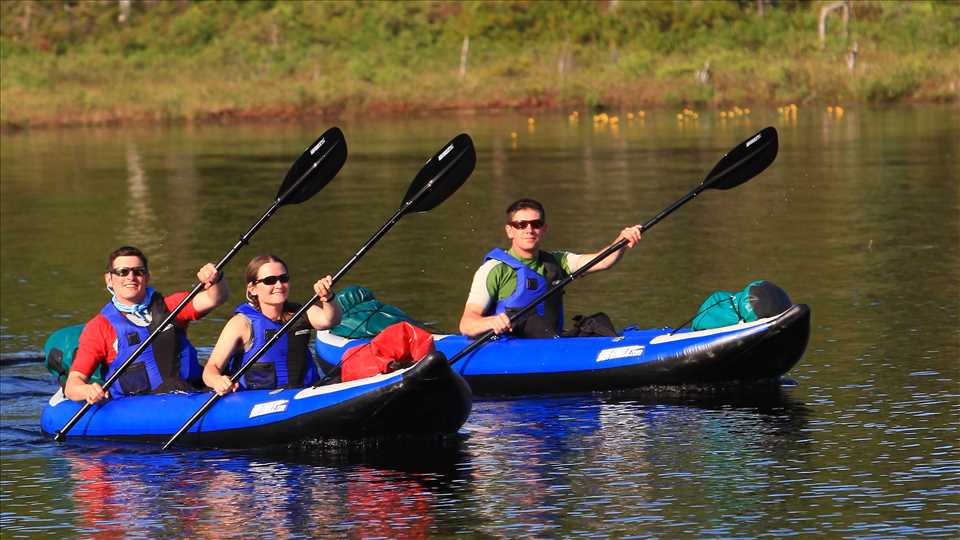 The Sea Eagle 380x was my first inflatable kayak and is still a favorite of mine today. The great thing about this kayak is that it is totally stable and great for beginners to advanced paddlers alike.
It is very versatile as it can handle well in whitewater up to class IV rapids as well as hold its own on a flat water lake.
The new slide-on skeg has improved the tracking and although it is still not the fastest model out there, it is ideal for those who want a tough, stable and fun kayak that will get them anywhere they want to go.
I originally chose the 380X for a few important reasons:
1. Versatility
The Sea Eagle 380X offers more versatility than most other inflatable kayaks. Besides being able to handle just about any water condition, it also has the option of adjusting the seats to paddle solo or tandem.
I like to paddle solo a lot but it is nice to be able to bring a friend or family member with me if they don't have their own kayak as well. My mom and I spent many hours touring around in my 380X back in the day. Those are some great memories!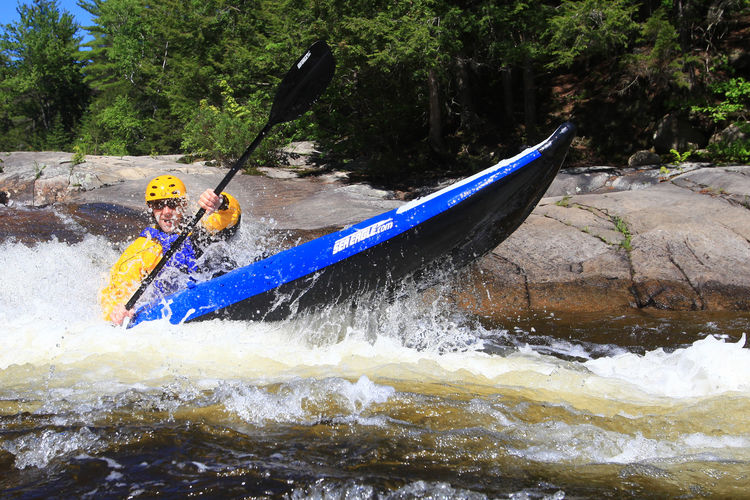 2. Load Capacity
This kayak can hold a lot of gear! The weight limit of 750 lbs. of cargo capacity is far more than most would ever need but it is nice to have that option and know that it will still perform well even when loaded right up.
The high weight limit will be especially appreciated if you are planning to do any multi-day expeditions.
3. Great Design and Construction
The model I now own is an older version of the 380X. It has since been improved upon and the design and construction has changed ever so slightly.
Still constructed with very rigid and solid material, the 380X now weighs about 10 pounds lighter than when I bought it… that is a huge weight difference!!
I love the new lightweight design which makes it far easier to carry and travel with. The lighter weight also means that it takes less effort to paddle.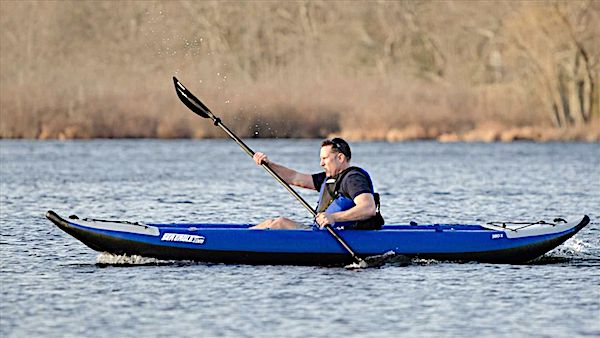 4. Decent Price Point
For the quality, good warranty and overall versatility of this inflatable kayak the price is excellent. The Sea Eagle prices do not just include the kayak but also include the paddles, the seats, the pump and the repair kit.
You are getting a lot for your money and that feels good.
5. 3-Year Warranty
Unless you go for the much higher priced models, most inflatable kayaks will only come with a one year warranty.
Sea Eagle offers a great 3-year warranty on all of their kayaks as well as a 180 day guarantee.
Basically if you are not happy with your purchase at any time within 180 days then you can return it (as long as it is in good condition) for a full refund.
6. Size
The 380X is the perfect length for my needs. There is plenty of room to paddle it solo or tandem. It is also ideal for paddling solo with a large dog.
However for larger families, those with extra gear and for overnight excursions there is a longer version of this model available called the Sea Eagle 420X.
It is virtually identical in every aspect except that it is almost a foot longer and weighs almost 5 pounds more. The 420X is a pretty cool family kayak that still rolls up into a small enough package to take anywhere.
Rigid Drop Stitch Floor
When I purchased my 380X several years ago the floor was ribbed and soft compared to what is offered today with the newer models. The new drop stitch floor that is now included with the Explorer kayaks is super rigid.
The reason this is a good thing is the rigidity helps the kayak to get better tracking and eliminates any flex that there could be.
The other advantage to such a rigid floor is that if you wanted to you could stand in your kayak and use it kind of like a stand-up paddle board.  It is also helpful for fishing.
Recommendations for Sea Eagle Explorer Kayaks
I would highly recommend that if you decide to purchase one of the Explorer kayaks that you go for the pro kayak package that comes with the super comfy high-back seats and the longer fiberglass paddles.
One common complaint for most people while kayaking is a sore back. Kayak seats do not always offer the best support and back tension and aches can be exhausting.
The Sea Eagle high back seats offer excellent back support and will literally help your paddling experience to be a hundred times more enjoyable (at least that has been my experience).
The newest version of the high back seats now have more cushioning on the seat portion providing even more comfort.   I love them, they are super comfy.
The AB40 paddles that come with the pro package are a little longer and ideal for the explorer kayaks with their wide pontoon sides.
The AB40 paddles will help with increased power and reduced fatigue. Well worth the little extra money.
Also if you plan to be paddling on lakes or in open water use the large slide-on skeg that comes with the kayak.
The skeg will greatly improve your tracking in open water and make paddling as well as steering a lot easier.
For whitewater paddling just remove the skeg and have fun.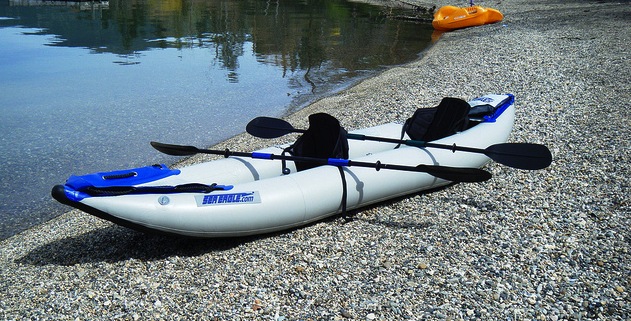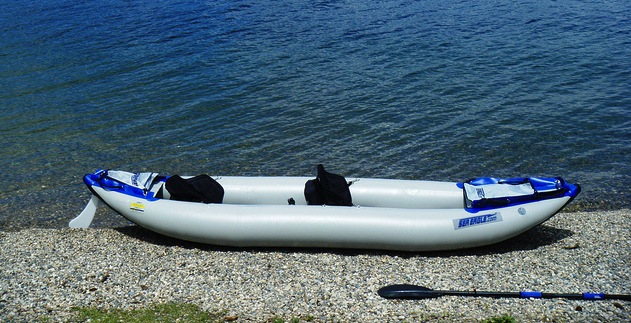 Please note that my pictures above are of the older model. The new models are blue in color, have a new more rigid floor, more padding on the seats and weigh 10 pounds less (all excellent improvements!).
Package Options
The Sea Eagle 380X as well as the larger 420X have the option of a few different packages to choose from.
1. The Deluxe Package – The Deluxe package is the cheapest option and comes with 2 inflatable seats (they are quite comfortable), 2 AB30 7′ 10″ aluminum paddles that break down to 4 pieces for easy traveling, foot pump, carry bag and repair kit.
2. The Pro Package – The Pro package is the one I went for. It includes 2 high back adjustable seats, 2 AB40 8′ fiberglass paddles that break down to 4 pieces, 2 small kayak storage bags for the bow and stern, foot pump, carry bag and repair kit.
3. The Pro Carbon Package – This package cost an extra $100 over the Pro Package and gives you a set of upgraded great quality carbon-fiber paddles. This package was not available when I purchased my 380X but I think it is well worth the money. The carbon-fiber paddles are really nice to use.
4. The QuickSail Package – The QuickSail package is a newer option that includes Sea Eagle's fantastic universal kayak sail. It is ideal for anyone who likes to sail and wants the advantage of sailing their kayak in strong winds. Besides the QuickSail this package also includes 2 adjustable tall back seats, 2 AB40 8′ fiberglass paddles that break down to 4 pieces, 2 small kayak storage bags for the bow and stern, foot pump, carry bag and repair kit.
5. The Pro Motor Package – This package is very well priced if you would like the option of using a little motor on your kayak. It comes with 2 comfortable high back seats, 2 8′ AB40 paddles, a Watersnake ASP T24 electric motor, a motormount, the slide-in skeg, the kayak carry bag, a repair kit and the A41 foot pump.
Final Thoughts
The Sea Eagle 380x is a powerful, stable, rugged (it is very difficult to puncture this kayak), comfortable and versatile inflatable kayak. I would recommend it for anyone, old or young.
It is not the fastest kayak on the market but it will however get you anywhere you want to go safely and easily. Now that it weighs so much less (the new models weigh 10 pounds less than they used to) you can take it traveling or anywhere you want to go.
I have always considered this kayak like a jack of all trades but a master at none. It can handle many types of water fairly well but will not excel in one area. It offers really good quality for an affordable price and with a little care will likely last a lifetime.
Where To Buy
This is one of the few brands that you are able to buy directly from the manufacturer. There are three benefits to this:
They are able to offer excellent prices and Sea Eagle often has great sales.
You get to take advantage of their 3-year warranty.
You also get to take advantage of their 180-day risk free trial… which basically means that if you are not satisfied with your purchase you can return it for a full refund within 180-day period (as long as the kayak is in good condition).
Click Here For The Best Deal On The 380X Explorer Inflatable Kayak From The Official Sea Eagle Website.
Did You Know? By clicking on the above seller links you can help keep InflatableKayakWorld.com growing. When you make a purchase after clicking on our links, the retailer will contribute a portion of the sale to help support this site. It won't cost you anything extra and it's a simple way to help us fund our kayak and gear reviews. Thanks!