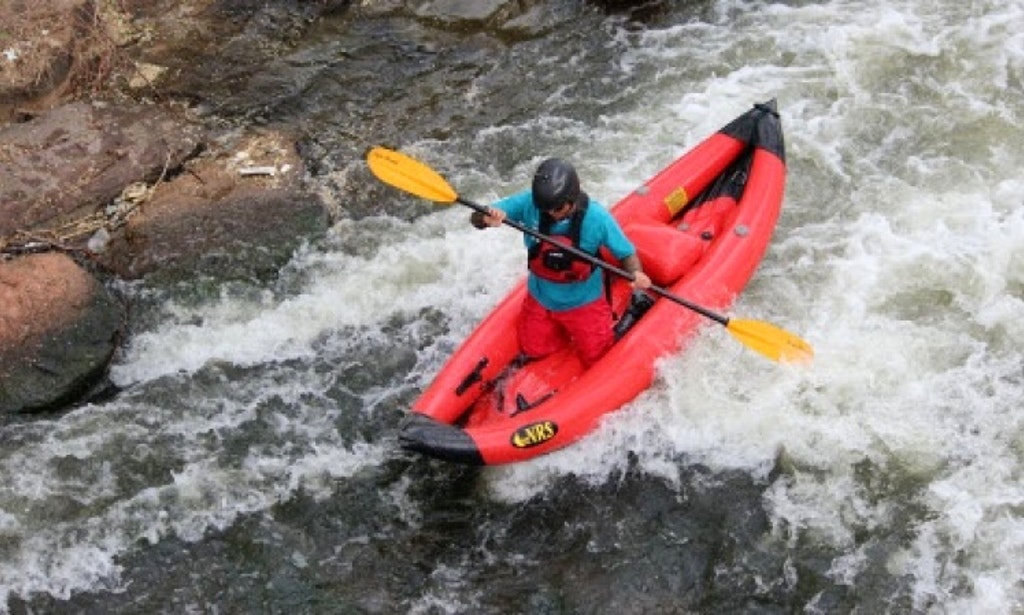 Best Uses: Recreation, lake, ocean, rivers (class I or II)
Brand: NRS
Number of Paddlers: 1
Stats: Length 9' 9", Width 35.5", Weight 31 lbs, Load Capacity unknown
Accessories Included: 10 year warranty, repair kit
Kayak Material: 1100 Denier Hypalon
Pros: Stable, rugged, easy to lift, comfortable, great maneuverability, compact, easy entry and exit. 10-year warranty, very user-friendly, great for traveling
Cons: You sit on the floor of this kayak so you will get wet, no cargo straps or thigh straps
Available At:
Click here for the best deal on the NRS Maverik inflatable kayak at NRS.com.
More Detailed Info
The NRS Maverik was created so that kayakers of all skill levels could have fun in the rapids. It is very stable with its 35.5-inch width.
There is no skeg but amazingly this inflatable kayak tracks quite well on flat water and will respond fairly quickly on many different types of water.
It is a great inflatable kayak for just starting out and if you are an advanced kayaker you will likely find the Maverik responds well and is fun to paddle. It is extremely durable and will take years of abuse.
At 31 pounds the Maverik is very light weight and can easily be transported anywhere you are going. It is a smaller inflatable kayak and I would not recommend it for a larger person. The Maverik II may be a better option for some as it can hold more weight and will provide more room.
There are no cargo straps or thigh straps included with the Maverik and to me this is one of its main downsides. For this reason it is not a kayak to be used on strong rapids or for longer trips.
It is best suited for calm rivers (with no rolling) and flat water or a calm ocean. It is a recreational kayak for everyday use but it is not a high performance model.
If you are looking for a more advanced performance model than I would suggest taking a look at the NRS Maverik Performance.
This version of the Mav offers thigh straps and foot braces and will be much better suited to a more advanced kayakers looking for a high performance whitewater inflatable kayak.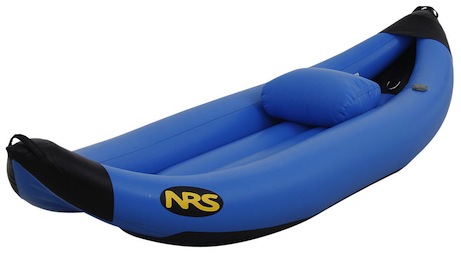 Final Thoughts
Basically the Maverik is a recreational, everyday, user-friendly inflatable kayak that will perform very well on calm waters. For this reason it is often used by Outfitters as a rental kayak.
It is sturdy and rugged and will definitely last a long time. The material is very resistant to abrasion and UV rays and it comes with a great 10 year warranty.
Where To Buy
Click here for the best deal on the NRS Maverik inflatable kayak at the official NRS.com website.
Did You Know?
By clicking on the above seller links you can help keep InflatableKayakWorld.com growing. When you make a purchase after clicking on our links, the retailer will contribute a portion of the sale to help support this site. It won't cost you anything extra and it's a simple way to help us fund our kayak and gear reviews. Thanks!