Nigel from the UK was nice enough to share his brilliant idea on how to transform his inflatable kayak into a mattress/tent for overnight kayaking trips. I thought his idea was worth sharing and would be useful for anyone doing solo overnight paddling trips.
The great thing about his idea is that it is easy, quick to set-up and very light to pack on the kayak – takes up almost no room for overnight camping trips.
I'll try to explain as best I can using Nigel's words but take a look at his pictures below as I think they will give you the best idea on how he made it work.
When contemplating what to pack in his kayak for an overnight trip, Nigel asked the question "Why not use the kayak as the mattress in the tent?" He then set about doing what he does very well – made his idea a reality.
He used his Sea Eagle FastTrack as the mattress but I don't see why this idea wouldn't work with just about any inflatable kayak out there – as long as it was long enough to lay down in comfortably.
Steps to follow:
These were the basic steps and supplies that Nigel used to make the push-through tent.
1. His first step was to find the cheapest possible single skin pop up tent. He found one that comes in a circular bag that can easily be secured under the bungee cords on the kayak deck while paddling.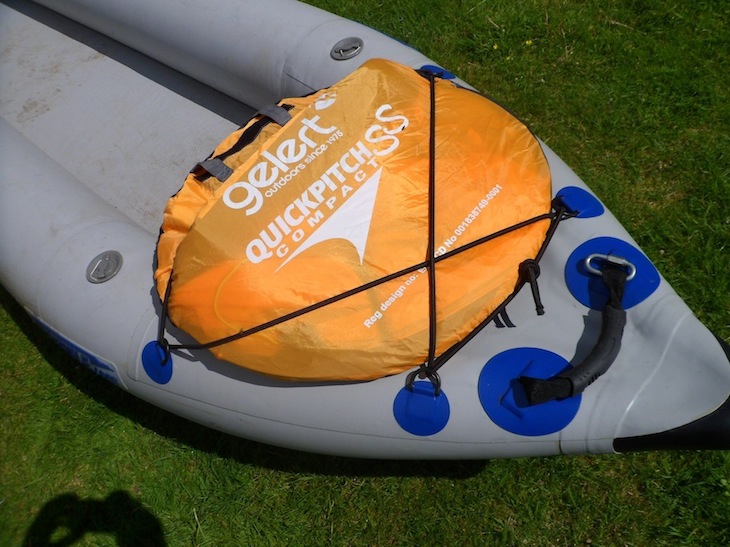 2. Next he got two Army surplus trench covers. The guy in the local Army Surplus store told him 'A tank could run over those, mate'… not something you would probably have to worry about but good to know!
3. He put eyelet holes in the bow and stern covers, covered the front deck and passed a zig-zag cord right under the boat to keep everything tight.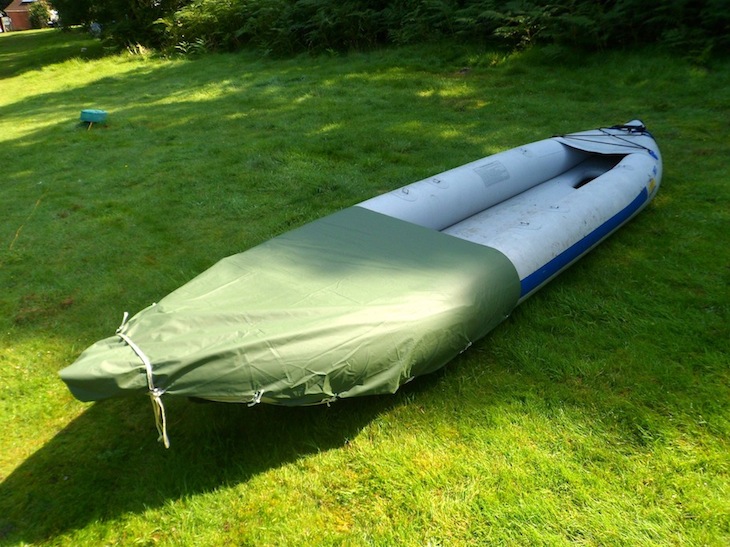 4. Then he put the open half of the kayak through the tent opening and attached the tent with pegs in the ground.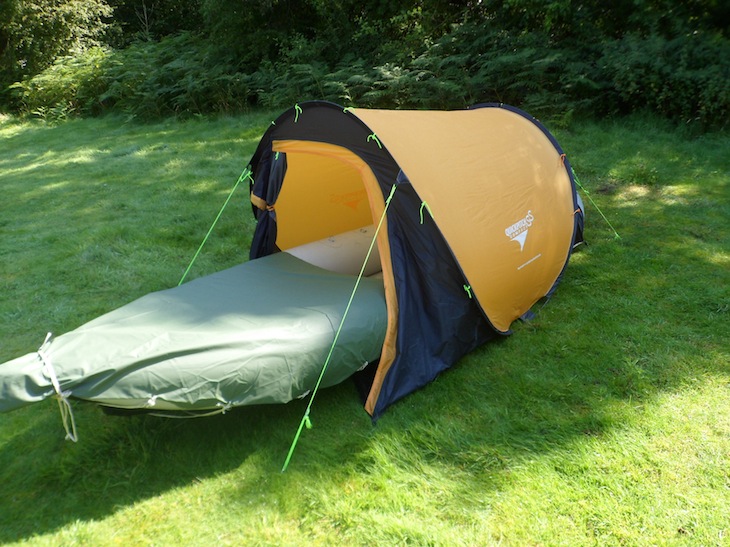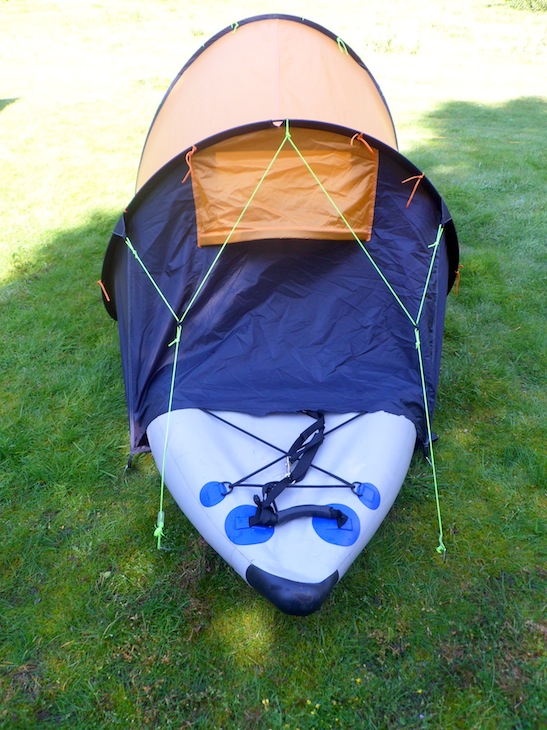 5. Then attached the other trench cover over top of the tent for added protection and secured it with cord to the fore deck cover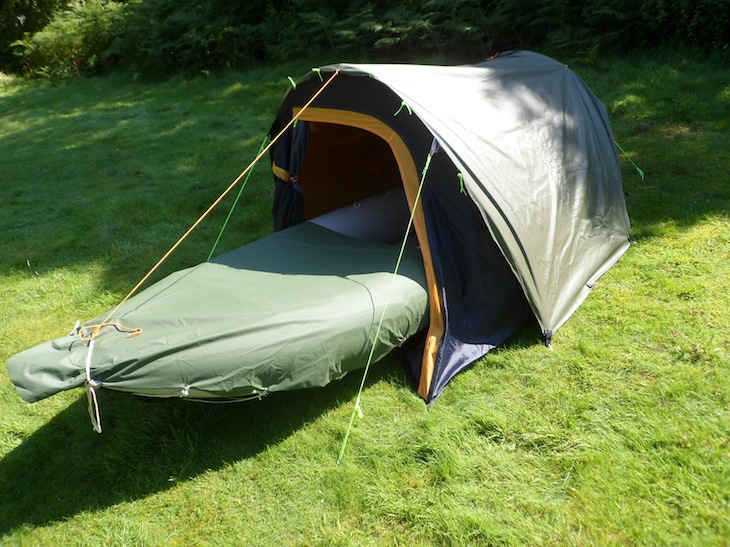 Close the tent zipper, add a sleeping bag or two and you have your very own push through tent with an inflatable kayak mattress… great for solo overnight trips!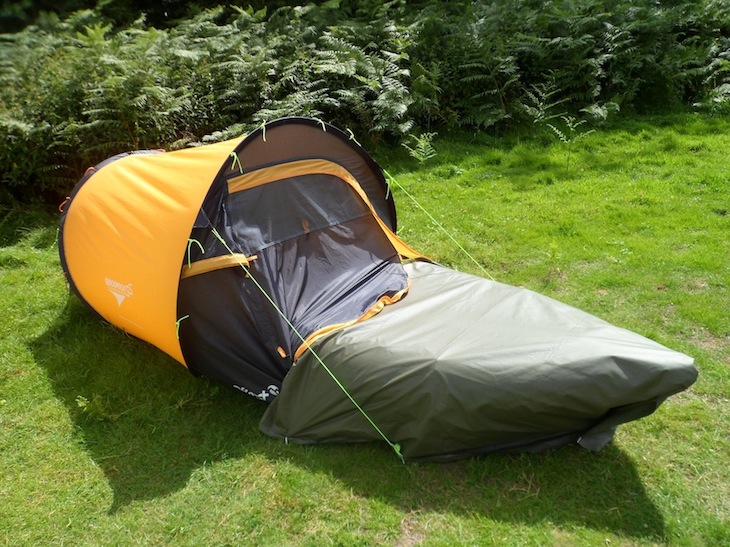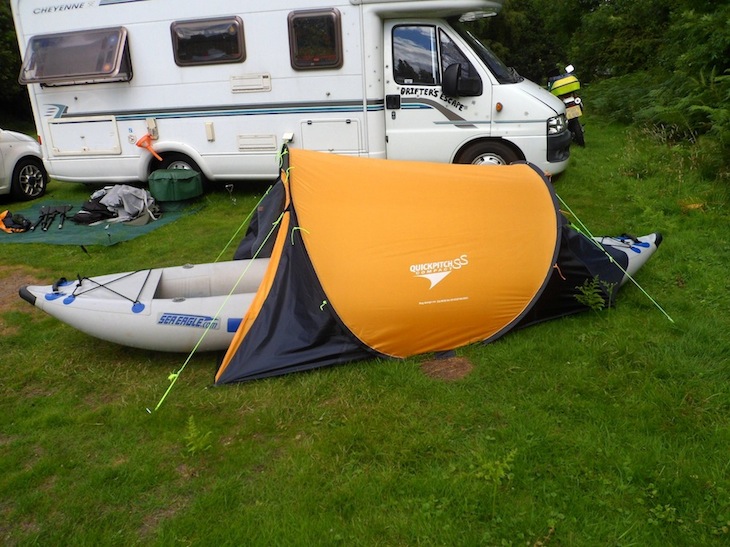 Nigel suggested deflating the keel in order to avoid a rocking chair effect when sleeping.
According to him it is a snug fit, but the floor makes a good sleeping mat – well insulated but not for sub zero temperatures or heavy rain.  If you have your pump with you and need extra room you can let a little bit of air out of the side air chambers.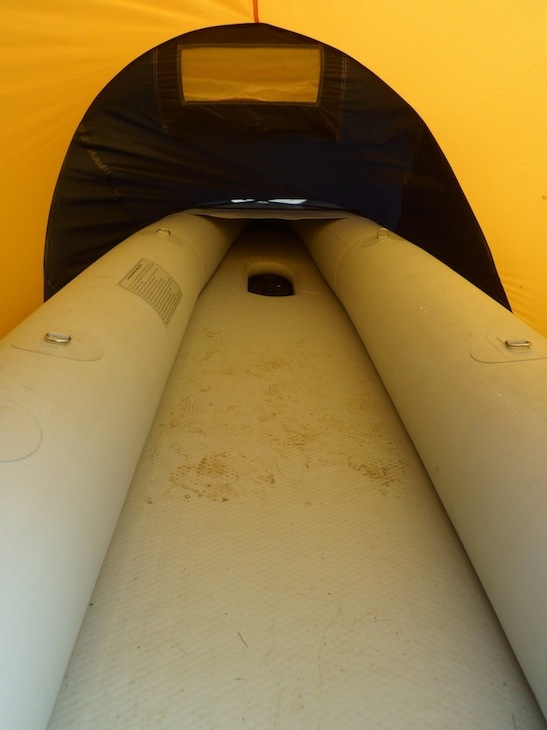 However with the right sleeping bag I would think this set-up would work fairly well even in cold temperatures. Set-up time is roughly five minutes.
Such a fantastic idea! Perhaps not good for someone with concerns about being buried alive as Nigel pointed out but otherwise brilliant, easy and best of all the equipment takes up very little room in the kayak while paddling.
Thanks for sharing Nigel!