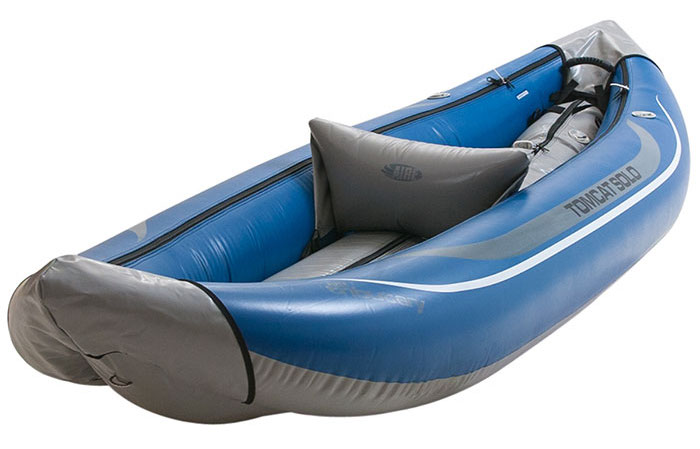 Best Uses: Whitewater, day trips, flat water, traveling
Brand: Aire
Available At:
Number of Paddlers: 1
Stats: Length 10' 3", Width 36", Weight 40 lbs, Load Capacity 325 lbs
Accessories Included: Carrying bag, removable and adjustable seat, repair kit, owner's manual, 1 year warranty
Kayak Material: 1200 denier, heavy duty PVC shell
Pros: Stable, rugged, easy to lift, comfortable, great maneuverability, compact, easy entry and exit, great for traveling, fast self-bailer
Cons: There have been reports of stitching coming loose after heavy use.
More Detailed Info
The Tributary Tomcat Solo is another one of Aire's imported inflatable kayaks. This inflatable kayak is well made but known to be not as tough as Aire's American made IK's.
However, for the great price you are paying, the Tomcat is really good value and is still offers excellent quality.
Many improvements to the Tomcat have been made over the years and this inflatable kayak offers a lot of space, great load capacity for a solo kayak and versatility.
Good For Recreation
The Tomcat comes with a one year warranty. If you plan on using it heavily season after season I would suggest taking a look at one of Aire's American made models such as the Aire Lynx.
There have been a couple reports from people saying that the stitching on the bottom has come loose after several seasons of use. However I haven't heard any more reports of this recently and I wouldn't give it a second thought if you are a recreational kayaker.
The Tomcat is very stable and the standard Aire seat is quite comfortable. It is also a quick self-bailer so there will be no problems with excess water in the kayak.
It handles itself very well in whitewater rapids but is still easy to paddle in flat water as well. If you are looking for a mid range whitewater inflatable kayak for recreational use, then this is a great choice.
This inflatable kayak also comes in a larger two person version the Tomcat Tandem.
Final Thoughts
I actually really like the Tributary Tomcat for a number of reasons…
1. It is affordable as compared to the Aire kayaks. If you are a recreational kayaker, meaning that you are not out on the water every single day, then it is often not necessary to spend major dollars on your inflatable kayak.
Although the Tributary brand does not have as solid of construction as the Aire brand, it is still a great kayak and will offer a great ride in the whitewater rapids.
2. It is very stable and comfortable. If you are a beginner to novice whitewater kayaker, then the stability of this kayak will be very much appreciated.
The comfortable seats also make a big difference in how long you are able to stay out on the water.
3. The last thing I like about the Tomcat Solo is the fact that it is still light enough to take traveling. Think of all the amazing waterways you could explore in this inflatable kayak.
Where To Buy
Did You Know?
By clicking on the above seller links you can help keep InflatableKayakWorld.com growing. When you make a purchase after clicking on our links, the retailer will contribute a portion of the sale to help support this site. It won't cost you anything extra and it's a simple way to help us fund our kayak and gear reviews. Thanks!