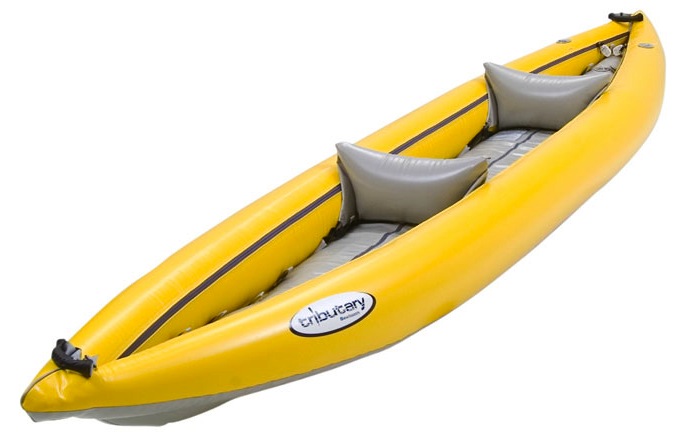 * The Solo version of the Sawtooth is no longer available. It only comes in a tandem version that can be converted for solo use. Click here to read the full Sawtooth tandem review.
Best Uses: Day trips, flatwater, lakes, bays, calm rivers
Brand: Aire Tributary
Number of Paddlers: 1
Stats: Length 13' 3", Width 32", Weight 42.5 lbs, Load Capacity 400 lbs
Accessories Included: Removable skeg, 1 year warranty, carry case, repair kit, owners manual, comfortable seat (with option of adding a second seat), removable fin
Kayak Material: 900 denier tube fabric & 900 denier floor fabric
Pros: Stable, rugged, easy to lift, comfortable, great maneuverability, self-bailing, compact, easy entry and exit, fast, affordable, good length and lots of room
Cons: Aire's Tributary kayaks are made in China and only offer a one year warranty where as many of Aire's American made boats have a ten year warranty, is a little heavy considering it is a solo inflatable kayak
More In-Depth Info
Due to the design of the floor – it bends slightly up at each end – the Tributary Sawtooth is an extremely fast inflatable kayak… even faster than the Innova Sunny.
The Sawtooth is made by Aire kayaks. Aire's Tributary line of inflatable kayaks are manufacturer in China. They are well made but known to be not as high quality as the American made Aire kayaks. In my experience I have found the Tributary kayaks to be really good.
The only negative is they tend to be fairly heavy and they will not last as long as a higher end model. However their prices are lower and you still get a great product.
Features & Performance
The Sawtooth has 32 cargo/seat loops that are great for roping down your gear as well as positioning one or two seats anywhere within the kayak. It is extremely comfortable and has easy lift handles at the bow and stern for carrying to and from the water.
Built to be affordable, rugged, comfortable, sleek and fast, the Sawtooth will not disappoint. It glides really well through the water and I think all things considered, the price is excellent for this model.
It is known to be stable and to track quite well especially with the large tracking fin in place. Even with the longer length, this kayak is easy to paddle, turn and maneuver.
There is a fair amount of room for gear and I think it would be no problem to take this kayak on an overnight camping trip. It is best suited for flat water however so will paddle best on lakes, slow rivers or ocean bays.
Final Thoughts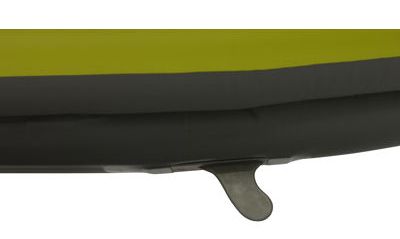 The Tributary Sawtooth is a really good buy for anyone looking to spend under $900 on a convenient flat water kayak.
It is great for all skill levels and can easily hold up to 400 pounds so you can load her right up.
As mentioned before the one thing that does bother me is the weight of this inflatable kayak. At just over 42 pounds the Sawtooth will not be all that easy for one person to lift and carry.
One of my older tandem inflatable kayaks weighs 45 pounds and I find it difficult to carry too far on my own. The extra weight makes it very solid but does not make it so easy to travel with. If you think you might have trouble with it you could always get one of those little kayak carts with wheels to easily wheel it to the water.