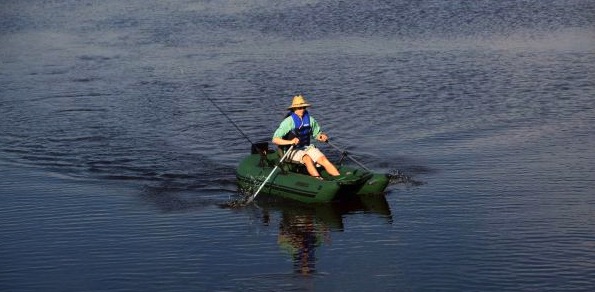 I have been paddling inflatable boats for several years now and I can tell you in all honesty that they are not only fun but also extremely convenient.
Inflatable boats have many advantages and can be ideal for people of all ages and skill levels.  Below are the top ten reasons why I think inflatable boats rock.
Lots of room for gear
Inflatables tend to be more often than not an open deck concept. The open deck as well as the fact that they usually have a bit of width to them means you can pile your gear high and spread it out on the deck. They are excellent for camping expeditions as well as fishing as you can truly load them right up.
Comfortable
I have always found them to be quite comfortable. There are no ruff edges to scratch yourself with, lots of leg room to stretch out, and the inflatable sides feel good against your body. Seats can vary, but all things considered, I find them to be really comfortable.
Stand-up paddle
A good inflatable kayak or canoe has a very rigid floor. That combined with the stability of the pontoon sides means that if you want to, you can actually stand in your boat and paddle. This is very hard to do in most hard-shell kayaks and canoes, as they are too 'tippy'.
Stable
No matter what kind of inflatable boat you have… a kayak, canoe, pontoon boat, big or small – it will be stable. The fact that it has inflatable pontoon sides provides excellent stability. They are known to be near impossible to tip or sink. For this reason they are ideal for people of all age groups. You can feel very secure in an inflatable boat.
The Perfect Travel Accessory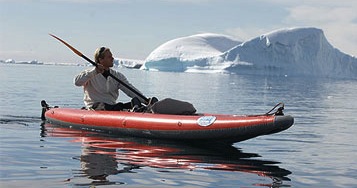 If you get an inflatable boat that weighs less than 50 pounds then you can check it onto an airplane with no extra fees. Inflatable kayaks and canoes deflate and roll into their own carry bag.
It is no problem with most airlines to check it in as an extra bag. Some models such as the Innova kayaks can even be checked as a carry on!
Then when you arrive at your destination, you can just throw it in the trunk of your car or taxi… no need for special roof racks or a larger vehicle.
Easy to transport
One of the main reasons I switched to an inflatable kayak way back in the day was because I could easily transport it in the trunk of my vehicle. If I was out kayaking alone, it was extremely difficult for me to lift a hard-shell kayak on the roof of my little car and secure it on my own. With an inflatable I didn't have to worry about it. I could easily transport it inside my car, carry it in its bag to the water and then pump it up. With some of the smaller inflatable kayaks you can even carry them as a backpack on your bicycle or on the bus.
Store in a small space
This is an obvious benefit that many people like. An inflatable boat can be deflated and stored in a closet. You don't need a house with a garage or any kind of big space. An inflatable can be stored anywhere – as long as it is out of direct sunlight.
Affordable
Although prices can vary, it is very possible to get a decent inflatable boat for very little money. You don't have to invest a lot to be able to get out and enjoy the water. There are several options for under $500 and even some great choices for under $300.  The best part is that they also last a very long time so your money goes a long way.
Seats are adjustable
Many inflatable boats have adjustable seats meaning they can be moved within the boat. For example you might be able to paddle a tandem inflatable kayak by removing one seat and attaching the other one more in the center of the kayak. Most hard-shells don't have this option.
From Ship to Shore
I have met several people over the years that have an inflatable boat such as a kayak, canoe, or small pontoon boat that they store on their larger boat. They have told me how convenient they are in the sense that they take up no room on their larger vessel, they can be used to paddle from ship to shore and they are great for entering remote fishing locations that their larger boat cannot go.
In fact just 2 weeks ago while I was in Hawaii I met a couple that were paddling the Sea Eagle 330 inflatable kayak from their sailboat to the beach. They said they have used it for years specifically for that purpose and love it.
Inflatable boats may not be for everyone, but for those of us who use them, we love them!
Click Here To View Our Category List Of Inflatable Boats And Our Reviews.