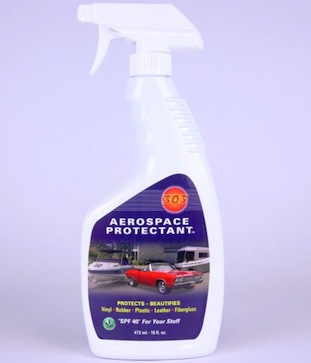 One of the best things you can do to protect the material of your inflatable boat is to use a 303 protectant spray.
I have touched on this in other articles and you will find a post under the Gear & Accessories section that focuses on it.
However  I wanted to add it specifically here in the Tips & Advice section as I get a lot of questions on it.  In this article I will outline how to use it,  when to use it as well as what it can be used on.
What is 303 Protectant?
Basically it is a non-toxic spray that protects your inflatable boat material from UV rays with SPF 40 protection.  It was originally developed for aerospace and aviation applications.
There are a lot of advantages to using it besides just protection from UV rays such as:
It helps to repel dust
It helps to protect against soiling and staining
It helps to restore as well as to maintain the texture and color of your boat
I also personally find that it helps to repel water from my kayak meaning that the water drips off easier and therefore my inflatable kayak dries faster.
What Can It be Used On?
It is widely used to help protect material on inflatable boats such as kayaks, canoes, dinghies, Zodiacs and many other inflatables.
However that is not the only thing that 303 protectant can be used on. It can also be sprayed on (I am gathered this list directly from the directions on my bottle):
Vinyl and leather interiors
Plastic bumpers
Fender flares
Trim and lenses
Car bras
Tonneau covers
Vinyl soft tops and plastic windows
Chrome and alloy wheels
Synthetic and natural rubber such as inflatable boats, dry suits, tires, door and trunk seals and under-the-hood rubber
RV EPDM rubber roofing
Fiberglass
Motorcycles, ATV's, Snowmobiles
Gear such as helmets, visors, goggles – repels dirt, insects, snow ice and road grime
Household items such as patio furniture, spa and pool covers, vinyl liners and pool inflatables
Vinyl and leather furniture, jackets, handbags, golf bags
As you can tell it is a handy spray to have on hand.
• Note: It should not be used on unfinished leathers such as suede, canvas fabrics or flooring.
3 Easy Steps
There are different directions depending on what you spray it on. For inflatable boats the directions are as follows…
Spray all areas that would be exposed to UV rays.
Wait 5 minutes.
Wipe completely dry with a towel.
How Often?
It is recommended to spray your boat every 3 – 5 weeks for maximum protection. Personally I only use it about once every 3 months although I should probably use it a little more often.
It has worked great for me as I have never had any issues with weakening in my inflatable kayak material. I also have found it to be really useful to get rid of grass and dirt stains on my kayak. Once you have used sprayed it on, waited and then wiped it dry, I find the kayak has a nice shiny new look to it.
I highly recommend this product if you own an inflatable boat. It will greatly prolong the life of your watercraft.
303 Protectant can be found at most inflatable boat retailers. See our list of inflatable kayak online retailers for a list of stores.