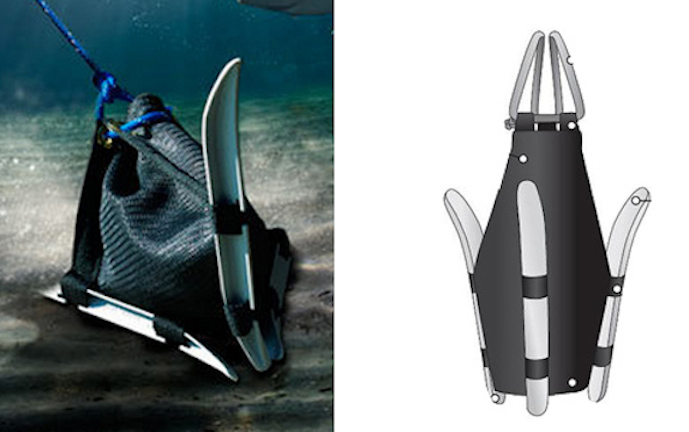 Most of us start off kayaking with just the basics… a kayak, a paddle, a PFD and maybe a dry bag.
That's all you really need for a short day trip but as you find yourself paddling more and more you may want to add some cool kayak gear and safety accessories to your paddling trips.
The below items are not all necessary, it will depend on the type of kayaking trip you are doing and what's important to you.
However they are all great items that may be worth considering at some point.
Mesh duffle bag
This is one of my favorite kayaking accessories. I don't actually take it kayaking with me but I use it to store all my kayak gear such as my PFD, my gloves, my bilge pump, my K-pump, my dry bag, etc.
My brother bought this bag for me and I now wouldn't want to be without it.
It is so handy for keeping all of my paddling gear in one place and the fact that it has mesh sides means that when I dump my stuff in there wet after kayaking, it won't stink and grow mildew. The mesh sides allow the contents to breathe.
I keep all my paddling gear in my mesh bag stored in a closet and then just throw it in the trunk of my car when I'm heading to the water. That way I don't have to search or think about what I need to bring each time… it's already all stored in the bag.
My brother got mine from MEC in Vancouver, BC but NRS sells a similar one called the NRS Purest Mesh Duffel Bag for a good price.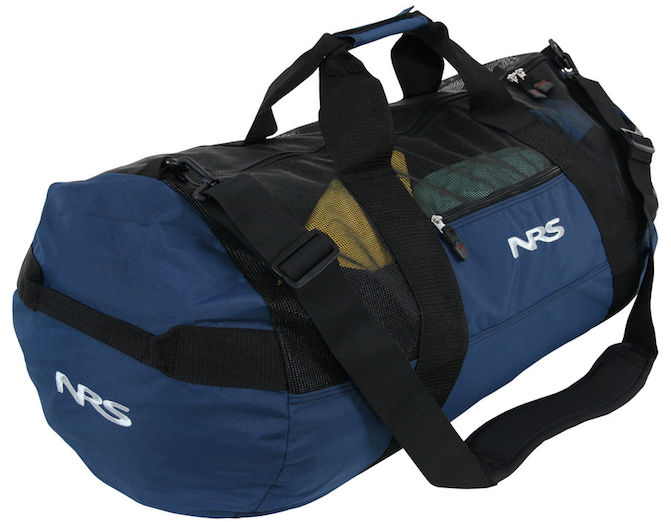 Folding anchor system
This is a cool accessory that you might not have thought of with a kayak. It's great for those who love to fish and need to anchor the kayak to one spot.
I don't use one myself because I don't fish but I think it would be very handy for a lot of people.
There are a couple of different ones out there. Advanced Elements makes one but the best one I've seen is the Squid Anchor, which is now sold at NRS and Sea Eagle.
It's well priced and very well made; it constantly gets 5-star reviews, people seem to love it.
Dog water bowl
This one is a must for me because I almost always have my dog with me when I am out kayaking.
Even if you are paddling in fresh water, it's nice to have a bowl to fill to keep your dog hydrated.
Even though your dog is not exerting himself, he can still get hot and thirsty when out for a couple of hours.
Any little container will work but there are some great packable dog bowls available at most online paddling stores.
Storable kayak dolly
This one isn't always necessary with an inflatable kayak. The great thing about an inflatable is that it is easy to transport to and from the water as you can carry it in its kayak bag.
However some people choose to inflate their kayak at home. If you have trouble carrying your kayak by yourself to the water, a kayak dolly is a big help.
A storable one means that it folds up and is easily stowed away either in a closet or in the trunk of your vehicle.
Cell phone protector waterproof
Although it might be nice to completely disconnect from your phone while out on the water, realistically it's important to have with you.
Besides staying in touch, you may want to use it to take a picture or check in at home. It's an important safety item.
Keeping your phone dry is paramount. You can keep it in a dry bag but personally I like to have mine close by such as in the pocket of my PFD.
Therefore it needs to be in a waterproof case. There are tons of waterproof cell-phone cases available. Most kayak stores sell them now.
Waterproof waist pouch
Depending on the type of storage you have in your kayak or in your PFD, a waterproof waist pouch can be very handy.
I started using one of these last year and I love it. I can put my camera in there, some snacks, my phone… anything that I want easy access to.
It's great for if you make a stop on shore and do some hiking or have a picnic. It just keeps all your essentials close by, in one place and protected.
The only thing is when you are sitting in your kayak you will need to have the pack in front of you or else it can be uncomfortable for your back in the seat.
Yak grips
You may have already seen the review I did for the Yak Grips.
I love these things. Every one I know who uses them loves them.
They basically stop you from getting blisters while paddling. Gloves of course can help too but in hot weather, gloves aren't always that comfortable.
The Yak Grips provide a little extra cushioning and really make paddling long distances more comfortable.
I find that once they get wet they can move around a little but overall they are totally worth getting and cost very little.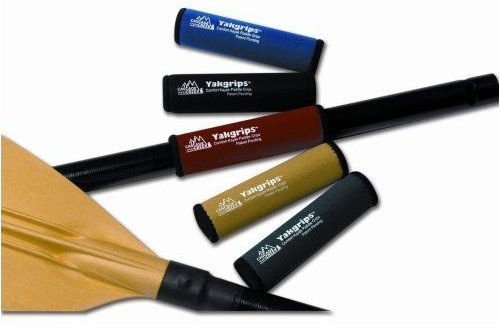 Kayak Seat Pad
I find the majority of seats in inflatable kayaks fairly comfortable. Longer trips however can sometimes use a little more cushioning.
You can get a kayak seat pad that will sit either on the floor of your kayak or else on top of your already existing seat.
NRS sells both a firm one and a soft one. I would recommend the soft one personally. It's not totally necessary but it's a nice comfort item that some people like.
NRS Touring Safety Kit
There are a couple versions of this safety kit. The deluxe one has everything you need to stay safe while out on the water.
It's something you will just keep stored in your kayak at all times.
It includes a whistle, a signal mirror, a bilge pump, a paddle float, a paddle leash and a boat sponge all stored inside a mesh deck bag.
It's a great investment and something every kayaker should have at some point if you plan to be out on the water for more than a few hours.
Waterproof case for mp3 or iPod
If you want music while you paddle then a waterproof case for your iPod or mp3 player is going to be a must.
There are lots around. Once again most kayaking stores will sell them these days.
Kayak Sail
These are so cool and there are quite a few to choose from now.
A kayak sail will allow you to ride the wind, take a break from paddling and have a lot of fun.
They come in several different shapes and sizes and a wide price range. There is really one to suit every need.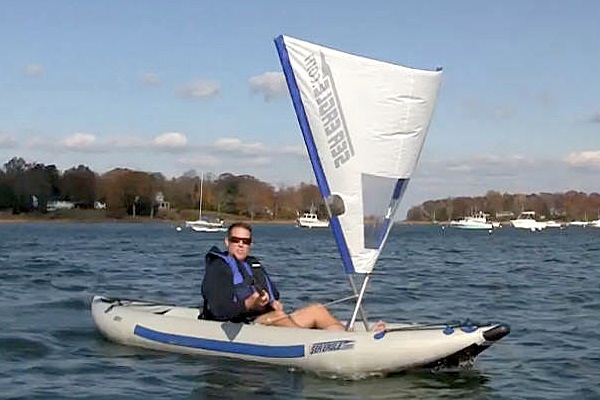 Paddling Gloves
Although I don't use my paddling gloves as often as I used to now that I have the Yak Grips, I still am very happy to have them.
For longer paddling trips or colder weather, they are a must. They will protect your hands from the elements and from nasty blisters.
Tow Tether
A tow tether is a great idea if you will be out kayaking with other people. It's a handy safety tool to have. If anything goes wrong with someone else's kayak, you can help tow them back to shore.
This is especially nice to have if you will be kayaking with kids.
As you kayak more and more you will get a very good idea which gear is necessary for you and which is not.
You can find all of the above mentioned items at the online retailers listed here.