If you are having a hard time trying to decide whether you would be happier with a tandem inflatable kayak or a solo inflatable kayak I would highly recommend looking at the few tandem kayaks that offer the choice of being converted into solo kayaks.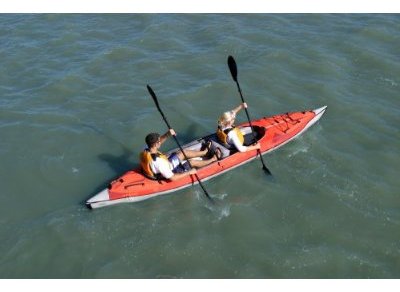 There are advantages and disadvantages to both solo and tandem inflatable kayaks.  Having one that is able to paddle well whether in tandem mode or while going solo is really ideal.
I personally chose a tandem inflatable kayak that is able to convert into a solo kayak because the convenience of it outweighed most other factors. This way I can always bring someone along for the ride if I choose to, but I can also go out solo and know that I still have a well balanced kayak.
Advantages of a Convertible Inflatable Kayak
Option of kayaking solo or tandem.
Usually the tandem will be a longer and heavier inflatable kayak which will hold its own better in the water.
Capacity to hold a lot more weight if you want to go solo but bring along a lot of gear.
Great for bringing along kids or dogs.
Excellent for traveling… you only need to pack along one kayak.
Great choice for a larger person who may find a solo kayak a bit cramped.
Tandem Inflatable Kayaks that can be Converted into Solos
Please click on the inflatable kayak model name to read our full detailed review.
Advanced Elements Advanced Frame Convertible – I think this has always been one of the most popular tandem inflatable kayaks that can be converted to a solo. This kayak is nice looking, convenient and fun for recreational paddling.
Advanced Elements StraitEdge 2 – This one is great for paddling on whitewater as well as a little bit on flat water. The StraitEdge 2 is convenient and affordable.
Aire Sea Tiger – High quality inflatable kayak that comes with a phenomenal ten year warranty. Great for ocean kayaking.
Aire Tributary Strike II – Good all around inflatable kayak. Versatile and stable.
Innova Sunny – One of my favorites as it is lightweight, fast and very convenient. The Sunny is good for flat water paddling.
NRS Bandit II – This is a whitewater inflatable kayak that can handle up to class IV rapids. It is made with environmentally friendly materials and comes with an affordable price tag.
NRS MaverIK II – Very well made inflatable kayak that handles best on flat water but can handle some rapids. Great ten year warranty.
Sea Eagle Sport Kayaks – (Sea Eagle 330 & 370) – Extremely popular as an entry level inflatable kayak. Paddles well in most types of water and can hold a lot of weight.
Sea Eagle Explorer Kayaks – (Sea Eagle 340x, 380x & 420x) – This was my own personal choice for my first inflatable kayak (the 380x). Highly popular because of its sheer versatility, rugged nature and decent price tag.
Sea Eagle 385 FastTrack – New out for 2010 the FastTrack has quickly made a name for itself and offers excellent performance as well as versatility.  I now have one myself and it has become my kayak of choice.
Sevylor XK17 Ocean Kayak – This inflatable kayak can hold between one and three people. It is very long and extremely versatile. Typically this kayak is very popular with families.
Keep in mind that if the kayak you are interested in is not on this list, you can often convert almost any tandem into a solo inflatable kayak yourself. All you have to do is purchase some extra d-rings and water glue. Attach the extra set of d-rings in the middle of the kayak where you would want to sit if you were kayaking solo. As long as your seat is one that is able to attach to d-rings then you are set and it is very easy to do this.
View our full list of inflatable kayak reviews.