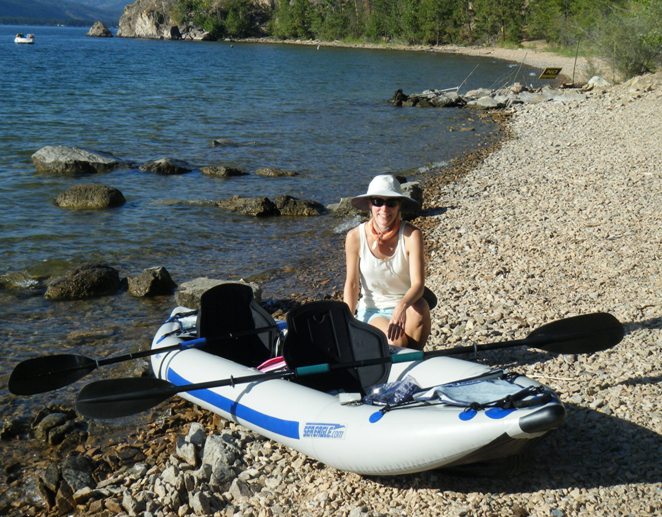 After years of paddling a hard shell kayak, I found myself in a situation where storing and transporting a kayak was no longer convenient. I was forced to look for kayaking alternatives and eventually made the switch to an inflatable kayak.
I learned to love the many conveniences that an inflatable offered and now use it to explore many different unique waterways as well as for exercise.
My kayaking journey began some twenty years ago after spending a summer vacation practically living on the water.  I got hooked on the feeling of calmness and exhilaration that paddling made me feel.
Over the years I found myself living in a condo and driving a small vehicle, neither of which was conducive to storing or transporting a long hard-shell kayak.  It was obvious that if I wanted the convenience of being able to hop in the water any time I wanted then I needed to find an alternative.
Learning about Inflatable Kayaks
After complaining to a friend several times about my kayak situation (or my lack of kayak situation) he suggested I look into getting an inflatable kayak. He suggested an inflatable would be easy for me to store and transport as well as take with me traveling.
I began to do some research and learned that inflatable kayaks have come a very long way over the years. There are some really great models and they have some fantastic advantages.
10 Inflatable Kayak Facts
I learned ten important key facts about inflatable kayaks that really make them appealing.
1. Easy to Store and Transport – They can be easily stored in a small space such as a in a closet which is great for people like me who have very little storage room. They can also be conveniently transported in the trunk of your vehicle so there is no need for roof racks. Many can also be transported by RV, airplane, bicycle or by bus.
2. All Types – There are all different types of inflatable from whitewater to flat-water, sit-on-tops and even sea to surf kayaks. There are single as well as tandem options available and a couple of family sized models to choose from as well.
3. Lightweight – Many are light enough to be checked on an airplane without paying extra fees and some are so light they can even be carried in a backpack. The weight will vary depending on its size and the materials used in construction. They can be as light as 16 lbs. and as heavy as 76 lbs. My personal kayak the SE 385 FastTrack which is a tandem model weighs 35 lbs.
4. Materials and Construction – The majority are made with PVC and some are stronger than others. Some manufacturers are using higher end materials such as Hypalon (which is super tough) as well as Nitrylon (which is very lightweight). These are the same high-end materials used in Zodiacs, US Coast Guard boats and Greenpeace boats. A decent inflatable kayak is very strong and can take a real beating.
5. Unsinkable – They usually have three separate air chambers. Therefore if you should get a leak in one chamber you will still be able to paddle with two full air chambers to safety. They are known to be practically unsinkable.
6. Affordable – Although prices can vary greatly as a general rule they are quite affordable. Prices can range from $150 – $2500. Usually the higher the price, the better the kayak. A good quality model that will suit most recreational kayakers can be found for anywhere between the $300 and $1200 range.
7. Sea Worthy – Not all inflatables are sea worthy but there are models that are designed for sea kayaking and will take you just about anywhere a hard shell model will go. I know of several people who take their inflatable on multi-day sea paddling adventures and love it.
8. Low Maintenance – They are super easy to take care of. Apply some UV protectant spray once in a while to protect the material from the elements, dry off completely after use so you don't get any mold or mildew and store in a dry, cool place. That's about it. Most come with a repair kit that is easy to use. However in many years of paddling in all different types of conditions I have never had to use mine.
9. Storage Capacity – Storage will vary depending on the size and design. Some are open in design and gear can be placed anywhere within the kayak. Others have a more traditional closed in design and gear can be stored in the cockpit, in the storage compartments or tied down on the hull or stern. The amount of weight it can hold will range from 150 lbs. to over 850 lbs. depending on the model.
10. Stability –Their length and width can vary depending on what type of water it was designed for but in general they tend to be extremely stable because of their pontoon-like sides. For this reason they are ideal for beginners, families, and also for fishing.
Performance
As with any other type of kayak the performance you get will depend on the quality, design and construction. With inflatable's all of these factors can greatly differ.
I have paddled inflatables that perform much better than some of the hard shells I have kayaked and I have paddled inflatables that simply don't measure up.
After several years of trying many different models I will say this with regards to performance…
I do find the feel to be a little different but as a general rule a good quality inflatable kayak will perform almost as well as a comparable hard shell model.
Embracing the Alternative
Over time I have learned how totally convenient and great inflatable kayaking can be. Manufacturers are constantly improving their designs and creating new and improved models that could win over even the most passionate hard shell kayaker.
They may not be for everyone but there is no doubt that their convenience, affordability, and many great features make them an excellent alternative for people who want a highly portable kayak that can be stored anywhere.