Best Uses: Flatwater, lakes, calm river, traveling
Brand: Advanced Elements
Available At:
Number of Paddlers: 1
Stats: Length 10' 5", Width 32'', Weight 26 lbs, Load Capacity 250 lbs
Accessories Included: Tracking fin, removable and adjustable seat, repair kit, heavy duty duffle bag
Kayak Material: PVC-coated polyester/aluminum ribs
Pros: Bungee deck lacing and D-ring tie downs, storage below the deck, compact, lightweight, good for traveling, quick set-up, roomy and comfortable
Cons: Not recommended for super rough conditions, tracking so-so
More In-Depth Info
The Advanced Elements AdvancedFrame Sport is a brand new model for Advanced Elements as of 2010. It is designed after the AdvancedFrame but offers a much simpler and more streamlined design.
The Sport is ideal for those who want a very simple recreational inflatable kayak for not a lot of money.
It has a nice look to it, offers some good features but it won't compare to the performance and style of the original AdvancedFrame model.
There are some similarities to the solo AdvancedFrame such as material, size, cargo space, valves, seats and the included tracking fin. However there are some definite differences as well, such as:
The cockpit opening of the Sport is larger
The inner main chamber cannot be removed as can be done in the AdvancedFrame
The Sport can only hold 250 lbs. where as the AdvancedFrame can hold up to 300 lbs.
There is a smaller bungee deck lacing on the Sport
The cockpit coaming of the Sport is non-inflatable and too thin to support a spray skirt
The Sport weighs almost ten pounds less
The Sport offers two sets of Velcro paddle holders
The Sport costs a little less

Is the AdvancedFrame Sport Right for You?
Well that depends…
The Sport may be right for you if you are looking for a lightweight, super compact, affordable inflatable kayak that is good for traveling, for kids or for easy recreational fun.
However, if you are concerned with high performance, with tracking or with weight capacity, then the Sport is likely not your kayak.
This model is truly ideal for traveling and easy transport, but keep in mind that it is really best suited for flat water paddling.
Personally I think I would choose the AdvancedFrame over the Sport and deal with the extra ten pounds just to have a more versatile and better performing kayak.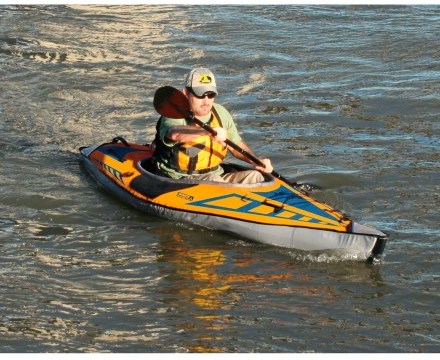 Final Thoughts
This inflatable kayak is fun, easy to paddle but very basic.
I like the look of it… the design is really nice, the color is attractive and the large open cockpit looks comfortable and roomy.
Its not personally one of my favorites but I am sure the Sport will be very popular and will work great for anyone on a budget looking for a decent quality inflatable kayak for some easy paddling fun.
Where To Buy
Click the links below to see the current price for this fun little kayak at each online store.
Did You Know?
By clicking on the above seller links you can help keep InflatableKayakWorld.com growing. When you make a purchase after clicking on our links, the retailer will contribute a portion of the sale to help support this site. It won't cost you anything extra and it's a simple way to help us fund our kayak and gear reviews. Thanks!