Best Uses: Lakes, mild rivers (class I – II), bays, estuaries
Brand: Advanced Elements
Available At:
Number of Paddlers: 1
Stats: Length 13', Width 25'', Weight 32 lbs, Load Capacity 235 lbs
Accessories Included: Duffel bag, fold-down seat, adjustable foot braces, repair kit, optional spray skirt
Kayak Material: PVC-coated polyester/aluminum ribs
Pros: Narrow beam allows to easily pick up speed, coaming is capable of attaching a spray skirt, zippered access to a lower storage compartment, bungee deck lacing, d-rings, comfortable seats with storage pocket in back
Cons: Harder to take traveling with the aluminum poles, longer set-up time, no tracking help like skeg or rudder, stability is so-so (as usual with narrow, faster kayaks)
More In-Depth Info
The AirFusion arrived on the market in 2010 and offers a unique feature – Aluminum alloy frame poles with inflatable pressurized air tubes.
This kayak is mostly inflatable but because of the aluminum poles it allows for a powerful rigid frame that can be paddled very much like a hard-shell kayak.
This hybrid model was designed to be able to rival the handling and speed of skin-on-frame kayaks while simplifying the setup process.
Normally I would say that half and half kayaks (meaning half inflatable and half not) are a bit of a nuisance. However I have to admit that I like what Advanced Elements has done with the AirFusion.
They have designed a sleek looking kayak that will paddle very nicely on flat water lakes, calm rivers or ocean bays.
The only downfall is that it will take a bit longer to set-up than a regular inflatable kayak but many may consider the performance to be worth it.
The AirFusion is still quite light weight for a hybrid model and is easily carried by one person. The price is quite reasonable as compared to other kayaks like this.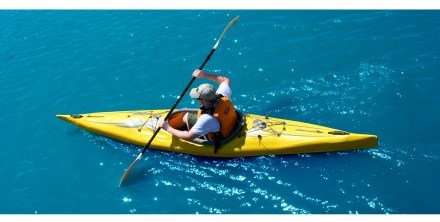 Final Thoughts
This kayak has many great features and it is nice to see Advanced Elements thinking a little outside the box.
For myself, even though I like the look of the AirFusion, I know I wouldn't be bothered with a hybrid inflatable kayak like this one.
The reason is because personally I don't want to have to attach poles and put it all together, even if it can be done in 15 minutes. I much prefer to unroll my kayak and just pump it up.
I will say that the AirFusion has a lovely design and a very sleek look. Hopefully Advanced Elements will come up with some sort of rudder system to add on because it is a shame to have a semi high-performance inflatable kayak without tracking help.
Where To Buy
Click here for the Advanced Elements AirFusion inflatable kayak at Outdoorplay.com.
Click here for the best deal on the Advanced Elements AirFusion at Amazon.com.
Click here for the Advanced Elements AirFusion inflatable kayak at REI.com.
Did You Know?
By clicking on the above seller links you can help keep InflatableKayakWorld.com growing. When you make a purchase after clicking on our links, the retailer will contribute a portion of the sale to help support this site. It won't cost you anything extra and it's a simple way to help us fund our kayak and gear reviews. Thanks!