Best Uses: Day trips, flat water, ocean, calm rivers, camping
Brand: Advanced Elements
Available At:
Number of Paddlers: 2 – but can be converted for 1
Specs: Length 15', Width 32", Weight 56 lbs, Load Capacity 550 lbs
Folded Size:. 35″ x 21″ x 12″
Accessories Included: Carrying duffel bag, 2 folding foam mesh seats, repair kit, owner's manual
Kayak Material: PVC Tarpaulin with 1000 denier polyester outer fabric, heavy-duty 30-gauge PVC main chamber, high density polyurethane-coated polyester inner cover
Pros:
stable
good maneuverability
easy to paddle
good amount of leg room even for someone over 6′ tall
can be converted for solo use
good tracking
optional spray decks can be added for more protection from the elements
Cons:
quite heavy at 56 lbs.
easier to control on calm flat water as opposed to ocean swells
setup time is longer than most other inflatable kayaks
takes a little longer to dry out
More In-Depth Info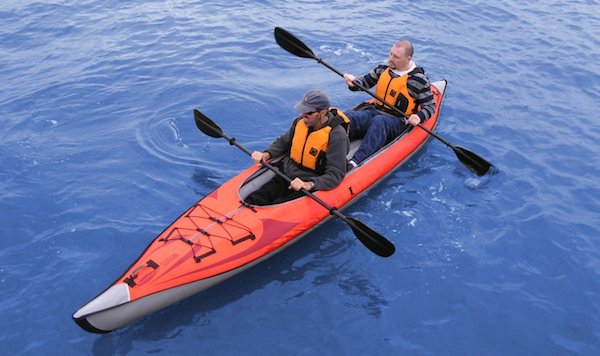 The Advanced Elements AdvancedFrame Convertible has pretty much always been one of the more popular models. It has always sold well and I find in general most people are quite happy with it.
It does have a few flaws but the concept and design are good and actually fairly unique in the inflatable kayak world.
AE Convertible Important Features
I find with the AE Convertible that you have to take the good with the bad and luckily there is a lot of good to focus on.
It's a Convertible!
At least it is as close to a convertible as you're going to get in an inflatable kayak.
Although it is fitted with two seats and best paddled as a tandem, one of the seats can be removed and the other moved to the center for solo use. There is optional solo and tandem decking that can be purchased to go along with it.
When paddled solo we found that it took more effort to get moving because of the sheer length and weight but once you get that good glide going it feels quite nice.
When paddled as a tandem it is capable of really picking up some nice speed, especially of flat calm water.
Optional Decking
Already standard with this model is a more closed-in feel with the longer decking. You can also purchase separately solo or tandem decking that completely closes the top except for the cockpit.
There are very few inflatable kayaks that offer this feature and it is a nice one. The added decking adds on weight but makes it look fantastic and also offers more protection from the elements, which I have to admit is a real bonus.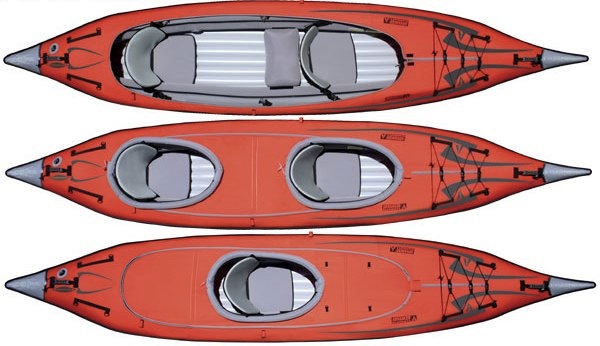 Sits Low In The Water
If you have previously paddled hard-shell kayaks you might appreciate that the Convertible sits fairly low in the water making it easy to paddle and maneuver.
It provides a more 'authentic' kayak feel, which for some is important. In my experience even if you are used to hard-shell kayaks you can get comfortable with an inflatable very quickly no matter the design.
Decent Back Support
The back support offered by the included foam seats is decent.
The back of the seat comes about half way up your back when you sit against it. I like a slightly higher back personally for more support.  There have been a few complaints that they get uncomfortable after paddling for awhile.
If it becomes an issue and you are doing longer trips you could always look for other seat options but for general paddling around they are just fine.
Storage Space
There is a small storage area under the decking right at the back and right up front. It is not huge but can definitely hold a small to medium size dry bag or two.
You can also secure more gear on top of the decking under the front bungee cords or just tied down with some proper clips.  No problem loading it up as it can hold up to 550 lbs.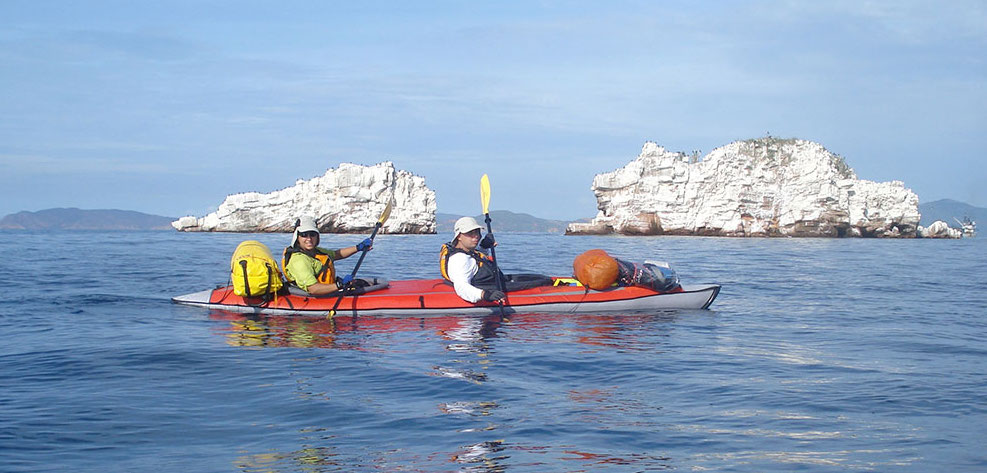 Tracking and Speed
It has a very tapered pointy bow and stern and a decent size skeg, both of which help with the tracking and speed.
It is not the fastest kayak out there but it is also nothing to complain about.
Bag
The carry bag that comes included in the package is made of strong nylon and has fairly heavy duty handles to carry it.
The bag is not fancy but easily fits the Convertible when deflated and completely and rolled up.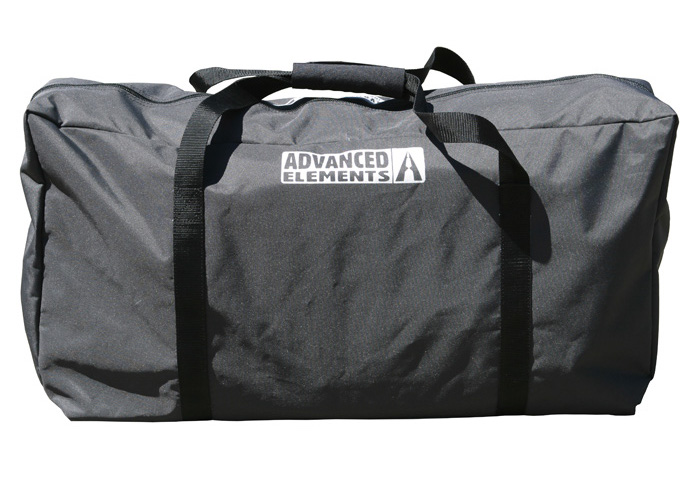 Price
We have to mention the price because it is excellent for what you get.
The Advanced Elements kayaks in general are usually priced well but we think this one could probably fetch more than what it goes for, so the price gets a big thumbs up.
I don't normally add the prices into my reviews as they so often change, however you can usually find this one for anywhere between $700 and $800.
Convertible Complaints
I love the look of the Convertible but I have to admit it is not one of my personal favorites for a few clear reasons.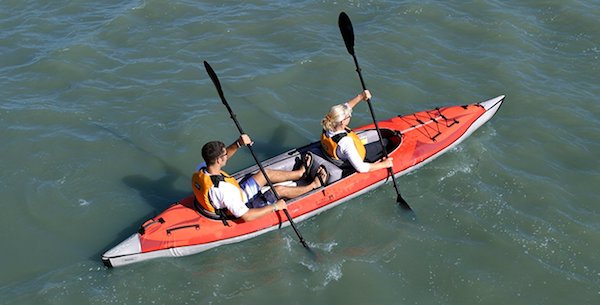 1. The weight bothers me.
56 lbs. is heavier than most other tandem IK's.
If you plan on taking the Convertible out for solo use you better have a cart with wheels to get it to the water. Two people of course will have no problem carrying it but the weight still bothers me.
For years I hoped that Advanced Elements might come up with some design feature or different material or parts that bring the weight down.
That being said this is rarely a complaint I hear from those who own it so it might just be something I'm hung up on haha. It is after all a 15′ long kayak with decking, so a little extra weight is bound to come along with that.
The upside to that extra weight is that because of it you will be less likely to get blown by the wind. This can sometimes be an issue with some really light weight models.
2. It takes much longer to set up than I'm used to.
Setting up the backbone (if you choose to get it) definitely adds more time to the process.
The kayak I paddle most often is the Sea Eagle Razorlite and I am so used to that thing being inflated and setup in only a few minutes that dealing with the extra details of the Convertible feel cumbersome to me.
However because of those extra details you get a pretty cool looking kayak that looks more like a hard-shell design than the typical open deck style of inflatables.
3.  The floor is what I am now coining as the 'old school inflatable kayak floor'.
What I mean is that there are more and more IK's that are coming standard with a high-pressure super rigid floor.  This really increases the rigidity and consequently the overall performance.
The 'old school' softer inflatable floor still comes standard with the Convertible.  It is comfortable to sit on, possibly cheaper to make but ultimately makes for a less efficient paddling machine.
This old school floor is still being used by LOTS of manufacturers so it is not that Advanced Elements is way behind the times.
Also worth noting that they do offer the high-pressure rigid floor as an extra if you want to invest in it.  However adding in the extra cost of the rigid floor plus the backbone no longer makes the price of this kayak seem so fantastic.
So in this case you will have to weigh the pros and cons and decide if the added costs are worth it for you.
4.  The rigidity is not as good as I would like.
This kind of goes along with the floor issue as I find the Convertible to be not as rigid as I would like it to be even when fully inflated properly.
The optional backbone and high-pressure floor that can be purchased definitely helps to create a more rigid structure and improves performance.
You could definitely use just one or the to other for added rigidity instead of buying both the floor and the backbone.
It is a tough call to say which one will help out the most.  I would probably gear towards the floor over the backbone.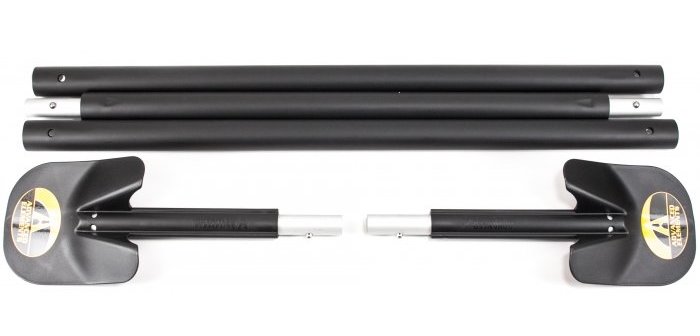 5. Takes more effort to dry out after use.
With the extra decking it is easy for water to become trapped in the Convertible and harder to get it all out when you are finished.
It is totally doable to dry it out and definitely not something to be overly concerned about.  Just be conscious of the fact that you will need to bring along some old towels and get right inside the interior to dry it.
The good thing is that in waves and chop not much water, if any at all will get inside the kayak with the great decking for protection.
Final Thoughts
Although it is true I do have a few complaints with the AdvancedFrame Convertible there is no denying its popularity, great looks and awesome features.
It is a nice ride,  reliable and easy to paddle with the advantage of being able to be  used for solo trips or with a friend or family member.
If you would prefer a smaller solo model of the same design see our Advanced Elements AdvancedFrame Review.
Where To Buy
You can find the AE Convertible at a few different online stores. Click through the links below to find the best deal.
If you end up purchasing this kayak leave a comment below and let us know your thoughts, we would love to hear from you!
Did You Know?
By clicking on the above seller links you can help keep InflatableKayakWorld.com growing. When you make a purchase after clicking on our links, the retailer will contribute a portion of the sale to help support this site. It won't cost you anything extra and it's a simple way to help us fund our kayak and gear reviews. Thanks!