Best Uses: Day trips, flat water, ocean, mild rivers, camping, family, dogs
Brand: Advanced Elements
Available At:
Number of Paddlers: 2 but can be converted for 1
Stats: Length 15', Width 32", Weight 56 lbs, Load Capacity 550 lbs
Accessories Included: Carrying duffel bag 35" x 21" x 12", 2 folding foam mesh seats, repair kit, owner's manual
Kayak Material: PVC Tarpaulin with 1000 denier polyester outer fabric, heavy-duty 30-gauge PVC main chamber, high density polyurethane-coated polyester inner cover
Pros: Stable, Compact, Great Maneuverability, Easy Entry and Exit, Easy to Paddle, Spacious, can be converted for one person, optional spray decks
Cons: Heavy, Better in calmer water than in large ocean swells or heavy rapids
More In-Depth Info
The general opinion after reading umpteen reviews is that the Advanced Elements AdvancedFrame Convertible inflatable kayak rocks.
Taking everything into consideration the bottom line is that you are getting a tandem inflatable kayak that is extremely stable and portable for under $1000.
Truthfully I very seriously considered purchasing this inflatable kayak for myself.
What I love about it, and it seems that others agree, is that it can be used for two people or if going solo, can be converted into a one person kayak.
It is a very attractive looking inflatable kayak that offers an optional backbone for more rigidity and spray decks to keep you dry.
It sits low in the water and although it does give you the true kayak feel a downside is that water can easily splash into the cockpit even with the spray decks on (but in my opinion that is to be expected in a kayak anyway).
I would advise to always carry a small water pump with you especially if out in rougher conditions.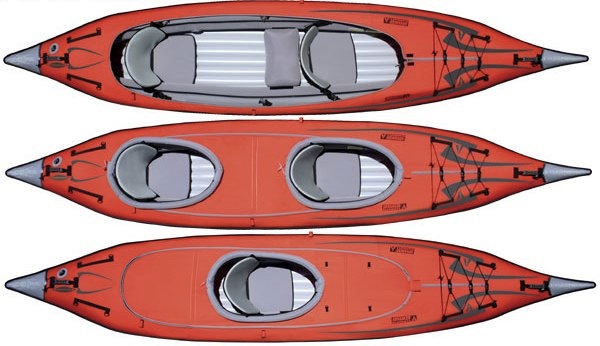 For the price I think this tandem kayak is a great choice for exploring lakes, mild rivers, and ocean shorelines for any person of any age.
There have been some complaints that the seats can get uncomfortable and that it is difficult to repack into its bag.
However there are others who have boasted it to be extremely comfortable and say that it is simply necessary to remove all of the air from the kayak and then it easily folds back into its carry case.
I would guess the comfort level depends on how long of an excursion you plan on doing. This kayak is a little heavier than other tandems which I think is probably its biggest downfall.
However it can still easily be carried by two people. A suggestion would be to get a little cart with wheels to use if you have to transport it anywhere of distance or if you are going solo.
Final Thoughts
It is hard to beat the price and versatility of this inflatable kayak. It has a great look and does not have that inflatable toy boat feel that some cheaper models have.
It will glide you and your paddling partner effortlessly through the water.
I personally passed it up for two reasons:
One, I felt it was a little heavy and wished it was quite a bit lighter.
Two, the setup time is a little longer than some other models.
However with all that being said, this is still a nice inflatable kayak. It has been very popular over the years and the new models are much improved upon from years past.
Although this may not be the absolute best kayak in the water, I think it paddles well and is still a great buy!
This kayak is also available in a smaller 1-person model. Please see my Advanced Elements AdvancedFrame Review for more information on the solo version of this inflatable kayak.
Where To Buy
You can find this kayak at several different online stores. Click through the links below to see the current prices for the Advanced Elements AdvancedFrame Convertible at each online store.
Click thumbnails for larger image.