If you are looking for a 1 person inflatable kayak but are not sure which one to choose then hopefully the lists below will help narrow down your options.
A one person inflatable kayak is convenient for several reasons: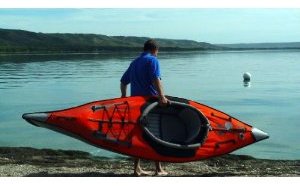 It can be great for traveling as it will tend to weigh less than a tandem inflatable kayak
It can give you the opportunity to easily get out to enjoy the water
It is usually very quick to inflate and easy to transport by car, airplane and sometimes even by bikes
It will often cost less than a tandem inflatable kayak
There are several 1 person inflatable kayak options and I often get questions from those looking to narrow down their choices. Below I have organized some of the more popular choices into categories to suit the different needs.
Most Popular Flatwater 1 Person Inflatable Kayaks
We have noticed these two models to consistently be very popular among those who use a solo flatwater inflatable kayak.
Advanced Elements AdvancedFrame – This model is extremely popular because it offers a lot of nice features for a very affordable price. The AdvancedFrame is not a top performer but it is a great solo inflatable kayak that is a lot of fun to use.
Airis Sport – Airis makes some of the best inflatable kayaks in the world. The Sport is ideal because it paddles well on flatwater, packs up super light and is extremely portable and is so solid that it will likely last a lifetime with very little wear and tear.
Most Popular Whitewater 1 Person Inflatable Kayaks
A solo inflatable kayak for whitewater use is great because it can be highly maneuverable and very portable. Below are the two models we have noticed to be very popular among the whitewater group.
NRS Bandit I – The Bandit is rated for up to class IV rapids, only weighs 21 lbs. and is made with environmentally friendly materials. The Bandit can offer a lot of fun but is best suited for lighter people.
Aire Lynx I – The Lynx is designed to offer a great ride for whitewater kayakers of all skill levels. It is extremely well made and comes with Aire's standard 10 year warranty. This inflatable kayak has always been considered one of the best and could truly last a lifetime.
Most Popular 1 Person Inflatable Kayak for Traveling
A one person inflatable kayak is truly ideal for traveling by airplane as long as you choose one that is light enough to not be a burden on your trip. If you are simply traveling by car or RV then any of the models could work fine. However when on an airplane or perhaps even on a bicycle the lighter the kayak the better. Below are two popular models for traveling.
Airis Play – The Play is a fantastic little kayak, It is extremely well made, weighs between 15 – 18 lbs. and comes with its own backpack so you can literally carry this kayak on your back. Don't let its lightweight fool you however as the Airis Play is a great little performer. It can paddle well on flatwater, whitewater and handle ocean surf beautifully. It is a very popular little kayak that is really ideal for all types of travel. The Play comes in two size options depending on your needs.
Innova Twist – The Twist is again a great quality little inflatable kayak that only weighs 16 lbs. Consequently it can be easily packed into a suitcase or even carried on your back. It is best suited for flatwater such as lakes, calm rivers, or bays and coves. Be aware of its small load capacity however… it is not suited for larger people.
Most Popular 1 Person Inflatable Kayaks for Fishing
Many people choose to get a tandem inflatable kayak for fishing because it will tend to provide more room for gear and maneuvering. However if you are set on a one person model there are a couple that have been known to work well for fishing.
Sea Eagle FastTrack – The FastTrack has a great fishing option package to choose that is ideal for anglers.  Well made, tough, comfortable and best of all backed by a 180 day money back guarantee and a 3 year warranty.  This kayak paddles well and is an easy favorite for many.
Advanced Elements StraitEdge – This kayak can handle up to class III rapids and is a lot of fun for fishing.  It's wide and stable as well as comfortable and easy to paddle.  It has a comfortable seat and plenty of room for fishing gear.
Cheapest 1 Person Inflatable Kayaks
If you are looking for the cheapest way to get out on the water here are two great options.
Advanced Elements Firefly – The Firefly costs approx. $200 and is the best quality option for a cheap inflatable kayak. I would trust this kayak to last for quite awhile and not 'flex' too much in the middle (a common problem with cheap inflatable kayaks).
Sevylor 1 Person Sit On Top – This sit on top inflatable kayak costs approx. $120. It is not the best quality but has been extremely popular. It is best for flatwater and easy use.
Best Performing 1 Person Inflatable Kayaks
Aire Lynx I – As mentioned above the Aire Lynx is an excellent whitewater inflatable kayak. It is definitely a top performer in every way.
Aire Tributary Sawtooth I – The Sawtooth is designed for flatwater paddling and offers speed and good tracking. It is a little on the heavy side for a solo kayak but it will perform well in the water.
Convertible Inflatable Kayaks as a Possible Option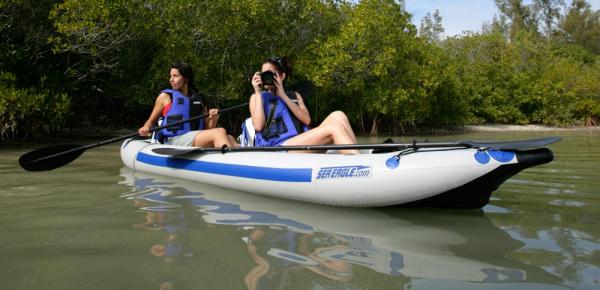 Another possible option for those who will mostly be paddling their inflatable kayak solo is a convertible inflatable kayak.  A convertible is a tandem kayak that can be converted into a solo by removing the second seat and changing the position of the other seat.
They offer a lot of versatility for a few reasons:
They offer more room for gear if you are paddling alone
They offer the possibility of bringing a friend or family member along if they don't have a kayak themselves
They offer more room for paddling with a dog
They can be great for bringing along a child or two
The Most Popular Convertible Inflatable Kayaks Are:
Sea Eagle 385 FastTrack – The FastTrack was new out in early 2010 but has quickly become a very popular convertible inflatable kayak. It is lightweight, stable, and fast. A great option for those who will be paddling mostly in flatwater with possibly a little bit of mild whitewater.
Advanced Elements AdvancedFrame Convertible – The Convertible has always been very popular. Although it is a little on the heavy side it is a really nice looking inflatable kayak that offers a good ride in flatwater and ocean kayaking. It has the option of adding a spray skirt if needed for ocean trips.
Hopefully the above lists can help you to make an informed decision. Good luck and happy paddling!