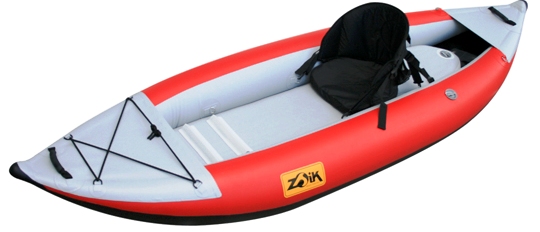 Best Uses: Whitewater (up to class III), lakes, shorelines, bays, traveling, camping
Brand: Zoik
Available At:
Number of Paddlers: 1
Stats: Length 9' 6", Width 3' 2", Weight 26.5 lbs, Load Capacity 320 lbs
Accessories Included: Removable skeg, comfortable high back seat with back storage pocket and two cup holders, instruction manual, repair kit, 2 year warranty
Kayak Material: Strong and durable 1000 denier PVC
Pros: Stable, portable, easy to lift, quick to inflate, great manoeuvrability, compact, easy entry and exit, can handle many different water conditions, includes 8 drain valves, very comfortable seat with back storage and cup holders, decent storage space, very rigid floor, great footrests, 8 D-rings included
Cons: Does not come with storage/carry bag, not very speedy, tracking was decent but not great
More Detailed Info
The Zoik AlterEgo is a fun little inflatable kayak that can be paddled on whitewater (up to class III) or on flat water such as lakes and bays. There are several things that I like a lot about the AlterEgo…
Light Weight
For one thing it rolls up really quite small and is extremely easy for one person to carry as it only weighs 26.5 pounds. Lifting the AlterEgo from the trunk of my car and carrying it to the water was no problem at all.
The fact that it is so lightweight also makes it ideal for traveling and would be a cinch to bring onto an airplane. It also has a very quick set-up time. I would say it took me 8 minutes tops to get it completely set up and on the water.
Great Seat
The adjustable seat attaches to the D-rings. The bottom of the seat has a zipped-in cushion which provided the best bum support out of any kayak seat I have ever tried. I was thoroughly comfortable.
The back of the seat zips away from the bottom which makes it easy to pack and travel with. When zipped together, the seat back came about midway up my back and offers decent back support. I personally prefer a higher seat back for additional support but all the same it was quite comfortable and I did find that my back was fairly well supported.
The back of the seat has a storage pouch that easily fits some snacks, sunscreen and some small gear. One of the best features of the AlterEgo seat is that it has two cup holders attached at the back. I LOVE these cup holders and thought they were a brilliant touch. I placed my water bottle in one and my repair kit in the other.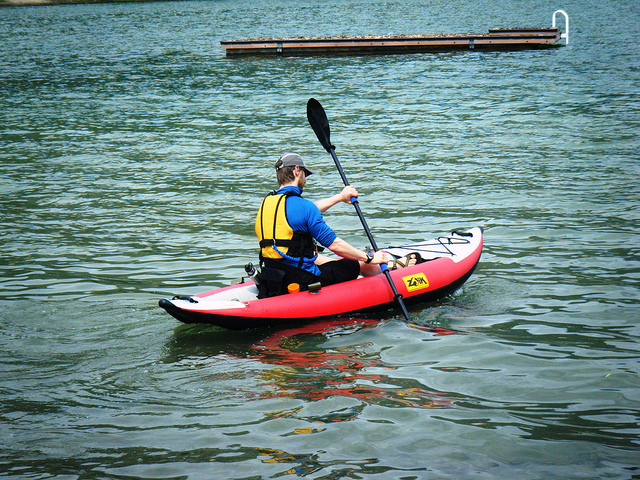 Attached Footrests
Another fantastic feature of this inflatable kayak is that there are two footrests attached to the floor. These are so ideal for resting your feet against and gaining a little bit of extra power through the tension in your feet. The first foot rest worked great for me (I am 5' 7") and the second foot rest would work well for a taller person.
Storage
There is a decent amount of storage space within the AlterEgo… not a huge amount of room but considering this kayak is only 9' 6" long, I think it does well. There is a little bit of room behind the seat and more room up front under the splash guard. The front end has bungee cords and there are also several D-rings for attaching gear.
The AlterEgo can hold up to 320 lbs. easily which I think is quite good for a solo model.
Design
The AlterEgo comes in a great red colour as well as a blue. I tried the red one and found that it looked fantastic on the water and was very visible to other boats which is always nice.
When inflated the Zoik AlterEgo is very rigid and the inflatable floor is hard enough to easily stand up on. The floor does not budge once inflated but also has two tie down straps just to completely secure it. There are 8 drain valves for use in heavier water.
You sit up really quite high in the AlterEgo. With the extra cushioning of the seat on top of the very rigid inflatable floor, I found that I was sitting well up above the pontoon sides. If you are used to sitting down low in a kayak, this has a very different feel but I didn't mind it at all.
My One Complaint
My one big complaint about the Zoik AlterEgo is that it does not come with a carry bag. This is a good quality inflatable kayak and although not perfect, it definitely has some great features and is a lot of fun to paddle.
However for the price I really feel it should have a carry bag included for storage and for making it easier to carry to and from the water. You can always purchase one separately and it is no problem to carry without it, but it is too bad that it is not included.
Performance
Maneuverability: I was impressed with the maneuverability of the AlterEgo. It was extremely responsive which made it a lot of fun to paddle.
I could easily wip it around with one clean stroke and found that it was a lot of fun to punch through waves in windy conditions.
With the easy maneuverability and the drain valves, I think the AlterEgo is a great inflatable kayak for paddling on rivers. I also think it would be a lot of fun to use for some easy kayak surfing.
I found myself imagining surfing the waves in Hawaii with it and think it would be perfect for that kind of fun.
Tracking: For flat water kayaking it has a small skeg that helps with the tracking. With the skeg on the tracking is not too bad, but far from perfect.
There is a noticeable yaw movement and consequently I would not rate this inflatable as having great speed.
However this is often the case with inflatable kayaks that are not specific to one type of water. For example some models are designed to excel in whitewater while others are designed strictly for flat water.
The AlterEgo is designed to be paddled on all types of water (except heavy whitewater). Although this makes it quite versatile and perfect for traveling, it also means that it does not excel at either.
Note: Make sure to attach the skeg before the kayak is inflated. When deflating the kayak, be sure to remove the skeg before storing away so that it does not get bent.
Pictures and Video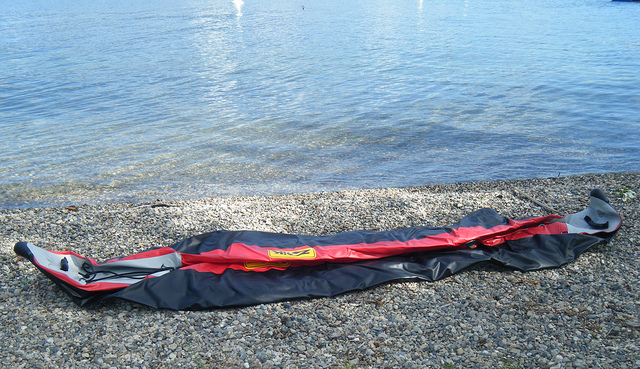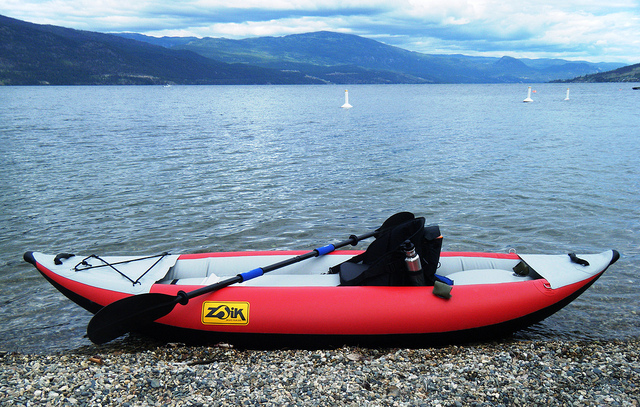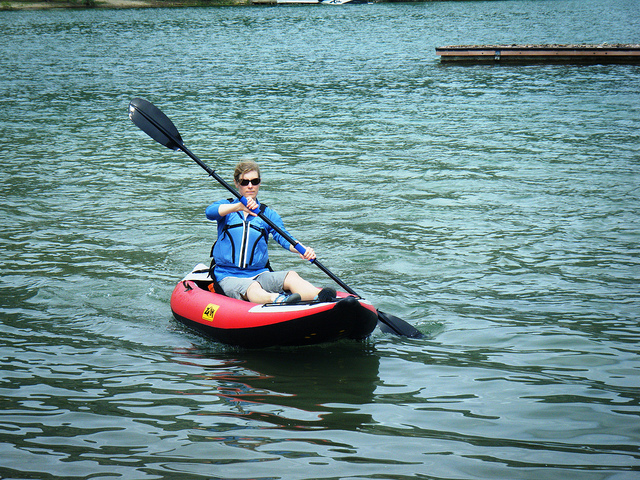 View more more pictures of the AlterEgo on the IKWorld Flickr page.
Final Thoughts
After taking the Zoik AlterEgo out several times on different water and in different weather conditions, I found it to be a lot of fun and extremely easy to paddle.
Kayaking this kayak takes very little effort which makes it ideal for any person of any age.
It would not be my model of choice for flat water kayaking. I would prefer a model that is more designed for speed and great tracking. However if you are looking for versatility and ease of use, this model would be great.
I think it is most ideal for rivers, playing in waves and easy paddling and would suit beginner to novice kayakers, families and those who love to travel.
Where To Buy
Click the links below for the best deal on the Zoik AlterEgo inflatable kayak.
Did You Know?
By clicking on the above seller links you can help keep InflatableKayakWorld.com growing. When you make a purchase after clicking on our links, the retailer will contribute a portion of the sale to help support this site. It won't cost you anything extra and it's a simple way to help us fund our kayak and gear reviews. Thanks!