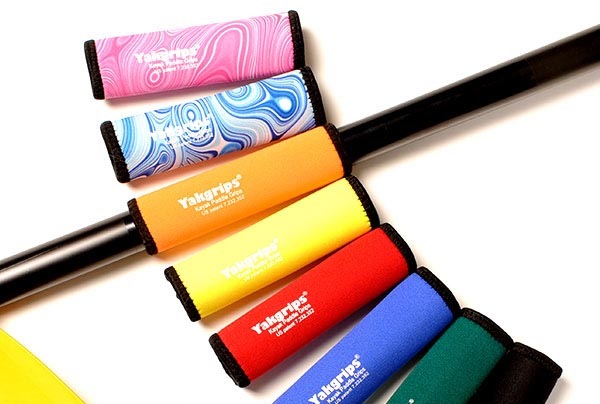 These are the absolute best invention for a kayak paddle. If you have ever suffered from blisters or calluses while paddling, the Yakgrip paddle grips will help immensely.
I always seem to have a problem with getting blisters and calluses on the palms of my hands when kayaking.
To combat that problem I used to wear paddling gloves.  However in the summer heat my hands would sweat in gloves and feel uncomfortable.
The Yakgrips totally solve that issue as I can simply paddle with my bare hands and be completely comfortable and blister-free.
You can buy slide on grips for two-piece take apart paddles.  Or you can buy grips that attach with velcro for one-piece paddles.  They are available in several different colors.
The Good…
I kayaked for years without using the Yakgrips and for some reason I never thought to look into what kind of comfort items were available for paddling.
Once I discovered the Yakgrips there was no going back.  I can't imagine paddling without them now.
When they came on the market they instantly became very popular with all types of kayakers.  Not only do they help to protect your hands but they also give you a better grip.
In my experience this will help your paddling stroke to be far more efficient.
Dealing with blisters and calluses when kayaking is a real pain.  When your hands are comfortable and there is less pressure on your palms and tendons you can paddle a lot further with less fatigue and enjoy your day out on the water.
There are other similar grips out there that can be used on a kayak paddle but the I find the Yakgrips to be the most comfortable and the most durable.
Features:
simple in design
very light weight
easy to install or remove
available for take apart shafts or one piece shafts
come in a variety of colors
The Bad…
The only negative I have experienced with the paddle grips are when they get soaking wet.
I have noticed that one of my grips will move on the shaft of the paddle when it is really wet.
I actually don't find it to be a big deal and if you have the ones that slide on (as opposed to velcro) this is how you would remove them… get them soaking wet then slide it off.
Final Thoughts
This is one kayak accessory that I really feel every single paddler will love. I personally will never be without them.
It is these little things that can make a very positive difference to your comfort level during our paddling trip.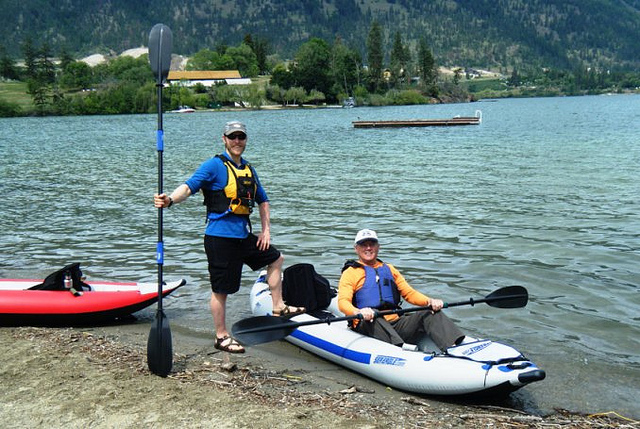 Where To Buy
The Yakgrips are very affordable and usually priced between $15 and $20.  The best price I have found for them, especially when factoring in shipping is at Amazon.com.
Click here for the best deal for the Yakgrips kayak paddle grips at Amazon.com.
Did You Know?
By clicking on the above seller links you can help keep InflatableKayakWorld.com growing. When you make a purchase after clicking on our links, the retailer will contribute a portion of the sale to help support this site. It won't cost you anything extra and it's a simple way to help us fund our kayak and gear reviews. Thanks!