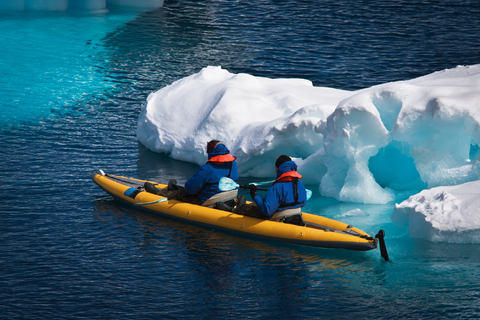 As long as the water is not frozen and you have the proper gear to keep you insulated and dry then you are good to go for some exhilarating winter kayaking.
It is easy to get house bound in the colder months but if you can force yourself to get out there you will find that kayaking in the winter can be a lot of fun.  There is no hot sun shining on you so you may find that you can paddle much further distances than in the summer months.
The main requirement for cold weather kayaking is to be sure you have the right winter kayaking gear. It will be essential to your comfort, warmth and safety.
Winter Kayaking Gear Checklist
Winter kayaking clothes tend to be more expensive than summer kayaking gear. However I find that it is really a one time purchase as most of it will last a really long time. Each person's level of cold tolerance is a little different but there are a few basics everyone will need to have. There are four main areas to be concerned about…
Comfortable and Cozy Feet

If your feet are cold and/or wet you will not be happy. It is very important to make sure your feet are warm and cozy. For this you will need a good pair of wetshoes or waterproof boots as well as a pair of wetsocks. The socks combined with the neoprene booties will draw moisture away from your skin and keep your feet warm.

I personally use the NRS Paddle Wetshoe along with the NRS Hydroskin Wetsocks. I tend to use the wetshoes in the fall weather and then add the socks for the winter months. These wetshoes are one of the most comfortable pair of booties I have ever worn. They are equally as comfortable with bear feet as they are with socks. I find these wetshoes along with the watersocks to keep my feet ample warm for year round paddling.

Warm Hands

If your fingers get cold they tend to tighten up which can be dangerous when out on the water. Get yourself a good paddling glove. There are different levels of protection from light protection to toasty mitts. Be sure to get a pair that will suit your cold weather.

Protect Your Head

You will lose the most heat from your head so it is important to keep it covered. What type of head protection you use will depend on the type of kayaking you are doing. For easy lake paddling I tend to simply use a fleece toque. However for ocean or whitewater kayaking you will likely want a neoprene type hood. You can get a warm neoprene skull cap that fits snugly under your helmet or under your waterproof jacket hood.

Another thing to consider if you are going to be getting some serious water on your head is a pair of ear plugs. Freezing cold water dribbling in your ear can be extremely dangerous. It can not only be annoying but it can disorient you for a short time. These would only be necessary for heavy whitewater kayaking or sea kayaking in rough water.

Keep Your Core Warm with Layers

Next of course you need to focus on keeping your body warm. The best way to do this is with layers. Your fist layer will be a moisture wicking top such as a Hydroskin shirt and bottoms. This will draw water away from you while trapping in your body heat. Then you will need your insulation layer which in my case is normally a comfortable fleece top and fleece leggings.

From there you will need your top layer which will be a waterproof jacket and pants. All of these layers will keep you extremely warm and cozy, however you may not need them all if the weather is not totally freezing. The most popular cold weather paddling gear for keeping your body warm and dry are the wetsuit and the drysuit.

Important Tip: The most important thing to remember with layering is not to wear cotton! Cotton will soak up the water and hold it against your skin. Wearing cotton is the quickest way to freeze while paddling.
Wetsuit or Drysuit?
Two popular cold weather outfits for paddling are the wetsuit and the drysuit.
The Wetsuit is a one piece jumper suit that draws moisture away from your body and traps in your body heat. This suit makes an excellent base layer and works best in moderate weather with temperatures 50 degrees or higher. It is also ideal for colder weather with added insulation worn on top. Most kayakers love the wetsuit and if you plan on doing much winter kayaking it is an excellent investment to make.
The Drysuit is normally made with Gore-Tex and will keep you very warm and very dry. The Drysuit is very popular with avid cold weather kayakers as it will ensure a warm and dry trip. However it also tends to be quite expensive so I wouldn't recommend investing in one unless you really plan to use it a lot. It you can get one on a good sale you will love owning this piece of kayaking gear and will probably find you will look forward to the winter paddling months even more.
Where to Buy Winter Kayaking Gear?
Any kayaking shop will offer winter kayaking gear but there is one place that is my favorite. NRSweb.com in my opinion has the best selection and often the best prices. Browse their large selection to see if they have what you need:
Also check out their clearance rack for special deals: