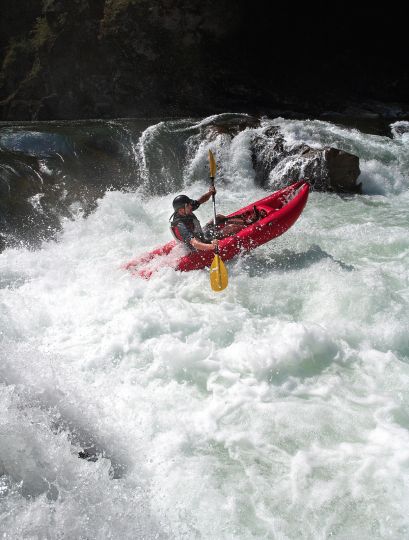 Whitewater inflatable kayaks are designed for those who want to paddle down raging rivers, manoeuvre around rocks and holes and generally do all sorts of crazy tricks that flat water kayakers wouldn't dare.
Consequently the whitewater kayaks have a unique design that allows for great manoeuvrability and control.
For those who are considering whether or not they want to use an inflatable whitewater kayak below is a list of pros and cons to consider.
Pro Whitewater Inflatable Kayaks
They are easy to carry and transport to any destination. Great portability.
They can be transported in the trunk of your car so there is no need for a roof rack.
They easily deflate and store away in a small space.
They are normally more stable than a hard shell kayak.
They can sometimes be less expensive than hard shell kayaks.
Against Whitewater Inflatable Kayaks
They are sometimes harder to manoeuvre than hard shell kayaks.
They are known to paddle slower than a hard shell kayak.
There is the possibility of punctures or leaks if heavily abused.
They require setup time (roughly 5 – 15 minutes) although this is minimal.
Usually those who are considering purchasing an inflatable kayak do so because they want the ease of portability as well as the convenience of being able to store it in a small space.
Inflatable kayaks are known to be more stable than hard shell kayaks and for this reason they are great for any beginner to novice kayakers looking to learn and practice whitewater kayaking.
However if you are able to afford a more expensive model such as the Aire Force or the Aire Lynx, you will find that their performance will rival that of any rigid kayak you have paddled before.
They are fun, convenient and able to take on whitewater with up to class IV rapids. The better quality models can be abused endlessly and last an extremely long time. Which model you choose will depend on your experience, the type of rivers you will be running most as well as your budget.
There are several whitewater inflatable kayak brands to choose from but three of the most popular are:
For more information on individual models view our whitewater inflatable kayak reviews.