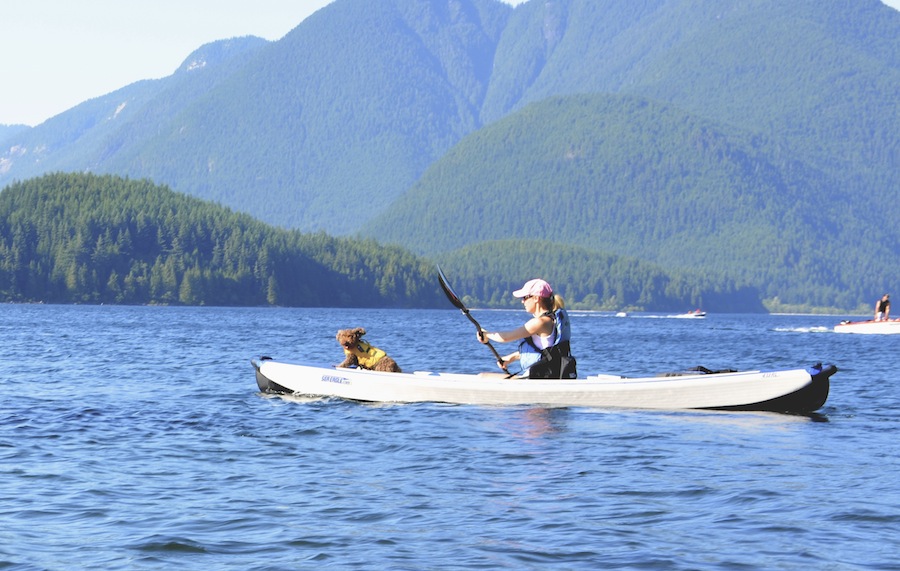 I went years paddling with a regular aluminum kayak paddle. My old standard paddle worked fine for a long time but it was time to upgrade and I wanted something lighter, more efficient and overall just more fun to use.
I did a LOT of research trying to figure out which paddle to buy. I thought I had it figured out several times, but never pulled the trigger.
Finally I decided on the Werner Camano Carbon Bent Shaft paddle and after using it now for a couple of months I can tell you that I definitely made the right choice.
If you've done any research at all you will know that there are a ton of kayak paddle options to choose from.
I found it really difficult figuring out which one to buy. I spent a lot of time comparing the specs, reading the reviews and doing all the things you do when trying to make an informed online purchase.
Werner is a popular brand and the Camano is one of their premium performance paddles.
The Camano Best Uses
This kayak paddle is best suited for touring. It is easy to use and allows for a very efficient power stroke.
It is ideal for a low angle paddling style and can be used when kayaking on lakes, calm rivers or for ocean touring.
Werner Camano Options
It comes in a few different options…
a straight shaft 1-piece
a straight shaft 2-piece
a straight shaft 4-piece (ideal for traveling)
a bent shaft 1-piece
a bent shaft 2-piece
It also comes with either a fiberglass shaft or a carbon shaft.  I bought the carbon bent shaft 2-piece. The bent shaft was a little more expensive but I liked that it aligns your wrists in a more ergonomic position reducing fatigue.
I had tried a bent shaft paddle once years ago and remembered that I loved the feel of it. So I splurged and got it.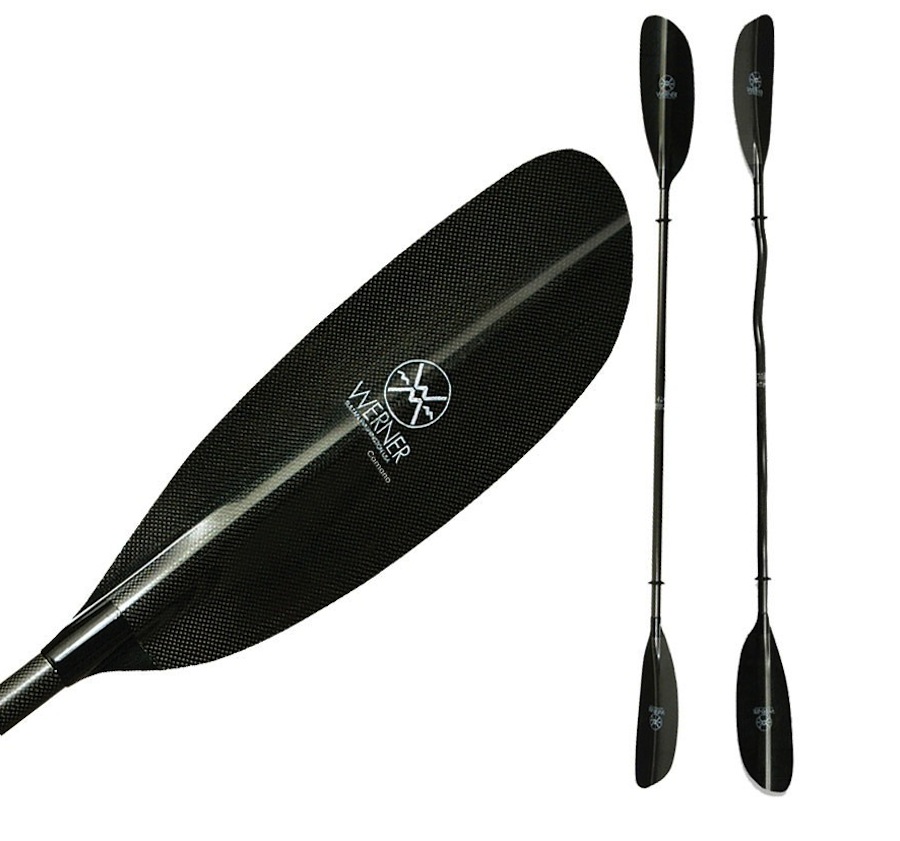 Werner Camano Weight
What I like most about the Camano carbon paddle is the weight. It essentially weighs nothing. Or at least it feels like nothing compared to my old paddle.
My 2-piece bent shaft Camano weighs 29.75 oz. (1.86 lbs.).
The 1-piece bent shaft weighs the same 29.745 oz.
The 1-piece straight shaft weighs 24.50 oz. (1.53 lbs.)
The 2-piece straight shaft weighs 27.50 oz. (1.72 lbs.)
The weight for the 4-piece straight shaft is not listed however I assume it is very similar to the 2-piece.
This is a super feather light paddle and I definitely notice the difference with less shoulder and arm fatigue.
I find that I am a far more efficient paddler with this bent shaft model and my power stroke feels awesome.
It is also worth noting that the lightness of this paddle makes paddling through heavy wind slightly easier.
If you've ever gotten caught kayaking in strong wind you know how totally exhausting it can be… Stop paddling and you get pushed backwards… it's not a good feeling.
It happened to me unexpectedly about a month ago as I was making my way back to my starting point.
I had a few kilometers still to go and the wind got really strong.  Paddling became a huge effort and was no longer fun. In fact it was painful and very tiring.
It would have been a lot worse if I had been using a heavier paddle. My shoulders were burning by the time I made it back to shore. I can only imagine how awful it would have been if my paddle weighed twice the weight.
Camano Blade & Shaft
This paddle has a mid-size carbon blade making it versatile for a lot of different people.
It has a dihedral blade shape, which as Werner explains "was created to direct water flow evenly off each side of the blade creating a smooth and stable stroke".
I find the blade cuts nicely through the water. It does not feel too large yet is big enough to allow for a nice powerful stroke. I do find the water flows evenly off each side.
The carbon fiber shaft is lightweight and comfortable to hold. It feels strong and solid yet has the right amount of flex when paddling.
I can't stress enough how good this paddle feels to hold and use.
Advantages Of A Bent Shaft
The bent shaft is not critical and a large majority of people will use a straight shaft paddle.
Although the bent shaft does weigh a tiny bit more than the straight shaft I do feel it is totally worth it.
The Camano has a Neutral Bent Shaft option. "Neutral Bent" means that the blade, the ferrule (joint where the two halves of the paddle attach) and the grip are in a straight line giving you a familiar straight shaft feel but keeping your wrists in an ergonomic position.
Therefore your wrists, arms and shoulders are all in the right alignment to provide the maximum efficiency while paddling with the least possible fatigue.
1, 2 or 4 Piece?
A one-piece paddle feels solid and is really nice to use. It is typically a little lighter as well.
A two-piece paddle is a slightly easier to transport in the trunk of your vehicle and breaks down into a smaller package for storing away.
A four-piece paddle is ideal for traveling as it breaks apart into four pieces and can be transported in a suitcase.
I chose the two-piece version so that I can easily transport it to and from the water and store it away.
I figured if I were traveling I would probably bring a cheaper 4-piece paddle with me and keep this one as my good 'at home' paddle.
Werner Patented Adjustable Ferrule System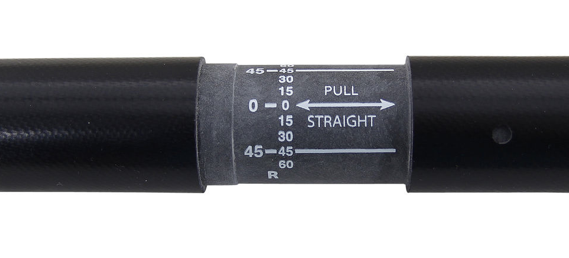 Standard on all of Werner's Premium Touring models is their patented Adjustable Ferrule System.
The ferrule is the joint where the two sides of the paddle come together.  Sometimes this can be a weak point on cheaper paddles and over time you might find that this joint becomes loose and wiggles or does not clip together as easily anymore.
With the two-piece Camano this is not a concern.  It has an easy to use design that clips together nicely.  There are no outside parts to get caught on anything and it has a number system that lets you feather your paddle at zero, 15, 30, 45, or 60 degree angle for the right and left side.
Check out the video from Werner below as I think they did a good job explaining how this works so that it is easy to understand.
Color Options
There are actually several color options for the Camano.
I bought an all black version… The shaft and the blades are all black.
However there is also the option of light blue blades, yellow blades, orange blades or red blades.
I found that different stores seem to carry different colors, so you may have to search around for the color you want.
Length
You have the option of choosing a 215cm paddle length or a 220cm or 230cm.  I ordered the 230cm length, which is a very standard length to use when paddling inflatable kayaks.
Most inflatable kayaks are a little wider so the longer paddle is nice to have.   For a kayak that is 28″ or wider you will want a 230cm length paddle.  If your kayak is less than 28″ then go for a 220cm paddle for low angle touring.
Where To Buy The Werner Camano
This paddle is offered at several online stores.  It's a little on the pricey side but I feel you get what you pay for.
The Camano is for someone who wants to upgrade to a premium paddle, it should last for many years.
Click the links below to find the best deal…
Click Here For The Werner Camano Paddle At Outdoorplay.com – Use coupon code AV15 for 15% off at checkout plus free shipping and NO sales tax.
Click Here For The Werner Camano Paddle At NRS.com.
Click Here For The Werner Camano Paddle At Amazon.com.
Click Here For The Werner Camano Paddle At AustinKayak.com.
Did You Know?
By clicking on the above seller links you can help keep InflatableKayakWorld.com growing. When you make a purchase after clicking on our links, the retailer will contribute a portion of the sale to help support this site. It won't cost you anything extra and it's a simple way to help us fund our kayak and gear reviews. Thanks!