The type of water shoes you wear while you kayak will depend on the weather, the temperature of the water, the type of kayaking you plan to do, and whether or not you will be exiting your kayak during your excursion and do some walking or hiking.
The Sport Sandal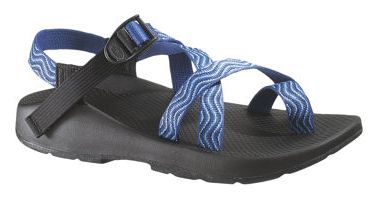 More often then not, in warm weather I will simply wear my sports sandals while I am using my inflatable kayak. They have decent grips on the bottom so they are good for keeping balance while entering or exiting my kayak if I am on rocks.
They are light enough that they do not feel clunky if my feet are in the water and they fit well enough that I know they will not come off my feet or weigh me down if I happen to capsize in the water. A good sport sandal is great for kayaking.
The Water Bootie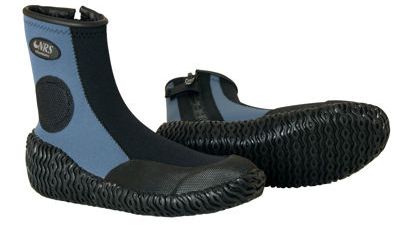 In colder weather I wear a water bootie. I have the NRS Paddle Wetshoe which is a fairly basic wetshoe but really does the trick for what I need it for. They fit snug and secure and keep my feet fairly warm. They have good grips on the bottom so I can wear them scrambling over rocks and walking on shore.
If the weather is really cold I can add a pair of hydroskin socks which give my feet extra protection and warmth. A wetshoe water bootie can be a great way to go.
The H20 Sport Sandal with Toe Protection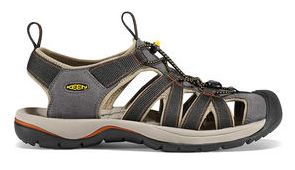 However I have begun to look at a different kind of water shoe… the sport sandal that has protection around the toes. You have likely seen them as they have become very popular. Keen is probably the most common brand name for this type of water shoe but others include Teva, Columbia, North Face, Merrell, etc.
What I like about this water shoe is that it offers the comfort and the style of a sport sandal but gives added protection to the toes and sometimes the heels. This can be great when scrambling on rocks and climbing in and out of your kayak. This type of sport sandal is extremely functional for all types of outdoor activities and makes for a very versatile water shoe.
No matter which type of water shoe you choose to use there are a few important factors to keep in mind:
Make sure they will not slip off your feet… you don't want to lose them in the water or slip and fall.
Make sure there are some grips on the bottom so you don't slip when getting in and out of your kayak
Make sure they will not weigh you down should you capsize in the water.
Make sure they allow your feet to breathe.
Make sure they are not too clunky for the inside of your kayak.
Best Online Stores to buy Water Shoes
There are a few places I would recommend…
NRSweb.com
– Great selection of water booties, water socks and all types of sports sandals.
Amazon.com – Always has a decent selection of all types of water shoes.