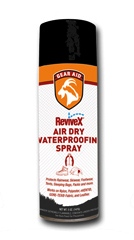 When the warm months are over you can keep paddling if you are well protected from the elements. One of the key factors in staying happy and warm is to keep dry. This can be difficult especially if you live in a wet and cold fall/winter climate like I do.
It is important to have the right cold weather paddling clothes and once you have them you can use a Durable Water Repellent such as ReviveX in order to keep any water from leaking through.
Durable Water Repellent (DWR) is used by technical clothing manufacturers in order to waterproof breathable outerwear such as:
drysuits
drytops
splash wear
rain gear
ski and snowboarding jackets
and all other wet and winter sports wear
What is Durable Water Repellent
Durable Water Repellent is made up of chemical substances that bond with the individual fibers in the threads of the fabric.
The chemical properties prevent water from soaking into the threads. The water will instead 'bead up' and roll off the fabric.
In turn this keeps the spaces between the threads open and allows moisture from your body to escape more easily through the waterproof coating.
Although this type of water repellent works really well it does not last forever. Over time dirt, oil and abrasion will wear it down and possibly mask it.
When that happens the water will no longer bead up. Instead it will soak into the fibers and interfere with the breathability.
How to Use DWR
For paddling gear and clothing made from neoprene it is recommended to use a Durable Water Repellent spray that does not need heat in order to activate it. For an air dry water repellent spray follow the instructions below.
Machine wash garment: Close all zippers and Wash garment in warm water without detergent. If garment is heavily soiled, wash with detergent and rinse twice.
Spray: Place the garment on a hanger. Shake bottle well. Hold 6"-12" from garment and spray exterior of garment.
Allow to air dry.
What to do when your DWR wears off
If you suspect that your DWR treatment has worn off there are a few things you can do to get it back on and working again.
Clean the clothing garment with warm water thoroughly. Avoid detergents as these will interfere with DWR performance. If it is dirt that is masking the DWR, this will likely solve the problem and reactivate the water repellency.
Once your garment is dry again spray a little bit of water on it and watch to see if the water beads up. If not go to step 3.
Reapply the DWR treatment to the garment. Spray until evenly wet and follow the instructions on the bottle.
What Type of DWR to Use
Many DWR products require heat in order to activate it. For example they will require you to heat the garment in a clothes dryer after you have sprayed it on in order to set it.
However with most paddling gear that is made of neoprene or latex, heat is a very bad idea. Therefore for kayaking gear you should look for a Durable Water Repellent such as that does not require heat in order to active it.
For more paddling tips see our Kayaking Tips & Advice Section.