I was browsing the NRS website clearance rack this morning procrastinating instead of doing my work when I noticed something I had not seen before. They had a section called 'Used Rafts and Boats'.
If this section had been there before I never noticed it and I suspect that it is quite new. I know that you are sometimes able to get some great deals on used inflatable kayaks especially if you find one that was only ever used once or twice before. So I was intrigued that NRS had made this addition to their website.
When I clicked into the Used section I saw that they had a few kayaks listed including the (these were as of April 30th, 2012):  

AIRE Tributary Sawtooth – a display model that had never been used
AIRE Super Lynx – a model used only once and in great condition
AIRE Super Lynx – another slightly more used model in great condition
The discounts range from 10% – 16% off. That's not bad I guess considering that at least two of these models are in near perfect to like-new condition. I would have loved to see a higher discount but I have to admit that any discount at all on the superior AIRE kayaks is rare.
Besides these three inflatable kayaks there were other boats such as a cataraft and several high-end NRS rafts. These boats had the higher discounts ranging from 10% to 25% off.
What to Expect from a Used Boat
If you are buying a used kayak or boat directly from a retailer or manufacturer you can expect your boat to be in great condition.
There may be a few scratches here and there or perhaps a color inconsistency or paint blotch, but typically there will be nothing that affects the performance or safety of the boat and very often they are still backed by a great warranty.
There are other ways to find used kayaks and boats such as browsing the classified listings on all kinds of buy and sell websites or local directories, but you are never guaranteed of their quality. Although don't let that stop you from looking because every now and then if you are lucky a great deal pops up.
However with used boats from a manufacturer I feel confident that you will still be getting a great watercraft that will last you for years to come.
Who Else Sells Used Kayaks and Boats?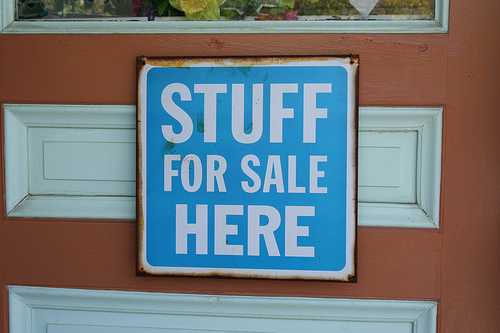 The only other manufacturer of inflatable kayaks and boats that I know of that has a 'Used Inflatable Boats' section on their website is SeaEagle.com.
They often have several used options that are in great condition and offered for a good discount.
The used section on the Sea Eagle website is well worth checking out as they guarantee that their used boats are in great quality and are still backed by their 180 day money back guarantee and their three year warranty – same as their new boats.
Below are the 'Used Boats' sections for both NRS and Sea Eagle. Take a look and see if they have what you are looking for. If I find more manufacturers or retailers who offer this service as well I will add them to this list.
For more information on the individual models please see our inflatable boat reviews.