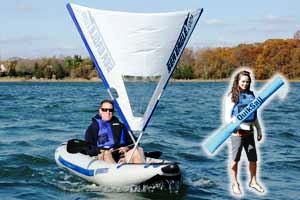 Sea Eagle has expanded their inflatable kayak accessories to include a universal kayak sail called the QuickSail. The QuickSail will convert almost any kayak into a sailing vessel.
Kayakers have been modifying their kayaks for years and many people who have wanted to take advantage of the winds have added sails before. The great thing about the QuickSail is that you can use it without having to make any modifications to your kayak or attach any complicated or heavy gear.
This sail kit sets up in under one minute and can be stored in the bow or stern of your kayak as it breaks down to just 43".
Advantages of a Kayak Sail
There are many advantages to using a sail with your kayak including:
faster speed with less effort in the wind
the ability to rest your arms, shoulders, wrists and back when tired – without losing ground
a sail for your kayak is a lot of fun and will make you look forward to windy days on the water!
QuickSail Important Details
The QuickSail universal kayak sail
is able to be used on almost any kayak whether it is an inflatable or hard-shell design and works on all of the Sea Eagle kayaks. It consists of a strong aluminum frame and a 14 Sq foot sail.
To use the QuickSail you stand it in the front of your kayak and attach with the rope provided to your D-rings (see video below). If your kayak does not have any D-rings on the side you can always easily add them yourself by purchasing a D-ring pack and gluing them on.
This sail is self-standing and can operate hands-free which means that you can still hold on to your paddle and steer. It also has a handy window so that it does not block your view while sailing. It comes with a nylon carry bag and weighs very little so is easy to transport and store anywhere. The QuickSail is able to sail up to 45 degrees left or right and reach speeds up to 8 miles per hour.
Weight and Measurements:
Weight: 3 lbs.
Measures: 43" x 6"
Sea Eagle QuickSail Video
Below is a quick video of Ryan from Sea Eagle demonstrating the set-up and use of the QuickSail.
For an affordable price you get a quality kayak sail that can be used on almost any kayak and comes with Sea Eagles standard two part guarantee… 180 day risk free trial and great 3 year warranty.
The QuickSail universal kayak sail kit can be found at SeaEagle.com
.