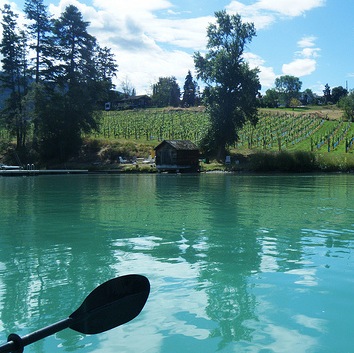 An inflatable kayak is convenient because you are able to store it in small spaces and easily transport it by car, RV, airplane, bus, or even by bicycle (depending on the model). The inflatable kayak is absolutley ideal for  traveling.
Although it is possible to do road trips with a hard-shell kayak tied to the roof of your vehicle, I have found traveling with an inflatable to be far more convenient. Once I began using an inflatable kayak there was no turning back. The simplicity and ease of transportation and use is simply awesome.
You can take an inflatable boat, kayak, or canoe anywhere and with it you can explore beautiful lakes, windy rivers or even play on ocean swells.
It doesn't matter if you are camping, RV'ing or staying in a hotel; your inflatable kayak will be your best travel accessory and open up many great exciting travel opportunities.
Learn More about the Surrounding Area
I find that paddling on different waterways allows you to learn more about the area you are visiting. Often you will get to see many scenic sights that would not have been possible to explore by land.
Wildlife is very common and depending on where you are, you may come across ancient structures and possibly even old petroglyphs which can be exciting to explore. Having your kayak along with you on your travels will allow you to get a totally different feel for an area and greatly enrich your experience.
It can be useful to do a little research on the waterway you plan to paddle before you begin so you know a little about the surrounding area and the history.
Use Your Inflatable Kayak to Reach Remote Locations
Another option besides simply transporting your kayak to your destination of choice is to actually paddle your kayak to a remote location.
You may choose to do a day trip and simply paddle to a remote beach or forest for a picnic. Or if you are more adventurous and don't mind loading your inflatable kayak up with gear and camping along the way you can do a multi-day trip and paddle to some pretty spectacular spots completely surrounded by stunning nature and total peace and quiet.
The point is your options are open and it just comes down to which area you want to explore first.
Inflatable Kayaks and Airplane Travel
Not all inflatables are suitable for airplane travel but there is a wide variety of models that are. The trick with airplane travel is to make sure your kayak is light enough that it can be easily checked without paying extra fees and so that it is not a nuisance to travel with.
Once you arrive at your destination, your inflatable kayak can easily be transported by taxi or rental car and stored inside your hotel room or cabin.
I have often rented kayaks while away on my travels but have found that with rentals you are limited to which waterways you are able to explore. Having an inflatable kayak along with you allows you to be in control of what you want to see and experience. It opens up many new travel adventure opportunities and will likely be the highlight of your trip.
Exploring a new location by land is fun but exploring the surrounding area by water – be it by lake, river or ocean – gives you a completely different feel and allows you to see totally different scenery.
Do Your Research
If you decide to travel with your inflatable kayak do a little research before you go. Find out which waterways are safe to paddle for the time of year you are traveling and any details you need to know beforehand.
Whether you choose to bring your inflatable kayak along on a road trip, on airplane travel or choose to paddle your kayak to a remote location, there is no doubt that it will open up a whole new world of adventure that the whole family can enjoy.
If you love to travel and love the outdoors then you might find the inflatable kayak or inflatable canoe to be the most convenient and fun travel accessory you could have with you.
For more tips on traveling with an inflatable kayak see our post Best Inflatable Kayaks for Traveling.