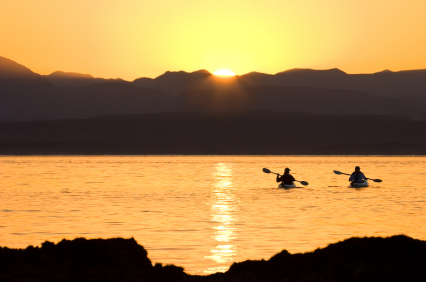 I get lots of questions about which inflatable kayak would be good for different groups of people such as families, big people, small people, and children.
There are also lots of questions about which models are best for river kayaking, ocean bay paddling, lake paddling, etc.
There are so many options now for inflatable boats that it can be hard to narrow down your search.
I have written several articles over the years that deal with each category specifically but I decided to do one main article that gives a run-down of the top 3 inflatable kayaks for each category I could think of.
The kayaks that I have put in each category are my opinion only and based on my experience, what I have learned and what I have seen to work first hand.  It seems that most people are looking for a kayak that fits into several different categories which of course can make the search a little more difficult.
It takes a little bit of research and comparison to choose the model that will work best for your needs.  The below categories are simply meant to be a starting point as to where you might want to start your search.
So let's get started. I have chosen 15 main categories. To get detailed information on each individual kayak go to the inflatable kayak review page.
Most Popular
These are the models that I have noticed to be very popular. I think the reason is that each of these kayaks give you a lot for your money.
Sea Eagle FastTrack
Advanced Elements AdvancedFrame Convertible
Sea Eagle 370
Best for Lake Paddling
These models will paddle very well on flat-water lakes. They excel in tracking and speed.
Sea Eagle FastTrack
Innova Sunny
Tributary Sawtooth
Best for Sea Kayaking
The below kayaks were designed specifically for sea kayaking. They are able to do day trips as well as multi-day ocean paddling trips.
Aire Sea Tiger
Innova Helios I or II
Innova Seaker
Best for Ocean Bay Kayaking
These models are excellent for paddling within ocean bays. They are not necessarily the best choice for venturing further out to sea.
Innova Helios I or II
Sea Eagle FastTrack
Advanced Elements AdvancedFrame
Best for Easy to Moderate Rivers
These are good for up to class III river kayaking.
Sea Eagle 380X
Tributary Tomcat
NRS Maverik
Best for Whitewater
These kayaks are able to handle up to class IV rapids very well.
NRS Maverik
Aire Force
Aire Lynx
Best for Lake and Ocean Bays
Lots of people want to be able to paddle on lakes as well as in easy ocean bays. The below models will fit the bill.
Sea Eagle FastTrack
Innova Helios
Aire Super Lynx
Best for Families
These are great for families who want to paddle together as they are longer and typically have lots of extra room.
Sea Eagle 465 FastTrack
Sea Eagle 420X
Innova Sunny
Best for Small Children
For smaller children who want to kayak in their own boat, these models will work well. They are small, light weight and easy to manoeuver.
Advanced Elements Firefly
Infinity Orbit
NRS Rascal
Best for Traveling
Although most IK's are able to easily go traveling with you, these models are very lightweight and easy to bring along but also perform well.
Innova Twist
Infinity Orbit
Innova Helios
Best Overall Quality
It is too difficult to choose just three models that are the best quality.  In truth there are three manufacturers that in my opinion design and construct the best quality inflatable kayaks.  They are:
Innova kayaks
Aire kayaks
Sea Eagle kayaks
Best Convertible
These IK's are able to convert from a tandem model to a solo model. They are great for those who want to bring a partner along for the ride but also want the ability to paddle their kayak solo when they choose.  I have chosen three popular models but in truth there are several IK's that could go in this category.
Advanced Elements AdvancedFrame Convertible
Sea Eagle FastTrack
Aire Super Lynx
Best for Those Big and Tall
These kayaks will suit those who need extra width as well as possibly extra length.
Sea Eagle 380X or 420X
Advanced Elements StraitEdge 2
Aire Outfitter
Best for Smaller People
There are so many models that would suit a smaller person but the below three will be a particularly good fit.
Infinity Orbit
Advanced Elements AdvancedFrame
Innova Helios
The Lightest
These are the lightest IK's on the market.
Innova Twist – 16 lbs.
Advanced Elements Firefly – 16 lbs.
NRS Rascal – 17 lbs.
It can be hard to narrow down the choices for each category to just three models so this is just a basic reference, there are many others that are worthy contenders and could easily have been added.
As new inflatable kayaks come on the market and older models get upgrades this list can definitely change. However for now each of these are all very relevant and well suited for their respected categories.
If I missed any specific categories don't hesitate to let me know and if I think of any more I will add them to the list.