Many folks have a top ten list or an even shorter top 5 list of excellent places to go sea kayaking. I have to say that there is no way I can narrow my own list down to only 10 key places. I love to travel, I love this world and I love to explore new places. How can I possibly list only ten great destinations for sea kayaking.
Below is a list of phenomenal sea kayaking destinations. If you have the chance at some point in your lifetime to visit even a few… then you can count yourself lucky and priveleged that you got to see and experience such beauty and awe inspiring nature. I hope at some point in my life to be able to say that I have kayaked all of these gorgeous places.
Top Sea Kayaking Destinations
San Juan Islands, Washington – You can paddle along the harbor or from island to island in orca filled waters. Stay at great campgrounds along the way or choose from the beautiful five star lodges.
Sea of Cortez, Mexico – There are many kayaking routes to choose from here as there is over two thousand miles of rugged coastline. Paddle into caves, to empty beaches and past beautiful coves. There is lots to explore here.
Kauai, Hawaii – This is one of my personal favorites (as I have actually been here and experienced it myself). There is absolutely nothing like the beauty of the Na Pali coast and it happens to be the choice spot to kayak in the Hawaiian Isles. See caves, ruins, untouched white sand beaches as well as awesome snorkeling areas. The mountains and stunning green cliffs will leave you dreaming of them long after you have left. Make sure to research the right time of year to go or you may end up only kayaking the inside rivers.
Kenai Fjords, Alaska – Who doesn't want to kayak Alaska?! There is so much raw beauty and wildlife to be seen. The Kenai Peninsula in Southcentral Alaska has a 650,000-acre park with a 300-square mile Harding Icefield. You will be sure to see whales, sea lions, otters and many bald eagles.
Hornstrandir, Iceland – To kayak the northwest fjords in Iceland you will need to be an experienced kayaker. It is extremely rugged and you can be sure to kayak past dramatic cliffsides, see many birds of prey, seals and whales.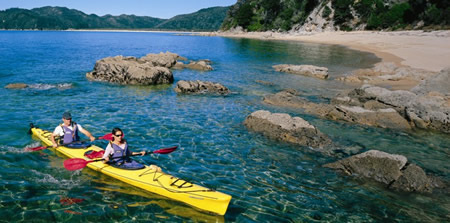 Abel Tasman National Park, New Zealand – A friend of mine is on his way to kayak in New Zealand as I write this. Am I jealous?… yes absolutely. New Zealand in general happens to be home to some of the premier kayaking destinations in the Pacific. The Golden Bay offers caves, coves, empty beaches, orchards and year round tropical weather. It doesn't get much better than that. Kayakers of all levels will be comfortable here.
San Blas Islands, Panama – The San Blas Islands are well known as one of the top sea kayaking destinations in the world. There are 365 tiny islets that you can paddle to and from. Stay on deserted islands with the Kuna Yala Indians and see the unbelievably clear coral filled Caribbean waters. An amazing experience for any kayak lover.
Komodo Islands, Indonesia – The Komodo Islands are volcanic islands that are known to house the very much feared Komodo dragon. The waters around these islands offer coral reefs and mangrove forests that will hopefully have you forgetting about the Komodo dragon and enjoying the scenic waters.
Chiloe, Chile – Chiloe National Park is where you want to paddle and is on the eastern shore of the main island for Humboldt penguin and sea lion colonies. Paddle from island to island and view hundreds of ancient world heritage wooden churches and stilt homes lining the seaside. Soooo much to see here… plus Chiloe is apparently famous for its mythical creatures and monsters.  I can imagine there are plenty of crazy and interesting stories.
Palau, Micronesia – I have been hearing about Palau for awhile…  the unique caves, the stunningly clear water, the beautiful coral reefs, I look forward to going there one day. Palau has lots to offer and is home to several small islets, lots of turtles and many sharks. It is a great place for day long excursions or week long expeditions. If this is a destination of choice for you, be sure to do your research.
Vancouver Island, British Columbia – I had to add this one as it is my own home territory and offers some of the most beautiful kayaking in the Pacific North West. The options are unlimited and you can kayak from the big Vancouver Island to many of the little islands along the sunshine coast or even over to the gulf islands and desolation sound. View nature at its best with many birds of prey, stunning killer whales and seals. The mountains, the giant forests and the fresh air will make you want to breathe in as deep as possible and will leave you feeling refreshed and inspired. Stay at one of the hundreds of quaint bed and breakfasts or find a stunning five star lodge. The options are unlimited here.
Queen Charlotte Islands, Canada – Otherwise known as Haida Gwaii, the Queen Charlotte Islands are located about 80 miles from the west coast of British Columbia. The marine and mountain wilderness are spectacular in this area of the world and the wildlife is abundant. The old growth forests and cultural history of the Haida people are not only in tact but very evident with the awesome collections of carved totem poles.
If you know of other great sea kayaking destinations or if you have a favorite spot that you have experienced yourself please leave a comment as I would LOVE to hear about it and I am sure many others would as well.  I am always looking for new places to add to my kayaking destination wish list.