Innova kayaks has released a brand new model as of May 1st of this year… The Innova Swing.
The Swing kayak has a beautiful design and comes in a single or double version. It is unique in that it has a closed deck that uses a tubeless system.
It is ideal for lake paddling, up to Class II rivers, or bays and estuaries.
A full review of this kayak will be coming soon but for now here is a brief run down on what the Innova Swing offers.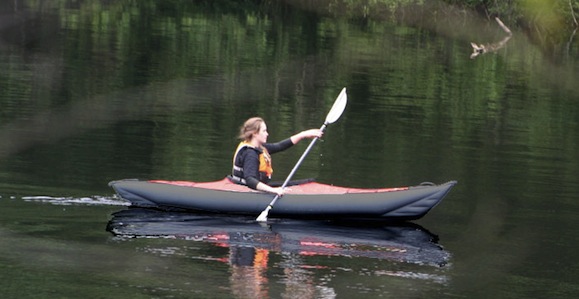 The Innova Swing Features and Design
Inflates in 5 minutes
Inflates to a higher pressure than most competing bladder kayaks which equates to a better paddling performance (3psi).
Both Swing models are very lightweight and easy to travel with.
Made without PVC – instead uses environmentally friendly LitePack materials treated with Teflon water repellent and stain resistance.
Decks are urethane-coated with zippered access for gear storage and cleaning ease.
Material is super quick to dry.
Hulls are made with rip-stop polyester fabric and rubber coated on the interior for air-retention.
Gear bungees on front and back of deck.
Carrying handles on both front and end.
There are three separate air chambers for safety.
Uses bayonet style valves – great valves.
There is a pressure relief valve on the floor to let out extra pressure if needed.
What Makes this Decked Kayak Unique?
Very few inflatable kayaks have decks because of the fact that the deck greatly increases the weight of the kayak.
What makes the Swing unique is the tubeless design that they use and their LitePack material. The result is a very lightweight decked kayak that looks great, provides protection from the elements but is still able to pack up small and be taken anywhere.
Also it is worth noting that Innova has very smartly added zipper access on the Swing decks for easy access to gear as well as easy access for cleaning. This is not something I have seen before on a decked kayak.
The Support System
If an inflatable is going to be decked it needs to have a support system. This model uses aluminum arches fore and aft of the cockpit openings. They provide stiffness, shape and structure to the deck. They are easily removed or can be left in when storing the kayak.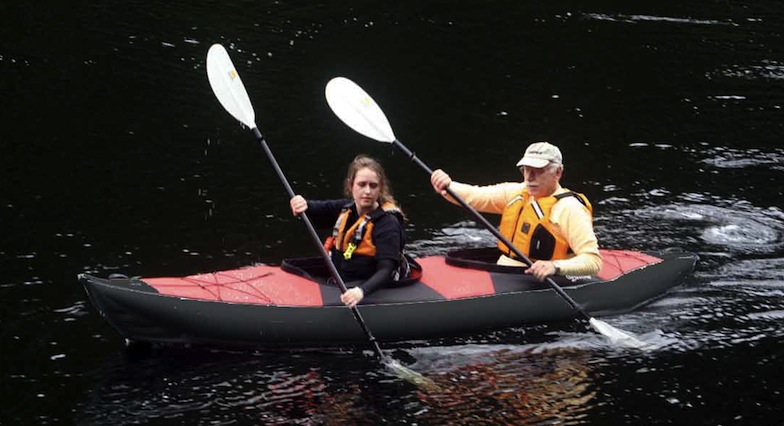 Specs for the Solo Model
River Rating: Class II
Length: 10ft. 6in.
Width: 33in.
Weight: 22 lbs.
Load Capacity: 220 lbs.
Includes: tracking fin, repair kit
Optional accessories: spray skirt
Specs for the Double Model
River Rating: Class II
Length: 13ft.
Width: 33in.
Weight: 26 lbs.
Load Capacity: 397 lbs.
Includes: tracking fin, repair kit
Optional accessories: spray skirt
This is a very exciting new addition to the inflatable kayak market. Both the Swing single and double offer a lot of value while the price remains very reasonable. I look forward to reviewing this model further and once I do it will be added to our reviews section.
For now if you would like more information on the Innova Swing it can be found at: