Stohlquist is a very popular manufacturer of life jackets. You can expect each Stohlquist PFD to be designed for comfort and strength. They are known to be made with great care and in fact each pfd is hand made with attention to all details.
Their PFD's meet all the Coast Guard specifications. They have many different types of PFD's and there is a model that will suit every person and every paddler or boaters needs.
Stohlquist PFD Material
Each life jacket uses only top grade foam that is specially formulated to be the lightest, softest and most buoyant for its weight. The foam they use will not degrade over time nor will it lose buoyancy. Every part of the life jacket is strength tested before it leaves the factory and consequently every Stohlquist PFD has a very long life.
The Stohlquist PFD's are available at:
Most popular Stohlquist PFD models:
Stohlquist aSea

By far one of the top selling Stohlquist life jackets and is consistently rated with 5 stars. The aSea is designed as a soft form-fitting vest that has added ventilation and a high cut back. The bottom half of the back is mesh which allows for great ventilation. Good for all types of boating and has self draining bellows pockets.
Stohlquist Brik

Great for pro-paddlers. This pfd uses the latest technology to add more thrust and less bulk. It uses the Cinch diagonal cinching system and internal Gripp-Loc panels to eliminate vest ride-up. Offers low profile and excellent mobility.
Stohlquist Descent

This is one of the top choices for a whitewater high-performance rescue vest. It offers a body-wrapping, ergonomically articulated wrapture shaped torso combined with the cross-chest cinch harness adjustment and self-tensioning shoulders for a very balanced and comfortable fit. It also has Gripp-Loc interior non-slip panels which provides for zero ride-up as well as multiple adjustment points. Excellent customized fit.
Stohlquist Fisherman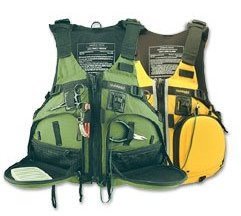 Designed specifically for anglers, this PFD comes with a half flotation, half mesh back, front zipper, multiple adjustments as well as drawbridge dual front-mounted tool pouch pockets and outer mounting locations for fishing tools. Excellent life jacket for any person who loves to fish.
Stohlquist PiSeas

This is another very affordable fishing vest that offers cool mesh on the sides and lower half of the life jacket as well as extra-wide armholes and open sides for great comfort and range of motion. Lots of adjustment points, large drawbridge front pockets and lots of thought has gone into this PFD to make it practical and comfortable for all anglers.
Stohlquist Wedge-E

The Wedge-E offers low-cut side zip entry, adjustable neoprene padded shoulders, ventilated mesh side panels, forward waist pulls and extra wide armholes. Good for most types of paddling, this PFD is comfortable and easy.
Stohlquist Women's BetSEA

The BetSEA was designed specifically for women. It is cut short and small and specially shaped foam for a perfect anatomically correct fit. It has stretchy shoulders so there is very little restriction and the shorter back will not hinder movement or rub against seat backs. The BetSEA is known for almost feeling like it isn't even there.
Stohlquist Women's Cruiser
The Cruiser is designed for female sea kayakers and sit-on-top paddlers. It has a smaller cut, a shortened torso and supportive inner cups. The back fits comfortably above most seat backs and the Cinch harness makes for zero ride ups. Lots of adjustability, zippered front pockets, neoprene padded shoulders and a lower back waist band make this a very popular life jacket for women.
Stohlquist Women's Kitty

The great thing about the Kitty is that it stays out of the way. It has a very flattering and compact feel as well as a petite look. It has a side zipper entry and fits like a glove for a wide range of women's figures. It is consistently rated very high by women who are not comfortable in other life jackets. It has anatomically sculpted inside foam and is shaped to fit cup sizes B to D. Great PFD for women and good for all types of paddling and boating.
More detailed information on each Stohlquist PFD can be found at: