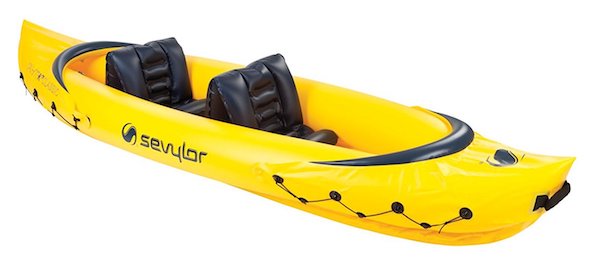 Best Uses: River, whitewater, flat water, kids, camping, traveling
Brand: Sevylor
Available At: Amazon.com – Sevylor Tahiti Classic
Number of Paddlers: 2
Stats: Length 10' 7", Width 31", Weight 25 lbs., Load Capacity 400 lbs
Accessories Included: Drain hole with plug, Boston valves, 2 inflatable seats, bow and stern spray decks
Optional Accessories: Rudder
Kayak Material: PVC
Pros: Very affordable, good amount of room for two people plus a little gear, can hold a lot of weight, self-bailing, comfortable. sturdy
Cons: Basic, performance is lacking, quality is so-so
More Detailed Info
The Tahiti is actually one of the oldest Sevylor inflatable kayaks. It was originally designed in 1963 and has been popular ever since.
As it is self-bailing it can handle most types of water but nothing too extreme. It seats two fairly comfortably and comes with two inflatable seats that offer decent back support that can be moved or even removed.
For the very low price of this kayak you get a really fun little play boat. It offers a little storage room in the front and back and is fun to paddle but quite honestly this is about as cheap as an inflatable kayak will get.
The construction isn't bad but don't expect it to last forever. However, for the price it just doesn't matter and if you are simply looking to get out and enjoy a few days on the water then the Tahiti will be fine.
I would compare this inflatable kayak more to an inflatable canoe. If you have kayaked before this will not be the kayak for you. It is basic in design and construction and the performance reflects that.
It would be great however for kids as a starter kayak and it is truly ideal for traveling. It weighs just under 25 pounds and is extremely easy to pack along for any ride. Also it inflates within only a few minutes.
Final Thoughts
Bottom line is that the Sevylor Tahiti is extremely affordable, can carry a fairly good load and will be fun to paddle. If you don't expect too much else from it, you will likely be very happy, at least for awhile.
Where To Buy
Click Here For The Best Deal On The Sevylor Tahiti Classic Inflatable Kayak At Amazon.com.