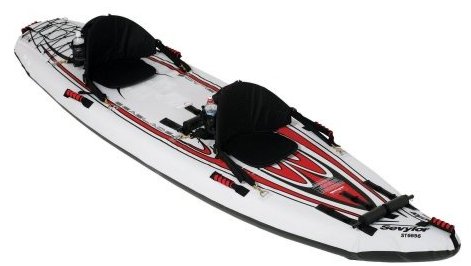 Best Uses: Flat water, ocean play, calm rivers, traveling, diving, snorkeling, beginner paddlers
Brand: Sevylor
Available At: Amazon.com – Sevylor 2 Person Sit-On-Top Inflatable Kayak
Number of Paddlers: 2
Stats: Length 12', Width 39", Weight 34 lbs., Load Capacity 400 lbs
Accessories Included: 3 removable directional skegs, mesh carrying/dive bag, 2 padded seats with fanny packs, 2 padded handles, 2 padded footrests, drink holder
Kayak Material: PVC material with double I-beam electronically welded seams.
Pros: Decent tracking (with the directional skegs), easy to board in the water, great for diving and snorkeling, stable, affordable
Cons: Sags a bit in the middle if paddled by a heavier person, skegs can pop off if bottom hits anything, cheap construction, performance lacking
More Detailed Info
The Sevylor 2 person sit on top kayak is really quite ideal for traveling. For a two person inflatable kayak it is very light at only thirty-four pounds. It inflates in under ten minutes and packs away nice and neat into its carrying bag.
It is a cheap inflatable kayak in every sense of the word but it is easy to paddle, offers good stability and is very easy to enter and exit. For this reason it is also quite ideal for snorkeling and scuba diving.
The construction is decent but not great and the performance lacks a little. It will track fairly good if you use the removable skegs and can paddle nicely in flat water or on ocean surf.
You will be hard pressed to find a two person inflatable kayak for much cheaper than this one and for what you are paying, you will likely have a lot of fun with this boat.
Final Thoughts
Those who have tried this inflatable kayak have liked it and I think as a fun play boat you can't go wrong.
The nice thing about the 2 person version is that you can always remove one of the seats if you are paddling solo and have more room for storage. There are bungee tie downs on the back to hold gear down.
Sit-on-tops are commonly used as rental kayaks because they are stable and so easy to paddle. This kayak would suit beginner paddlers looking for a lightweight alternative to a hard-shell kayak.
Where To Buy
Amazon.com consistently has the best deal on this sit-on-top kayak.
Click Here For The Best Deal On The Sevylor 2 Person Inflatable Sit-On-Top Kayak From Amazon.com
Did You Know?
By clicking on the above seller links you can help keep InflatableKayakWorld.com growing. When you make a purchase after clicking on our links, the retailer will contribute a portion of the sale to help support this site. It won't cost you anything extra and it's a simple way to help us fund our kayak and gear reviews. Thanks!