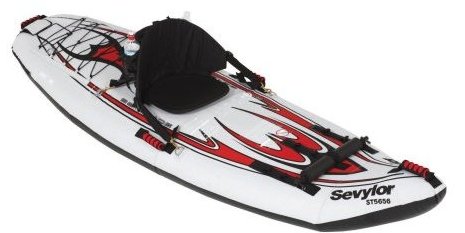 Best Uses: Flat water, ocean play, calm rivers, traveling, diving, snorkeling, beginner paddlers
Brand: Sevylor
Available At: Amazon.com – Sevylor 1 Person Sit-On-Top Inflatable Kayak

Number of Paddlers: 1
Stats: Length 9', Width 32", Weight 21 lbs., Load Capacity 250 lbs
Accessories Included: 3 removable directional skegs, mesh carrying/dive bag, padded seat with fanny pack, 2 padded handles, padded footrest, drink holder, maintenance kit
Kayak Material: PVC material with double I-beam electronically welded seams.
Pros: Decent tracking (with the directional skegs), easy to board in the water, great for diving and snorkeling, stable, very affordable
Cons: Sags a bit in the middle if paddled by a heavier person, skegs can pop off if bottom hits anything, cheap construction, performance lacking, hardly any room for storage
More Detailed Ifno
Sit on tops are actually one of the oldest watercrafts known to man. The modern sit on top kayak is extremely popular as a rental kayak as it is sturdy, easy to paddle and can be easily re-boarded from the water.
I have often rented a sit on top kayak while traveling and have always enjoyed the experience. They do not tend to be very speedy but they are comfortable and safe.
The Sevylor 1 person sit on top is a decent inflatable kayak… not a great kayak, but decent enough. It would work well for traveling as it weighs only twenty-one pounds. It inflates within five minutes and packs away nice and small. Great for traveling, great to store in small places.
The inflatable seat is a good one, it offers back support as well as a convenient fanny pack attached to the back. There is a foot rest to brace your feet on as well as tie downs on the back of the kayak for some gear.
Most of the people who have tried this inflatable kayak have given it good reviews. It is not that this is a top notch inflatable kayak – not even close.
However I think that most people would argue that for what it costs (just over $100), how could you ever really complain. It is a cheap inflatable kayak that will offer a fair amount of fun on the water.
It certainly wouldn't be my choice, but for someone looking for a way to get out on the water without spending much money this may be a decent way to go.
Final Thoughts
Sit on top kayaks are famous for being good dive kayaks or snorkeling kayaks. This is because of the fact that they are so easy to re-board from the water. An inflatable sit on top gives the convenience of easily packing it away as well as easy transport and a great option for traveling.
I would not suggest that the Sevylor sit on top will last forever or give you a great performance.
Don't plan on taking it out into any real heavy water, it is not a rough and tough inflatable. It will however get you out on the water for a very affordable price which is sometimes all that matters.
Where To Buy
Amazon.com consistently has the best price on this kayak.
Click Here For The Best Deal On The Sevylor 1 Person Inflatable Sit-On-Top Kayak From Amazon.com
Did You Know?
By clicking on the above seller links you can help keep InflatableKayakWorld.com growing. When you make a purchase after clicking on our links, the retailer will contribute a portion of the sale to help support this site. It won't cost you anything extra and it's a simple way to help us fund our kayak and gear reviews. Thanks!