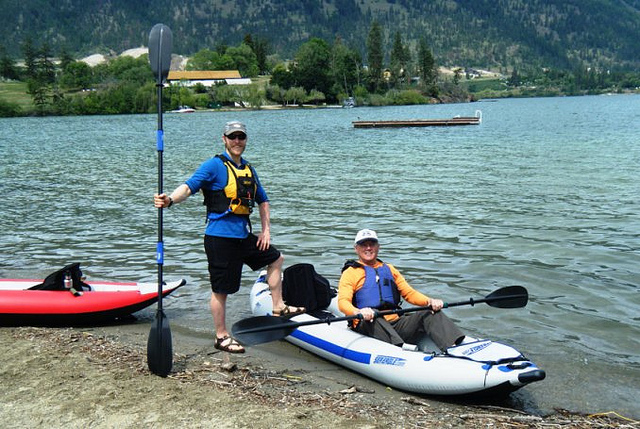 If you have decided an inflatable kayak will fit your lifestyle then comes the task of choosing one that will suit your needs best.
There are a TON of options to choose from and it can definitely be confusing when you are not familiar yet with all the different brands, makes and models.
Hopefully our review site will help narrow down your choices but there are several key points to consider before even beginning your search.
Price
Prices can vary drastically. In my experience you get what you pay for with inflatable kayaks.
However that being said, not everyone wants to invest $1000 into a really good quality kayak.
The cheaper models may not perform as well or even last quite as long but they will give you several years of fun on the water and they certainly have their use.
Some people may only plan to paddle a few times in a year or want an extra kayak that doesn't cost much for family and friends to use.
Or you might not be sure if kayaking is going to become a love or a forgotten hobby.
I hesitate in recommending some of the really cheap models to those who have never used an inflatable kayak before because I feel that they can give them the wrong impression.
Inflatable kayaks have often been called 'duckies' or 'glorified pool toys' and I'm afraid those stigmas come from some of the cheap models out there.
A good quality IK is a real kayak that tracks well and glides smoothly. Although you can definitely get a decent one for under $500, you will definitely get a better performing water and stronger kayak for closer to $1000.
If you want to keep the price down but not end up with a lemon check out the below reviews. These kayaks still offer good quality and a decent performance for a very reasonable price.
Size
The size is going to depend on your needs. Ask yourself these questions…
Do you want a solo or tandem kayak?
How tall are you? Do you need extra leg room?
Would you like extra wide and super stable? Sleek and fast? Or something in between?
How small and compact do you need this IK to be?
How long do you plan to paddle? Do you need extra room for storing gear?
Will you be going out by yourself and need to be able to carry the kayak on your own?
These are all questions you need to consider.
Very popular these days are tandem IK's that can be converted for solo paddling.
These allow for a lot of flexibility, extra room as well as a slightly longer kayak that glides and is solid in the water.
However it may be that you want a smaller model that is easy and compact to take with you anywhere in the world.
Knowing the answer to all of the above questions will quickly narrow down your choices.
Tandem or Solo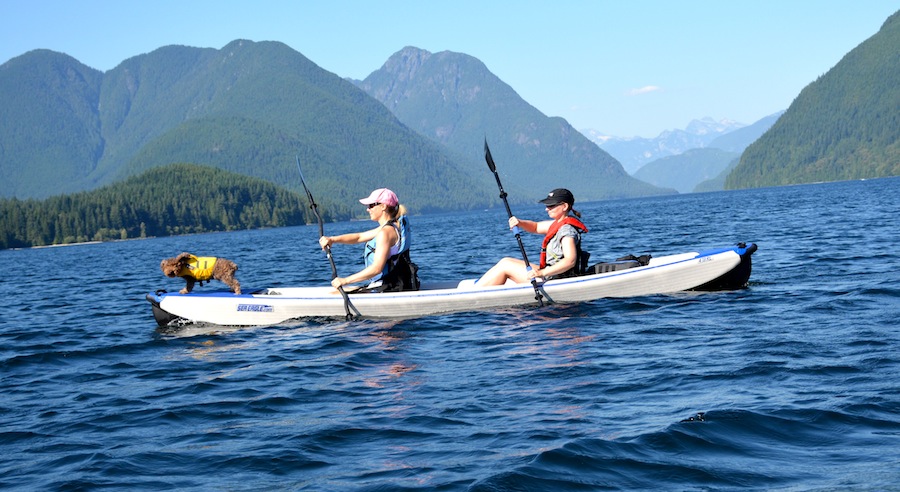 As mentioned above you will need to decide if you want a solo or a tandem IK.
Would you like to be able to bring out a friend or family member with you?
Or possibly have extra room for kids and/or dogs? A tandem kayak can really offer some great benefits.
However if you are a solo paddler, there is nothing like the ease of taking out a good solo kayak.
The solo models tend to be slightly smaller, easier to carry and transport as well as faster to inflate.
A tandem that can be converted to a solo is a great choice for those who want the best of both.
Warranty
Warranty is certainly something to consider. Many of the cheaper models will only offer a 6 month to 1 year warranty.
I like to see at least a 2-year warranty.
Advanced Elements, Airis, and Innova Kayaks offer a 2-year warranty on their products.
NRS offers a 1, 3, 5 or 10-year warranty on their kayaks depending on which model you chose.
Sea Eagle offers a 3-year warranty on all of their boats. They also offer a 180-day satisfaction guarantee. That means if you are not satisfied with your purchase within 180 days of purchase you can return it for a full refund.
I love companies that stand behind their products like this.
Tributary offers a 5-year warranty on their inflatable kayaks and AIRE has the super impressive 10-year warranty on their high quality IK's, although you will typically pay more for these.
Type Of Kayaking
What type of water will you be paddling on? Rivers, lakes, ocean bays?
Knowing whether you need a whitewater kayak or a touring kayak is important. They have different shapes and features and you will want one that fits your needs well.
There are some that can be used on any type of water. However they rarely excel in one area.
These IK's are like a jack-of-all-trades but a master at none. They can be great if total flexibility is really what you want.
However if touring is mainly going to be your thing, I would suggest getting a kayak that excels in that area.
Travel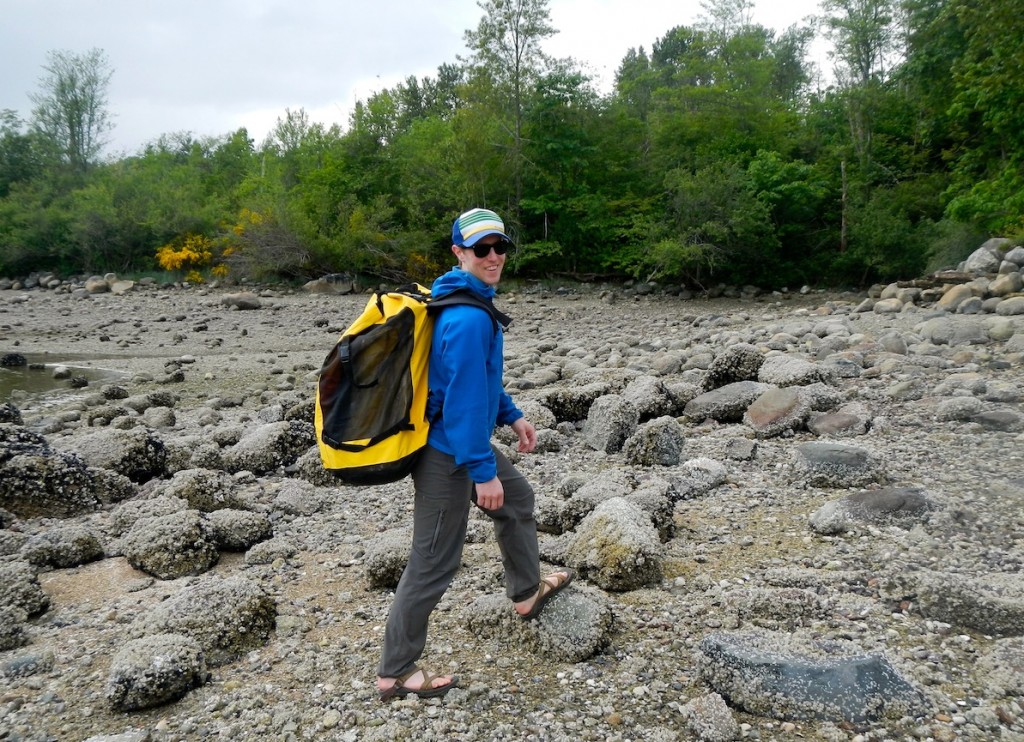 Inflatable kayaks are known to be very portable, compact and easy to take anywhere.
They are ideal for road trips, bringing along in the RV and especially for storing on a larger boat.
They can also easily be taken on an airplane. If you plan to do airplane travel with your kayak then there are some that are easier than others to bring along for the trip.
I find when traveling I want the lightest and most compact kayak so that it is not a burden to carry or take anywhere.
There are several IK's that work well for traveling but a few of my favorite are:
The Airis kayaks – specifically the Play and the Sport. They are super lightweight, compact, well made and fun to paddle.
The Sea Eagle Razorlite – This is my personal kayak of choice and I love how portable it is. I would take this kayak anywhere.
The Innova kayaks – Innova kayaks tend to be quite lightweight and they roll up into particularly small packages. They are definitely worth checking out if travel is on your to do list.
Choosing Your Inflatable Kayak
After considering all of these points and answering these questions you can now start browsing the reviews and eliminating those that won't work for you.
Doing the research takes a little bit of time but is fully worth it when you finally get that perfect kayak that suits your needs and lifestyle best.
Still not sure where to start looking? Check out our Top 5 inflatable kayaks to view those we love the most and feel give the most bang for the buck.