Anyone out there into vacationing in an RV? I can understand why some people love it as traveling in an RV offers many conveniences without having to look for a hotel room at every stop.
My attempt at vacationing with an RV

I became enticed with the idea a couple of years ago. My boyfriend and I decided that we wanted to try a little traveling in an RV to see how we liked it. We didn't have an RV of course but looked into renting one and decided on a date and time to book it. I loved the thought of being able to sleep in the RV somewhere beside water where I could simply pull out my inflatable kayak and hop in.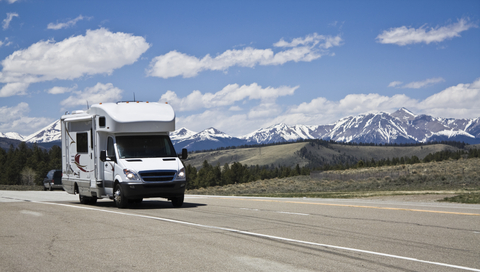 We planned a short trip from Kelowna, B.C. to the Gulf Islands with a couple of stops along the way.  It was planned for a month ahead of time, booking the RV spots, checking out the roads, deciding on what we wanted to do most.
On the day we were set to leave we were both very enthusiastic. We drove to the RV rental place, parked the car and began our guided tour of how to drive and take care of the RV.
The unit was a fairly good size… not those really long ones you sometimes see but definitely big enough for the two of us. We loaded up our gear, my inflatable kayak and our food and bags. We were set, and highly excited.
Is an RV supposed to drive like this?

We started off on our trip feeling very positive but 10 minutes in realized that one of the cupboards in the RV was continually banging. I tried to go back and fix it but it seemed to be flawed. No worries, we'll figure out a way to stop it at the first stop. Away we go.
Thirty minutes later we were climbing the Coquihalla Highway. For those of you not familiar with this road it is a steep climb through the beautiful mountains of British Columbia. Of course you expect an RV to be a little slower on the hills than a car but this lug of an RV that we had was barely making it at a slow crawl. As every car on the road raced to get by us we continued our ascent without saying a word.
After nearly 45 minutes of barely moving, listening to a very noisy clanging cupboard and a trying not to say anything about the very bumpy ride we looked at each other with looks of complete knowing… "I hate this thing" was my first comment.. to which my boyfriend responded by saying "there is absolutely no way I am driving this for the next few days"… and with that we promptly turned around, drove back to the RV lot, cancelled our reservation, picked up our car, threw all of all stuff into it and sped back onto the highway to continue on our journey while I searched on my phone for bed and breakfast reservations.
We had a wonderful trip all the same, but when we returned we had to endure the laughs and jokes from our family and friends. In our defense I really think we got a lemon of an RV and I still think it can be a great way to travel with your inflatable kayak. That being said I likely won't be in one again any time soon.
Wondering which inflatable kayak would be perfect to take along in your RV? Check out our list of best inflatable kayaks.