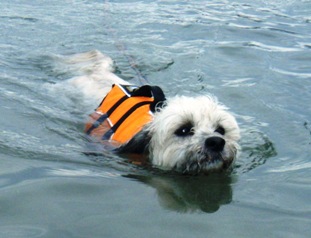 This past week we reviewed one more doggy lifejacket, the Ruff Wear Portage Float Coat.
This PFD is ideal for dogs new to water and for recreational water activities such as swimming, boating and kayaking on lakes or calm water.
Our model this time was an adorable little bichon/shih tzu named Rocky who has recently discovered his water legs.
Rocky and his best friend Luca (my friends equally adorable 3 year old son) got their new life jackets around the same time and wore them for a whole day before we ever got down to the water. The day we had planned to go kayaking it was raining, but there was no cancelling on these two who were very excited.
Rocky's Portage Float Coat was very easy to get on with two clips under the belly and Velcro and a clip around the neck. Rocky seemed perfectly comfortable in his PFD as there was no rubbing or restriction of movement.
Advantages of the Ruff Wear Portage Float Coat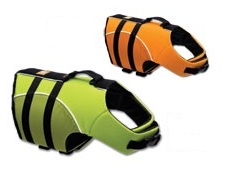 Some of the key features of the Portage are:
The generous anatomical cut allows for maximum mobility which is great for swimming.
It has reflective trim for enhanced visibility.
It has a low-profile assistance handle on the top of the life jacket which makes it very easy to lift the dog out of the water.
It has PVC-free foam buoyancy cells that help to float the dog in a natural horizontal swimming position – this allows the dog to swim farther and longer with less fatigue.
The Portage has a wide size range that will fit dogs of all shapes and sizes from XXS – XL.
All of these great features are why the Ruff Wear dog PFD's really stand out from the rest. The quality, comfort and convenience of a Ruff Wear life jacket are hard to beat.  Also the bright colours are ideal for helping your dog to be very visible in the water.
Rocky's Impressions of the Portage Float Coat
Rocky seemed perfectly at ease from the first second we put the Portage Float Coat on him. At the water he played, swam and went kayaking and seemed very content.
He even felt so confident that he jumped out of our kayak and swam along side us for a short time. This was a great opportunity to test out the assistance handle which worked perfectly as it was very easy to lift him back into the kayak.
If you are going to be kayaking or boating with your dog, I think a life jacket with an assistance handle is extremely important. Without it, it can be far more difficult to help your dog back onto your boat or even back onto a dock.
Rocky's 1st Kayaking Trip with his Portage Float Coat
Rocky was a natural when it came to kayaking. He had no problem sitting in the kayak and once we got moving he found a comfortable position on the side pontoon of my inflatable kayak.
However Rocky is not one to sit still for any length of time and soon decided to plunge into the water to go for a swim! We were a little surprised at his bravery and wondered if he was just feeling extra confident with his new life jacket on.
After we got him back into the kayak he proceeded to shake all the water off his body which completely soaked us. Poor Rocky was freezing after that stint as the weather and water was fairly cool that day.
Note to anyone else kayaking with your dog… bring towels along if your dog plans to go for a swim. That way he won't get you soaking wet and you can use the towel to dry him off a bit if it is a cool day.
Intended Use of the Portage Float Coat
The Portage dog life jacket is best suited for:
kayaking and canoeing
recreational paddling
swimming in lakes
sailing
dogs who are new to the water
dogs who are not natural swimmers
If your dog will be in fast moving water or heavier surf then please take a look at the Ruff Wear Big Eddy Float Coat as it is better suited for the 'high adventure'  active dog.
The Portage Float Coat is Available At:
Update for 2014:  The Ruffwear Portage Float Coat has been discontinued. The K9 Float Coat has replaced it… very similar product.