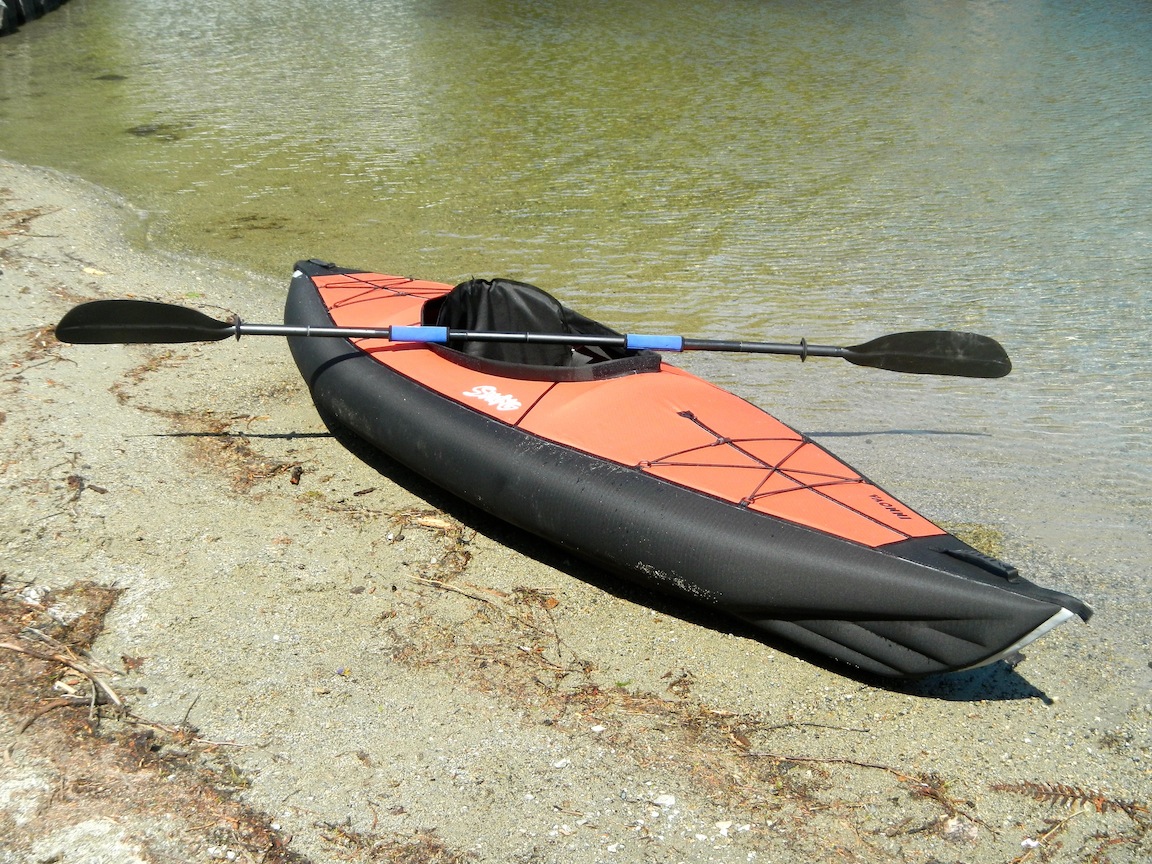 There are a few inflatable kayaks that offer the option of a closed-in deck.
The decks can offer more protection from the elements.
I like the look of these models as I think the kayaks look and feel a little more like a traditional fiberglass kayak.
However there are some definite pros and cons to be aware of if you are trying to decide between an open deck inflatable kayak and a decked kayak.
Pros
Let's start with the pros first.
The most obvious is that it gives you more protection from the elements. With a closed deck you are more shielded from the sun, the rain and choppy water that might otherwise spill into the kayak.  There will be a little more warmth in colder weather and you can keep your legs from getting burnt in the hot sun.
A lot of people like the aesthetics of a decked kayak. They tend to look nice and for those not used to inflatable kayaks, they might like that a sit-inside kayak looks more traditional or more what they are used to from a fiberglass kayak.
You may get less wet. A sit-inside kayak in theory should keep you dryer. In colder weather, this is a nice feature as the more water you get on you the colder you will be.
Your gear will stay dry. If you store your gear up front under the deck there is a much higher likelihood that it will stay dry from drips off your paddle, choppy waver or rain.
Cons
Although I really like the look of a decked kayak, I personally prefer an open-decked inflatable kayak for several reasons.
Below are the negatives to consider when looking at decked inflatable kayaks.
They are usually a little heavier. In general closed-in kayaks weigh more than an open deck kayak. There's extra material and extra parts that add on a few extra pounds.  There are exceptions to this rule however as companies like Innova work hard at introducing environmentally friendly light weight materials for their closed-deck kayaks.
They take longer to set up. Although newer models are making this process easier, they still take quite a bit longer to set up than an open-deck inflatable kayak.
I find that the closed-decks don't actually offer that much protection.With inflatable kayaks, the cockpit opening tends to be quite large exposing your body and part of your legs. So although a deck does give you a little extra protection it's not as much as you might think.
Another negative I find is that it can be harder to access your gear.  I like to have my lunch or snacks and gear easily accessible and although it's not that big of a deal, I do find with a closed-deck that it's harder to reach for them.
If you like to paddle with your dog a closed-deck is not necessarily the best way to go.  It is much easier for your dog to enter and exit the kayak with an open-deck and there is also more room for him to sit or lay down.
It can be hot in warm weather. Although the deck will protect part of your legs from exposure to the sun, it can also be kind of hot and stuffy in the kayak if the weather is really warm.
If you plan on taking a break and exiting your kayak in the water to swim or dive, you will find it is much easier with an open-deck kayak than with a closed-deck kayak.
It's not ideal for fishing. If you fish or scuba dive, it will be much easier to access your gear and have room to maneuver in an open inflatable kayak.
Whether or not a decked inflatable kayak is right for you will depend on your needs.
If you will be paddling mostly in cold weather then a closed-deck is pretty nice to have.
However for many, a regular open-deck inflatable kayak works great.
It may not look as fancy but it is functional, comfortable and much quicker and easier to set up and transport.
If you think a decked inflatable kayak might be right for you the Advanced Elements AdvancedFrame Convertible and the Innova Swing are the two most popular models.