An inflatable canoe is a very popular addition to many people's summer fun. They are a great option for those who go camping, RV'ing, fishing and want the convenience of easy storage and easy transportation. Also they tend to cost less than a regular canoe.
Two Inflatable Canoe Winners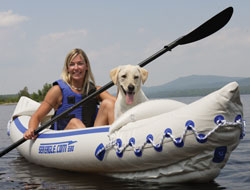 Over the course of the last year we have noticed two inflatable canoe models that consistently stand out in popularity. They are:
(click on the links below to read our full review of these models)
Although there are other inflatable canoes that offer better quality and features, these two (at least from what we have noticed on our website) are what people are buying. I think these two canoe models are popular for a few reasons:
they are affordable – they are both in the same price range of between $250 and $400
they are versatile
they are lightweight
they are stable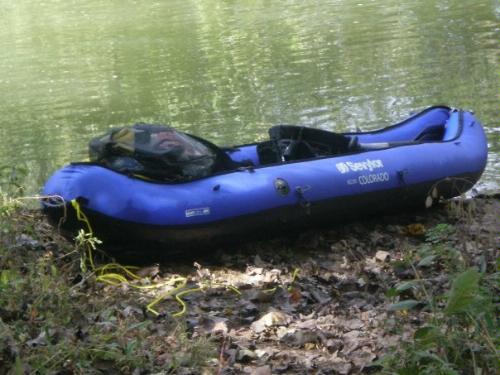 In other words they will appeal to many including kids, fishermen, families and beginner paddlers.
Although there are some very high quality inflatable canoes that are designed for hard core expeditions and river trekking, the majority of people seem to just want an easy way to get out on the water.
Inflatable Canoe Comparisons
From our experience we can see that the Sea Eagle 370 and the Sevylor Colorado are very well liked. So let's look at the comparisons between these two models.
Sea Eagle 370

The 370 is a tandem model and seats can be moved around to suit your needs or to paddle solo

There are two seat options: canoe seats or deluxe inflatable seats. I personally really don't like the canoe seats. They would work fine for kids but for anyone else I would highly recommend the deluxe inflatable seats as they are far more comfortable.

Very quick and easy setup

Can hold up to 650 pounds

Comes in two size options. The 330 model being the smaller size and the 370 the larger.

Comes with a 3 year warranty

Length: 12' 2", Width: 34", Weight: 32 lbs.
Sevylor Colorado

The Colorado is also a tandem inflatable canoe that can be adjusted to suit your needs. The seats can easily be moved to paddle solo.

This canoe comes with two elevated bucket seats with storage compartments in the back.

Can hold up to 440 pounds

Comes with a 1 year warranty

Length: 10' 6", Width: 39", Weight: 32 lbs.
Both of these models are good choices if you are looking for an affordable, versatile and light weight inflatable canoe. They are both sturdy and rugged and have the capability of lasting for many years.
I personally favor the Sea Eagle brand over the Sevylor brand because I feel the quality is a lot better… but that is just me as many others have loved this Sevylor canoe.
If you want to go up in size and quality you will definitely be looking at spending more money. The price range on inflatable canoes can vary from $250 to well over $2000.
If you would like to compare the specs for these two inflatable canoe models as well as see other options please see our Inflatable Canoe Comparison Chart.