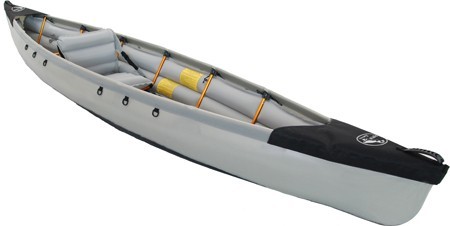 Best Uses: Lakes, Ocean Bays, Recreation
Brand: Pakboat
Available At: Amazon.com – Pakboat Puffin Saco
Number of Paddlers: 1
Stats: Length 12', Width 2' 3" , Weight 20 lbs., Load Capacity 280 lbs
Accessories Included: Inflatable seat,
carry bag, pump, repair kit, instruction manual, 3 year warranty
Optional Accessories: Strong 600 denier polyurethane coated polyester fabric deck, sprayskirt, footrest, cockpit cover
Kayak Material: Aluminum frame, keel strip is PVC all the way through, abrasion resistant coating on the bottom, waterproof woven fabric coated to protect from abrasion and exposure.
Pros: Very lightweight and easy to transport, good tracking, comfortable, good amount of storage space
Cons: Set-up takes at least 20 – 30 minutes
More Detailed Info
The Puffin Saco is a unique kayak in that it is part folding kayak and part inflatable kayak. It is a recreational kayak that is ideal for kayaking on lakes, calm rivers or ocean shorelines.
The sturdy aluminum frame gives it great rigidity and consequently the Saco is known to paddle with decent speed and good tracking.
Putting the Saco together takes quite a bit longer than a regular inflatable kayak (roughly 30 minutes).
Therefore it is best suited for someone who wants a very portable and lightweight kayak that can be easily taken anywhere but who is able to leave it put together for longer periods of time… as opposed to detaching and deflating the kayak after each use.
I think if would be great to have at a cabin or vacation house where you can leave the kayak inflated for your entire stay. At only 20 lbs. it is extremely portable and it folds up into a great carry bag. Therefore it can be brought anywhere you want to go.
The open hull makes entry and exit a snap and it works great for fishing.
Optional Deck
The Saco has the option of adding a deck that is made of 600 denier polyurethane coated polyester fabric.
The cockpit opening of the deck is 36 inches long which gives enough room to still easily get in and out of the seat.

If you plan to do any ocean kayaking you can also get an optional spray skirt for added protection and warmth. The deck is very solid and has no problem supporting a deck bag.
If you choose to add the optional deck, it has a 36" cockpit, large enough to make it easy to get in and out of the kayak.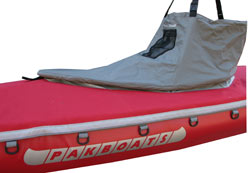 Aluminum Frames
The aluminum frames used with the Pakboat Puffin Saco have a good balance of stiffness and pliability. They are corrosion resistant and Pakboat has all aluminum parts anodized which keeps the frame not only looking good but also helps prevent 'frozen' connections in the longitudinal rods.
The first time putting your Puffin Saco together can take a bit of time and it is important to read the instructions carefully. However once you know what you are doing, your set-up time will decrease dramatically and it will become much easier.
We think the aluminum material we are using has the right balance of stiffness and pliability.
Final Thoughts
The Puffin Saco has a very convenient and nice looking design. It is a great option for those who love to travel and who want to bring along a very portable kayak that easily stores in a small space.
The extra time it takes to put together can be a bit frustrating but I think if you are then able to leave it put together you will have no problem.
The Saco offers a convenient and affordable way to enjoy a great quality folding/inflatable kayak that is versatile enough to handle many different water types.
Where To Buy
Click Here For The Pakboat Puffin Saco Folding Kayak At Pakboats.com.